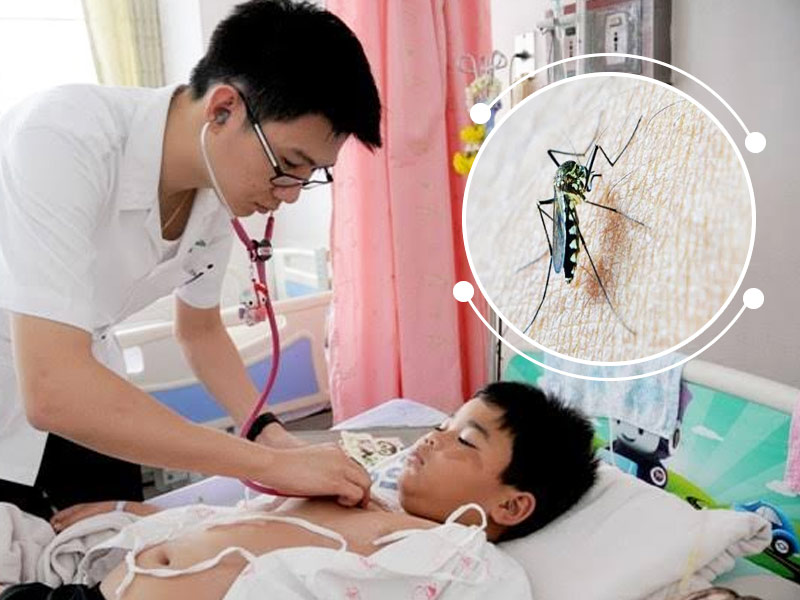 A syndrome due to the dengue virus that usually has an impact on children under 10, causing main symptoms such as abdominal pain, hemorrhage (bleeding) and circulatory collapse (shock) is known also as dengue hemorrhagic fever (DHF) or dengue shock syndrome. It can start suddenly with high constant fever and headache, along with respiratory and intestinal signs with sore throat, cough, nausea, vomiting, and abdominal pain. Shock occurs after 2-6 days with sudden collapse, cool and clammy skin, weak pulse rate and a kind of blue bruising around the mouth. Most fatalities occur in children due to this reason. Infants under one year of age are at a higher risk of death. It is also called Philippine or Southeast Asian hemorrhagic fever.
Dengue is is one of the most widespread diseases, that occurs due to mosquito-borne viral infection of humans, affecting an estimated 100 million people worldwide each year. It is endemic in parts of Asia and the Americas and has been increasingly reported from many tropical countries in recent years. Dengue hemorrhagic fever (DHF) and dengue shock syndrome (DSS) are among the leading causes of pediatric hospitalization in Asia, with up to 500,000 cases reported annually to the World Health Organization (WHO). With World Dengue Day 2021 around the corner, read this article further to know everything about Dengue Shock Syndrome or Dengue hemorrhagic fever.
Dengue Shock Syndrome symptoms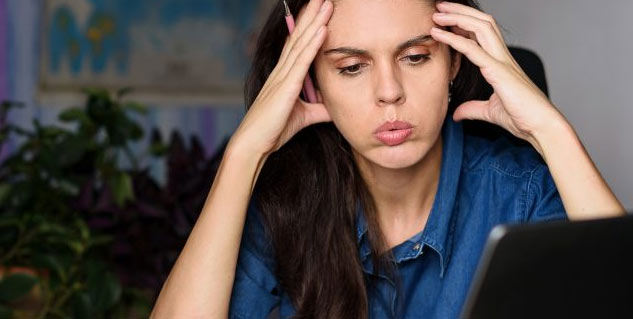 While DHF majorly starts with only milder cases of dengue fever, other warning signs mostly start getting visible later with time, right after the fever starts to get low. The main symptoms of dengue shock syndrome are:
1. Abdominal pain
Abdominal pain is one of the common symptoms of DF and severe pain in the abdomen is strongly associated with DHF. Abdominal pain is mostly accompanied with vomitting, which can cause even more severe pain in the stomach. You can put a hot water bag on the painful area is such cases and talk to the doctor about this symptom for treatment.
2. Vomitting
Vomitting and nausea can also occur in high hemorrhagic fever. The most common symptom of dengue is fever includes nausea and vomiting, which then occur at the shock stage too. These symptoms are usually accompanied with body pain. You should surely avoid nausea triggering foods in such situations.
Also read: Dengue: Know About The Various Stages Of Dengue And Its Symptoms
3. Mood swings
The physical health of people has an impact on their psychological health as well. According to a previously published study, it was concluded that dengue infection can affect the central nervous system of the body. This concludes that it can possibly have psychiatric interruptions during the course of the disease and they are at a higher risk of having a lot of psychological conditions such as depression, anxiety, and stress. It can result in irritability and mood swings as well.
4. Bruising
Petechiae (small red spots or purple bruises or blisters under the skin), bleeding in the nose or gums or easy bruising are all common and possible symptoms of this syndrome. This form of dengue fever can be life threatening and can also lead to the most severe form of the illness, dengue shock syndrome.
5. Gum bleeding
Dengue hemorrhagic fever or dengue shock syndrome is a rare complication characterised by high fever, damage to lymph and blood vessels, bleeding from the nose and gums, inflammation of the liver, and failure of the circulatory system. The symptoms can get worsened to excessive bleeding, shock, and even death. Gum bleeding is seen in most of the patients of dengue shock syndrome.
Dengue Shock syndrome causes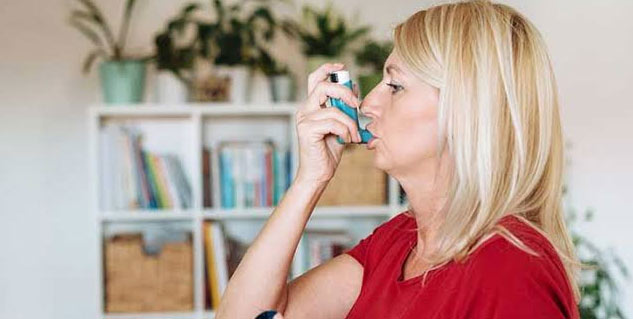 A compilation of the reasons as to why some patients suffer from dengue shock syndrome is not yet available. But, it is usually found that people with weak immune systems and those who are contracting a second dengue infection, are more at a greater risk of getting DHF. Patients who have contracted dengue become immune to the particular strain that they get infected with, but are not ready to fight the other three strains of the disease, and become an easy target of DHF, if they get infected with a different strain. The main risk factors of dengue shock syndrome include:
Asthma
Sickle cell anemia
Diabetes mellitus
Dengue Shock syndrome treatment
As there is no specific treatment for DHF or DSS, but only treatment is of the symptoms and it is important for everyone to detect the symptoms of DHF to get fully diagnosed. Fluid replacement and other therapies can be given initially and quickly to prevent the worsening of circulatory problems. Along with doctor prescribed medications, here are some home remedies that can be helpful in coping up with the symptoms:
1. Drink plenty of fluids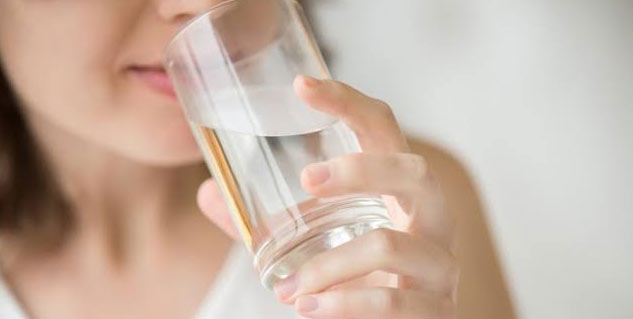 We must drink enough fluids so that our body functions properly. Drinking less fluids can cause your abdominal pain, while drinking plenty of fluid makes the shock absorption is decrease, which was causing pain in our stomach and even nausea and vomitting. One can also try eating fruits like melons and oranges to keep the body maintained with good water content. Drinking a good amount of fluids during the day can majorly help in dealing with abdominal pain.
2. Healthy diet
Healthy diet also plays a major role in building immunity and fighting the symptoms of this syndrome. A nutritious and balanced diet should include various wholesome fruits and vegetables is important. A healthy diet including nutrients, vitamins and minerals can help your body in many ways.
Also read: National Dengue Day 2019: Here are 6 Facts and Myths about Dengue
3. Papaya leaves and giloy
Papaya leaves and giloy can give you amazing results in increasing platelet count and increasing the immunity within a few days only. Many researchers have found out that papaya leaves juice are beneficial in increasing the platelet count lowered by dengue fever and also helps in coping up with the symptoms of dengue shock syndrome mainly weakness and vomitting. In fact, you can relish and use the leaves juice by mixing it in your tea as well.
Read more articles on Other diseases