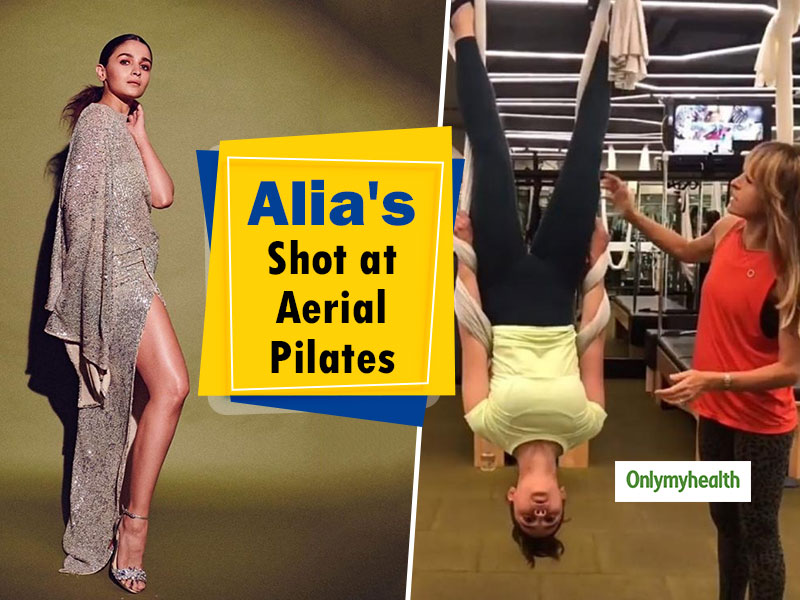 We get the most inspired to work out when seeing the lovely ladies of Bollywood share their fitness secrets on their social media platforms. Someplace, in our hearts, exist that wish to have a fab and fit body just like these Bollywood stars do. One of the most active fitness people in Bollywood, Alia Bhatt is known for her extreme dedication to her workout schedules and her inspiring journey of losing oodles of weight before making a debut in the movieland. Gearing up for her much-awaited release 'Brahmastra' with none other than Ranbir Kapoor and shooting of 'Sadak 2', this actress never fails to impress us with new ways to keep fit.
Alia Loves Pilates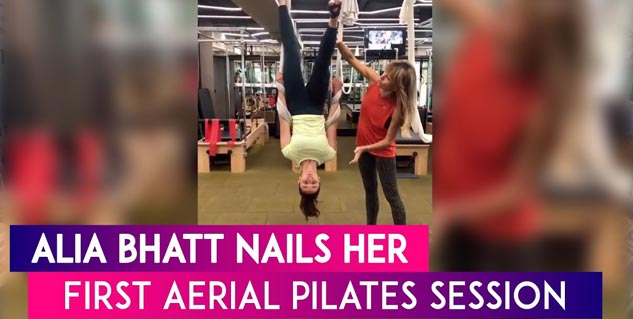 We all know how much Alia loves pilates and has shown us ample examples of her obsession with this fitness exercise to keep in shape. While she is mostly occupied with movies, promotions and shootings, Alia is a regular to the gym. The latest buzz is her most recent video making rounds on the Internet, which was posted by celebrity fitness trainer Yasmin Karachiwala. In the video, Alia is trying her hands on Aerial Pilates. In this post, the trainer urges one and all to try out aerial yoga for complete fitness.
In this video, Alia entangled herself in the cloth, which was suspended from the top. She turned upside down and held herself in the same position, showing her core strength. Even in the air, the Raazi actress showed leg raises and stretches with par perfection.
Also Read: Alia Bhatt's Weight Loss of 16 Kgs in 3 Months: Get Inspired from Her Workout and Diet Regime
What Is Aerial Pilates
If you are wondering what is this fitness fad all about, Aerial Pilates is done using an aerial hammock. Using the hammock as a support, you are up in the air, performing stretches, leg raises, etc. Aerial workouts may look intimidating to many, but it has several benefits. A great full-body workout, aerial pilates is a great way to work on your core strength and to shed the extra weight.
View this post on Instagram
Following are four reasons why we all should try our hands at aerial pilates:
1# It is a Full Body Workout
Even though it is hard to believe, but hanging on this hammock does work on your overall body. As we are engrossed in performing aerial activities with much care, there is a lot of stretching, movement and balancing. All this enhances the muscle strength of the overall body.
2# Back and Neck Benefits
This exercise benefits the back and neck to a great extent. Aerial Pilates is all about hanging up there. Hanging up reduces the stress on the hip joints and spinal cord, which makes you feel lighter. Those with neck and back injuries should indulge in such moves for relief.
View this post on Instagram
Also Read: Understanding Mental Health Benefits of Pilates
3# Balance
When you are handing on the hammock, balance is the most important here. Moving against gravity requires precision to avoid injuries due to falling on the ground. It also helps in giving the required stability to the mind and body, which is often essential in performing yoga activities.
4# Enhances Body Strength
Pilates is a great core workout. It requires excellent body strength to stay still on the hammock and hold on to poses including lunge pose, mountain pose and shoulder stand. Anyone can do aerial pilate and requires core strength, which can be built over time.
Read more articles on Exercise And Fitness