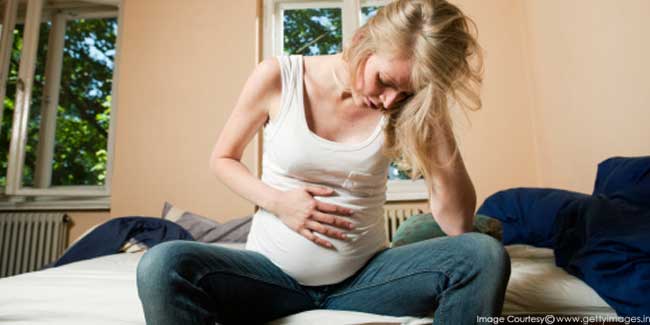 Morning sickness is a term used to describe nausea and vomiting that occurs during the early months of pregnancy. Know all about morning sickness during pregnancy including its symptoms, complications, causes, treatment and risk factors of morning
Morning sickness is one of the common pregnancy symptoms, which is experienced by pregnant women as early as in the first trimester.
Quite unlike to its name, morning sickness can strike anytime of the day. It is characterised by nausea, headaches and vomiting, which usually subside in the morning itself but lasts entire day for some. Most moms-to-be experience morning sickness in the initial months of pregnancy and some continue to suffer from it throughout their pregnancy.
Possible Complications
Regular cases of morning sickness are not serious and are a part of pregnancy which does not cause any complications. In a situation where morning sickness is not letting a pregnant woman retain any food and fluids by constant bouts of vomiting, it needs to be looked into. Underweight pregnant women will be unable to gain a "healthy" weight causing a malnourished and pre-term birth if morning sickness is severe.
Causes and Risk Factors
The hormonal changes or pregnancy hormones appear to be causing morning sickness. The hormones, human chorionic gonadotrophin (hCG) and estrogen which are produced by the placenta are thought to play a role.

Morning sickness is a marked phenomenon during pregnancy; all women experience it and only a very few escape with no symptoms. The scale of your morning sickness experience can go high according to previous experience of nausea and vomiting related to kinetosis or motion sickness, certain smells and birth control pills (estrogen intake. And, multiple pregnancy or twins can make the experience of morning sickness more acute.
When to ask for medical help
Medical help should be sought if morning sickness is marked by severe bouts of nausea and vomiting, weight loss, palpitations and blood in vomit.
Treatment
The severe form of morning sickness (hyperemesis gravidarum) requires hospitalisation and intravenous fluids. You might need hospitalisation and treatment if you are unable to keep any food and fluids in your body by constantly throwing up and losing weight. Dehydration is a possibility, immediate medical aid is required.
Tips to Keep Morning Sickness at Bay
Avoid sudden movements while getting up from the bed in the morning. Take sufficient time to get your body in a standing position, try getting up sideways rather than straight on your back from a lying position.
Snack on some biscuits or light snacks before getting out of bed in the morning.
Drink plenty of fluids. Have ginger tea or ginger ale as it is known to reduce nausea.
Do not overeat or remain empty stomach for long, as both situations can cause nausea.
Read more articles on Problems During Pregnancy.