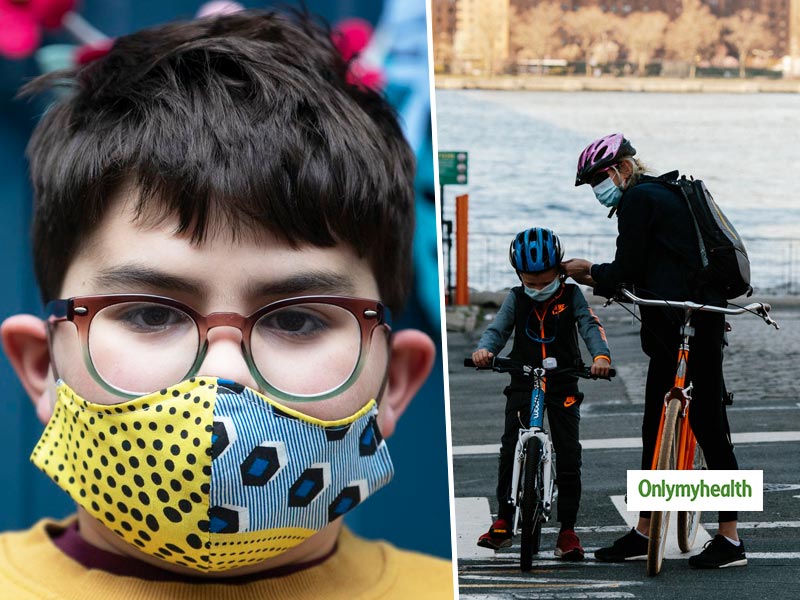 Pandemic, social distancing, face masks, safety shields and above all, the novel coronavirus are the only three phrases that seem to be permanently etched into our lexicon in current times. Safety masks in current times have gained more importance than ever and have become an unavoidable part of our day-to-day life. The on-going health calamity has impacted the entire economy, and disrupted lives in many ways than one. However, as we embrace the new normal by entering into the Unlock phase, cities and states have slowly begun to reopen.
Children and their age group
With people gradually mustering the courage to step out in public, there has been a whole lot of debate about the usage of face masks these days. This is because of the decision about who is recommended to wear them, and when, is not yet clear, especially in the case of children.
To mask or not to mask kids is a significant worry amongst parents and guardians. The only answer to this choir is that it all depends upon their age group.
It is needless to say that COVID-19 is mainly spread from being respired in, and effectively covering our faces averts an uncovered sneeze or cough from transmitting into the air to those surrounding us.
Children falling under the immunocompromised state with maturing immunity levels can be easily susceptible to the virus; hence parents must ramp up safety measures while you get your little ones in public.
For children falling under the age bracket of 2 and under, wearing a mask is not recommended. This is because little ones in this age range fail to dependably adjust or remove their mask if at all breathing becomes challenging.
For these kids, unhindered inhalation takes precedence over covering up. For kids above two years of age, a mask would be beneficial only if they can manage it and want to wear it.
You kid might sometime tend to get very fidgety with the mask, trying to touch their nose and mouth more often. If your child is not comfortable wearing the mask, washing and sanitizing hands often is your best defence.
Safety Tips for Parents
Children may be unable to comprehend why they have to wear a mask or may not understand the right way to wear it. Wearing a safety shield may admittedly seem weird to kids right now, mainly because they don't realize its importance.
But parents can make it less awkward, less scary, or uncomfortable by creating wearing a mask around the confines of a home as a regular practice.
This will make them acclimatize to mask-wearing even when they are in public, thus making them less fidgety. Parents can also encourage them to get comfortable with the mask by playing fun games explaining to them about the significance of mask-wearing in current times.
Try giving them a mask to play with, as it may facilitate in decreasing their fears. While purchasing masks for kids, parents must consider picking up a fabric that is kid-friendly, such as their preferred cartoon character, sports team, or their favourite colour.
Kids can also be made to wear cloth face coverings while going to places where they may be unable to avoid staying six feet away from others.
For instance, if you have to take them to the paediatrician, pharmacy, or to the grocery store. While you select on a mask, ensure it fits the child comfortably, predominantly around the nose and mouth, and provides it covers the chin.
If your child tends to be uncomfortable due to the elastic around the ears, a useful alternative for parents would be to make use of a bandanna or scarf around the mouth and nose.
This may be less frightening for younger babies who may be scared of the face mask or covering. This will facilitate the child to get accustomed to wearing the mask and learn how to wear it correctly.
Conclusion: Based on the evidence, children are less probable to fall sick from COVID-19, and even if they do, their cases are typically mild. But prevention is better than cure. To guard ourselves and our children against falling trap to COVID-19, it is a safe bet always to cover nose and mouth whenever you step outside.
(With inputs from Dr Atish Laddad, Founder & Director at Docterz)
Read More Articles in Children's Health