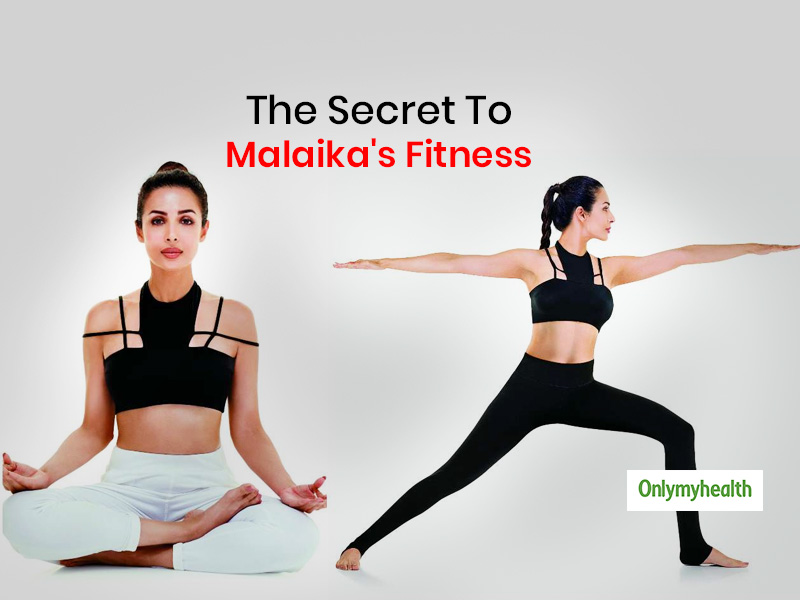 It becomes difficult to manage fitness with age unless you are committed to your workout routine like Malaika Arora. She is known for her petite figure at the age of 46. Malaika doesn't look like the mother of a teenage son! Well, the secret behind her fit as a fiddle body is regular workout and disciplined lifestyle. She is a regular gym-goer but apart from that she also practices Yoga and healthy living. She recently started posting some of her favorite Yoga moves with #malaikasmoveoftheweek. Here are 7 of them for your reference to upscale fitness.
Handstand
A handstand exercise might be difficult for beginners but as you practice, it will become easier for you to do daily. Here are the major health benefits of doing this exercise:
This exercise aims at increasing blood circulation towards the head and neck.
It aids the problem of breathlessness and improves bowel movements for better digestion.
It revitalizes the mind and body to increase cognition and stamina.
Supported headstand
If you have asthma, you must try this exercise to relieve the troublesome symptoms. Here are some amazing benefits of this energizing exercise:
Boosts intuitive power
Sharpens memory and aids forgetfulness
Brings mental clarity
Padma Balasana
This Yoga pose is good for stretching the lower body especially hips, thighs and ankles. With stretching, it aligns the skeletal system. The other benefits of this pose are:
Relieving neck and back pain
Improving breathing pattern
Relaxing mind and body
Bettering posture
Relieving fatigue
Reclined Pigeon Pose
The reclined pigeon yoga pose provides benefits in the neck, shoulders, chest, abdomen and thighs. In short, it helps in toning the body. This pose is good for:
Stimulating abdominal organs
Bringing mental peace and clarity
Toning the body
Increasing the flexibility
Balancing liver and gall bladder functions
Releasing stress, frustration, anxiety and anger.
Uttanpadasana
This raised leg yoga pose is easier than the other poses but equally effective. In particular, this exercise is great for people who frequently suffer from back pain and stomach ailments. If you are looking to build or tone your abs, this pose is a must-do for you. Check out some other interesting benefits of this Yoga:
Treats stomach and digestive disorders such as indigestion, acidity, constipation, stomach ache, etc.
Tones the muscles and abs
Aids weight loss
Increases blood circulation in the body
Helps in warding off fat from waist, hips and thighs
Improves reproductive health
Urdhva Mukha Svanasana or Upward Dog Pose
This is an easy exercise for those who have a flexible body. For others, this pose helps in opening up the chest and strengthening the muscles of wrists, arms and spine. It is good for improving posture, stimulating abdominal functions, relieving fatigue, firming buttocks and curing symptoms of asthma.
Ustrasana
Next up is Ustrasana which aims at stimulating and strengthening the nervous and respiratory system by improving the blood flow. Besides, this pose is also good in increasing spinal flexibility, reducing anxiety and fatigue. Doing this exercise daily can also prove to be beneficial in balancing as well as healing the chakras.
Read More in Yoga