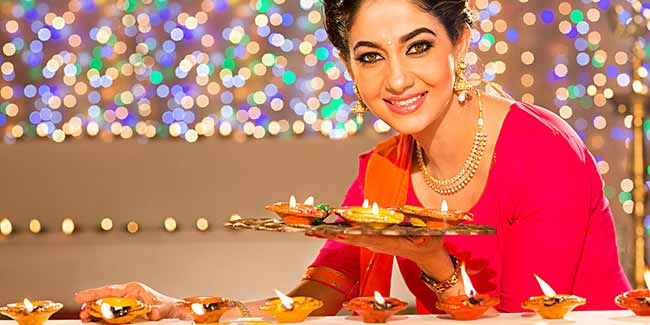 Diwali is the time to have tons of fun with family & friends. On this auspicious occasion we tell you about the latest make up trends that can redefine your look.
Diwali is the time to have tons of excitement with family and friends. On this positive and auspicious occasion, we all like to dress up and visit friends and acquaintance to wish them peace, happiness and prosperity. Most women prefer to have a traditional look by wearing traditional attire such as ghagra, shalwar kameez and saree, while some like to be casual. Irrespective of the kind of clothes you opt for your makeup plays an important role to give you that perfect look. Here are some hottest makeup trends that can be followed on this Diwali.
Wine stained lips
If you are looking to an alternative to red colour lip, then go for wine colour. The trend of wine-stained lips was presented at Carolina Herrera show in New York fashion week 2011. Irrespective of the skin pigmentation every girl can use this colour you have to choose the right hue.
View this post on Instagram
Purple wine hue with pink and red undertone goes best for fair and lighter skin tones.
If you have a medium skin tone, then you can opt for any hue of wine colour.
Burgundy and plum hues with blue undertones are for dark skin tones.
To get the perfect look first apply lip balm followed by lipstick. Now blot on the tissue and apply a clear gloss on lips to get the ideal look for Diwali. Go for minimum makeup if your dress is with heavy work or embroidery.
Colourful smoky eyes
Read: Know how to dress up right for Diwali
If you are wearing dark fall clothing, then you can go for colourful smoky eyes, which was seen in Vera Wang and Rag & Bone shows New York fashion week 2011. Replace your black and brown eye colours with fuchsia, orange and copper. If you are not willing to wear red and orange colour on your lips, then use them on your eyes.
Apply concealer from lashline to eyebrow. This will even out the skin tone.
Now apply the chosen eye shadow on the centre of the eyelid. Now sweep the colour from inner to the outer corner of the eye. Make sure that colour evenly blends.
You can apply dark brown eyeliner to base the upper lashline.
Finish by applying two coats of volumizing mascara.
Fresh look
Read: What to wear at work this Diwali?
Besides bright blush, you can even go for a fresh look, a trend from the 2011 New York fashion week. You will need primer, sheer glow foundation, highlight blush and loose powder.
View this post on Instagram
First, apply the primer to make a smooth base for the foundation.
Now take a little sheer foundation in your palm and warm it up. Use your fingers to get smooth and even finish.
Now apply cream blush that gives you a more natural look.
Now apply highlighting blush for the added radiance. Depending on your attire, you can also use pale pink and pale gold shimmer along with highlighting blush.
Finish by applying loose or pressed powder with a powder brush.
Since makeup is light, you can wear heavy earrings to complete the look.
Read more articles on Festival Fever