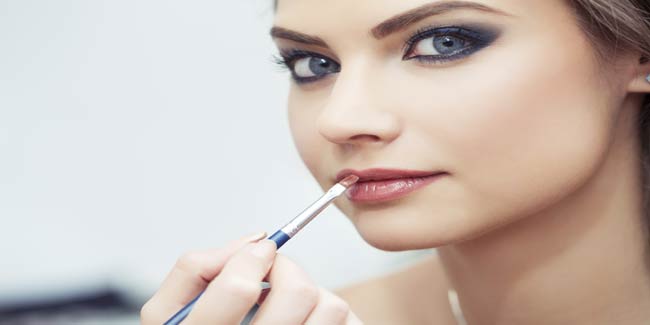 According to make up experts, age appropriate make up is the new buzz word of the hour. And the beauty market being what it is today, there is a whole range of products available, for the face, cheeks, eyes and lips, and for every age group of women who use make up.
The trick to a well-made up look is to choose products and colours that are suitable for your age. For example, a 50 plus woman who wants to look elegant will not use bright turquoise eye shadow, and a fresh faced teenager going out perhaps on her first date, should not put on a thick layer of foundation which will simply hide her youthful, clear skin.

For the Young

Within the wide range of age that a woman is likely to use make up, there will be a group, the 20 to 40 year olds, who can actually get away with any make up they want, provided the basic guidelines are adhered to: that is, use colours which will suit yourskin tone and complement your outfit, don't use too much, blend well, and exercise balance – if your eyes are accentuated then keep the lips soft and natural and viceversa.
For the Elder
However, if you are 50 or above, slapping on some heavy duty foundation and a thick coat of blush will not constitute age appropriate make up for you. Although that does not mean that you will have to put away your brushes and colourful eye shadows just because you have crossed a certain age milestone. What it does mean is that you will do well to realize certain effects of age on your face, and use make up in a way that will counteract those flaws.



Importance of the Eye Make-up



One of the most important areas of your face that is a certain age give-away is the eye and its surrounding area. Puffy eyes, crow's feet, dark under eye circles and bags under the eyes are inevitable flipsides of growing old. Taking adequate precaution with treatment creams will help, but a certain amount of camouflage will be necessary for which you will need concealers. But nobody is stopping you from having some fun with eye make up. Choose eye shadow colours with care, go easy on the mascara and use your eyeliner to draw thin, even lines. As for your eyebrows, keep them dark but not jet black, defining them carefully and keeping them in shape. Eye brows can be given a slight arch as you grow older to give your face a definite lift.
Importance of the Lips



Lips also become thinner with age, so all lipstick or gloss used should be moisturizing or conditioning. Rich colours should be kept for the evening, and soft pinks, corals, or shades of lilac and brick should be used during the day to look sparkling and fresh.

As a woman grows older, another problem she faces is lack lustre skin. With oil production by the skin glands drastically reduced, an older skin tends to look dull, patchy and pigmented. The first step to combat this problem is to use products that will illuminate the skin. A radiant primer, foundation or powder will add a bit of sparkle and make the skin glow.

You can look good at any age, just know how and when to use it.
Read more articles on Beauty Treatments & Body Surgeries