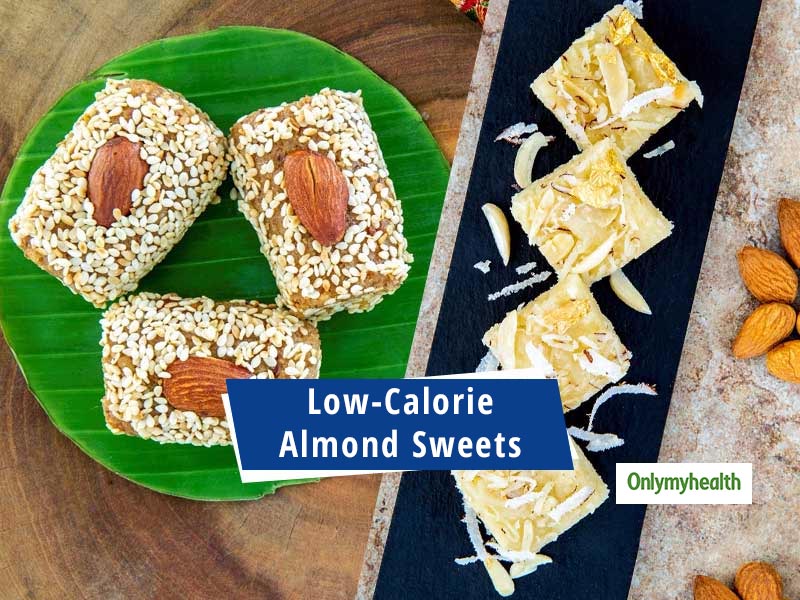 As we all prepare for Diwali, we also start making preparations for the most delicious sweets that are perfect to serve to your guests and offer to your neighbors. Gajar ka halwa, besan k laddoo, kheer, etc. are now outdated. These are classic sweets but let's try something different and healthy this Diwali. Here we have put together some low-calories festive desserts curated by Chef Manish Mehrotra. We bet your guests would love them.
Almond and Sesame Pinni
Ingredients
3 cup - Wheat flour
2tbsp - Semolina
1½ tbsp - Besan
¼ cup - White Sesame seeds powder
¼ cup - Almond slivers
1 cup - Sugar
¾ cup - Ghee
½ cup - Water
1 tbsp - Roasted sesame seeds
3 tbsp - Almond flakes
½ tsp - Cardamom powder
Method:
Heat some ghee in a pan and add wheat flour and semolina to it. Roast them until they get a beautiful golden color.
In another pan, pour water and add sugar to it. Make single-string sugar syrup.
Pour sugar syrup in the roasted wheat flour and semolina mixture. Add cardamom powder to it and mix well.
As the mixture becomes a little dry, turn off the flame and transfer it on the plate to cool down.
It is time to shape them. You can either make round laddoos or any other shape of your choice.
Decorate the pinnis with almond flakes and roll them in sesame seeds to give beautiful sesame covering.
Also Read: Diwali Special Recipes: Skip Regular Sweets And Try These Festive Delicacies
Almond and Coconut Barfi
Serves: 4 people
Ingredients
1 cup- Blanched almonds
½ cup- grated coconut
1 cup- Sugar
½ cup- Desi ghee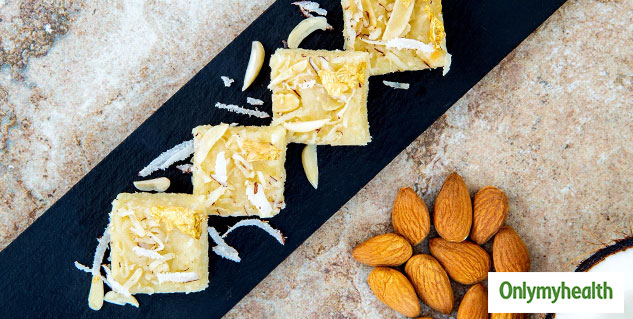 Also Read: Delicious and Healthy Stevia-Sweetened Recipes
Method
Take a non-stick pan and add desi ghee to it. Now add grated coconut and almond to it and roast
Keep stirring the mixture to avoid sticking on the bottom.
When the mixture starts to leave the sides and forms a lump, sim the gas.
Add sugar to the mixture and mix it well.
As the mixture starts to solidify and turns opaque, turn off the gas.
Take a plate and grease it with ghee.
Transfer the mixture on the plate and spread evenly.
You can even roll it using a rolling pin, either way, you want.
Wait for some time until the mixture is partially cooled down.
Cut it into squares using a sharp knife.
After it has completely cooled down. Transfer the barfis in an airtight container.
If you want to serve them right away, transfer them to the serving plate.
You can garnish them with almond slivers and grated coconut.
Meanwhile, you can also check out sweet boxes on Amazon. Click here to shop.
Read more on Healthy Diet