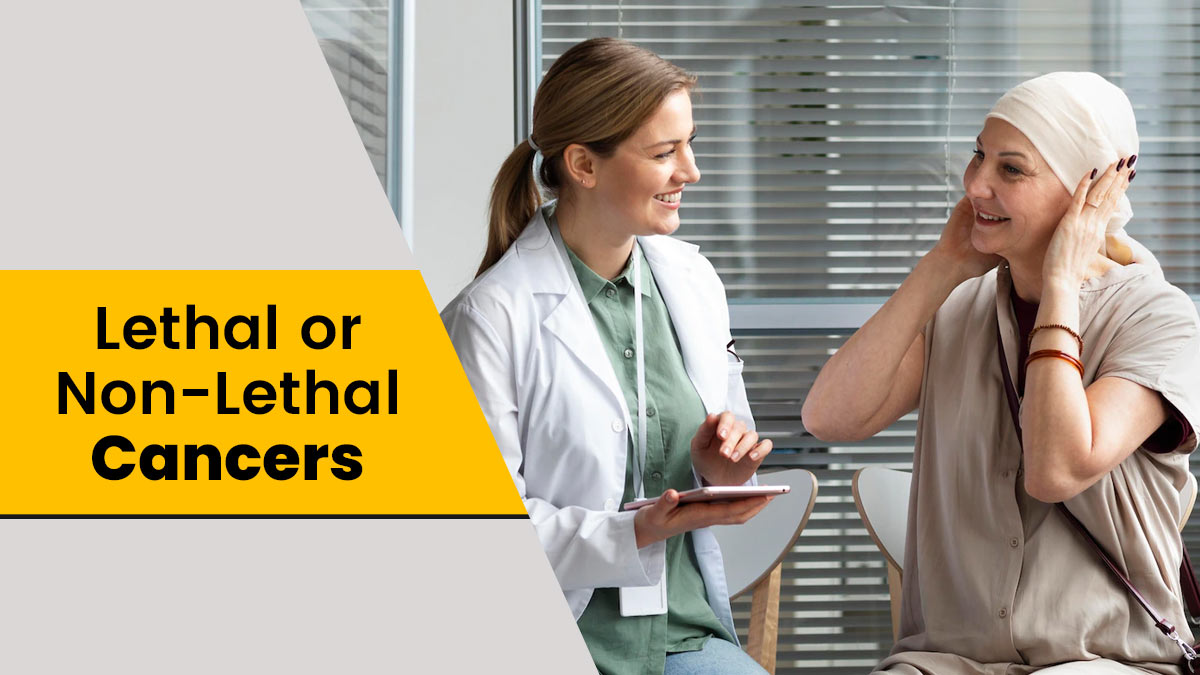 The term non lethal cancer is a misnomer. Cancers are either potentially curable or non curable. A potentially curable cancer can become non curable and lethal if it is left untreated. Not all tumors are equally aggressive. Some cancers like cancers of Colon, Rectum and prostate have relatively better outcomes. The reason for this is relatively better tumour biology and early detection of these cancers due to symptoms they give rise to. Knowing about the symptoms of various types of cancers can help you detect it in the initial stages and prevent adversities. Let us know about different between these lethal and non-lethal cancers in order to prevent health complications.
Why is Important to Diagnose Cancer?
Colorectal cancers have features like increasing constipation and passage of blood from the anal opening. Prostate cancer presents with obstructive urinary symptoms. These cancers have a relatively good prognosis, even if they present with distant spread, like liver and lung metastasis. Since it is National Cancer Survivors Day, we are going to tell you about some curable and no-curable cancers. This allows you to know about probable risks of cancer or relatively severe disease beforehand. Diagnosis of cancer in initial stages could help differentiate between misnomer and lethal cancers.
We spoke with Dr. Sanjay Verma, Additional Director, Minimal Access, Bariatric and GI surgery, Fortis Escorts Health Institute. He says cervical cancer is the only preventable cancer because of the vaccine it has.Contrary to this, cancers of Stomach, Pancreas and Biliary tract are aggressive cancers. Unless detected early on routine surveillance, these tumors often present late and give rise to symptoms late in the course of the disease. In contrast to colorectal cancers and prostate cancers, these tumors have a relatively worse prognosis. They have high chances of recurrence even after complete resection of primary cancers.
Also Read- Does Cancer Cause Malnutrition? Know From Doctor
Cancer Detection and Symptoms
Cancers of lung and breast have a prognosis intermediate between the aforementioned cancers. If detected early, they are potentially curable. However, advanced tumors have poor prognosis.
Early detection of cancers is aided by routine medical checkups and surveillance. The surveillance intervals should be shortened in persons with family history of cancers and those who have genetic abnormalities. Early detection and diagnosis leads to identifying tumors at a relatively early and potentially curable stage.
How Does Differentiation Help?
Here are some benefits that you can possibly have due to detection of cancer. Detection helps to differentiate between curable and non-curable cancers. Here are some points you must consider-
You can get Surgery in settings aided with chemotherapy and radiation therapy
It can help treat such cancers with very low recurrence rates,
Prolonged overall survival and prolonged disease free survival.
Health education and information among general population is the cornerstone of cancer detection program.
Also Read- 7 Possible Side-Effects Of Oral Chemotherapy
Picture Credits- freepik.com