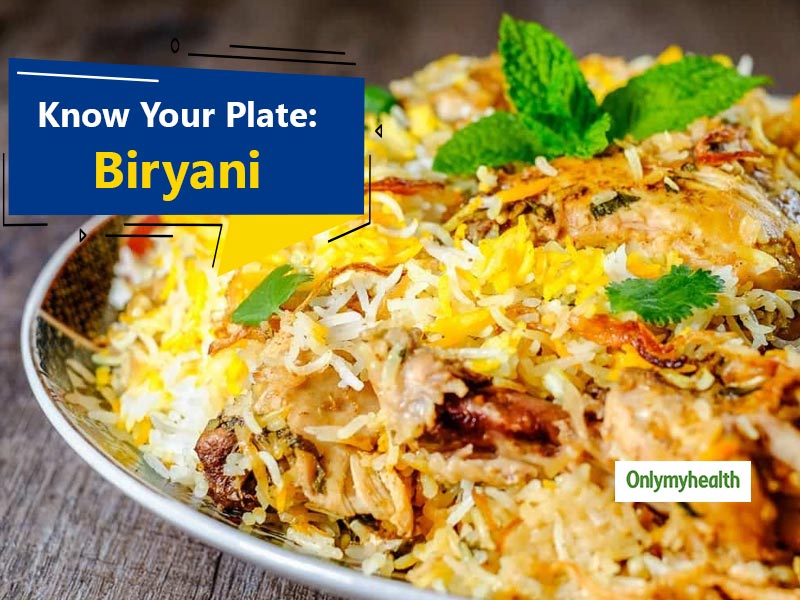 If you are a die-hard, lip-smacking fan of Biryani then you should continue reading this and do not miss out trying more than 25 varieties of biryani globally which is the most popular dish among Indian subcontinent today. Biryani is derived from Persian language meaning 'fried before cooking'. The recipes, method of cooking may vary but constitute the same cereal and pulse or meat with a blend of spices.
Biryani was found to be balanced in nutrition by Shah Jahan's queen Mumtaz who instructed chefs about the recipe to feed the undernourished Moghul soldiers. It was a choice of the dish by our ancestors during all occasions, festive season and social gatherings but not a daily treat. Biryani is no doubt comes with a balanced composition and mostly served at parties as to the main course relished with accompaniments such as eggplant gravy, curd raita, dhal or fried meat served at times. Since it is a spiced dish served on different occasions but never completed without relishing a dessert.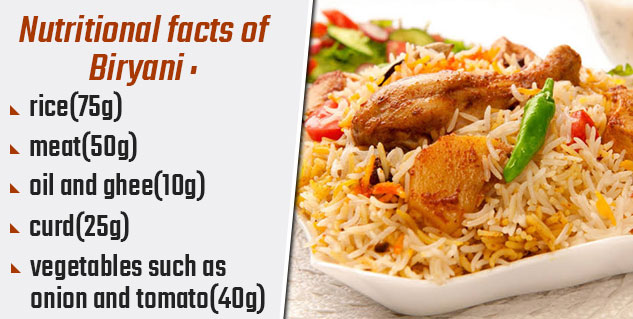 So now let's dive into the nutrition composition of the royal's kitchen biryani recipe to understand it better…
Composition and nutrition facts of biryani:
rice(75g), meat(50g), oil and ghee(10g), vegetables such as onion and tomato(40g), herbs, curd(25g), salt, spices and flavouring ingredients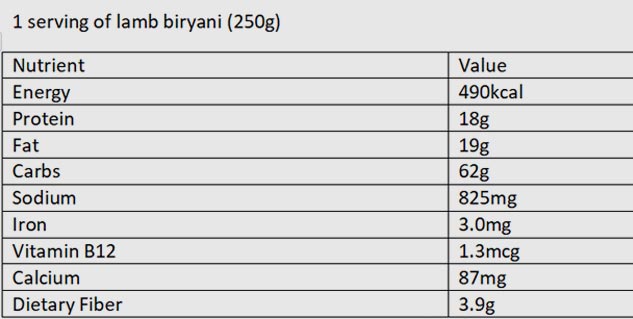 Ingredients: rice(75g) , peas(20g) , oil and ghee(10g), vegetables (100g) , herbs , curd(25g), salt , spices and flavoring.
Also Read: Surprising Health Benefits Of Rose Tea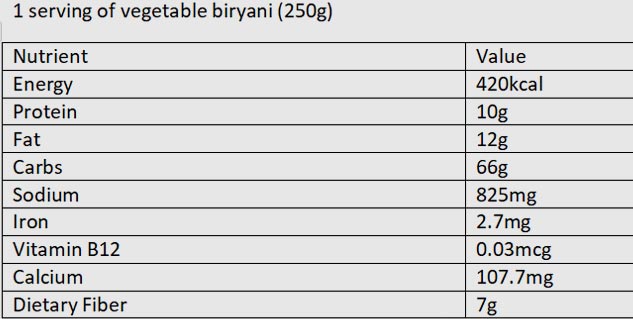 The nutritive value of the recipe varies dramatically depending on the quantity and ingredients used.
Pros
It is an easy fast cooked dish with a blend of nutrients to nourish your body.
The moderate use of spices is the pride of our country which attracted the western researchers and the most popular ingredients are used in Biryani such as turmeric, garlic, ginger, cinnamon, clove which carries anti-inflammatory, anti-cancer, blood sugar lowering and heart health properties.
Biryani confers a balance in nutrients such as carbs, protein, fat, vitamin, minerals and fibre which is ideal for a healthy individual.
A vegetable biryani, when cooked with an adequate quantity of veggies, gives you the right amount of fibre that's necessary for your bowel movement and to manage your weight.
A non-vegetarian biryani will help to benefit you in getting your day's natural source of vitamin B12 requirement which is generally found to be low among vegans, alcoholics, etc
It gives you a feeling of fullness and satisfaction since it is high in fat content and hence unhealthy snacking is limited after a biryani treat.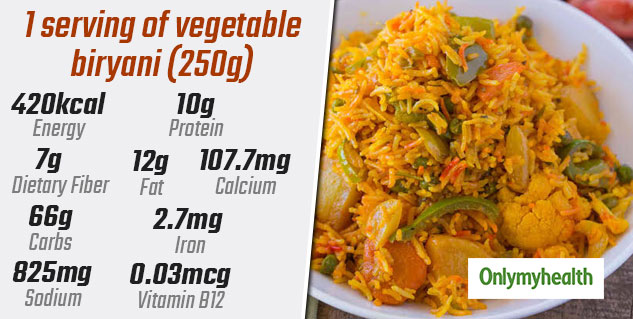 Cons
If you plan to treat yourself with a sweet dish or ice-cream then additional bad carbs fall into your bucket list to increase your sugar levels and body weight.
If you choose to bring an imbalance on your plate by ordering biryani rice then your protein count drops.
If the chef wants to prepare the recipe with a bad choice of fats then this impairs your heart health.
Salt content is high to balance the spices and flavour added in your biryani and hence increases your health risk when consumed in excess.
A vegetarian biryani prepared at restaurants barely contains vegetables rather contain potato which exceeds the limit of carb intake which is an imbalance to your requirement.
Spices added in exceeded amounts can increase the risk of ulcers, nutmeg toxicity, disturbs your liver and gastrointestinal function.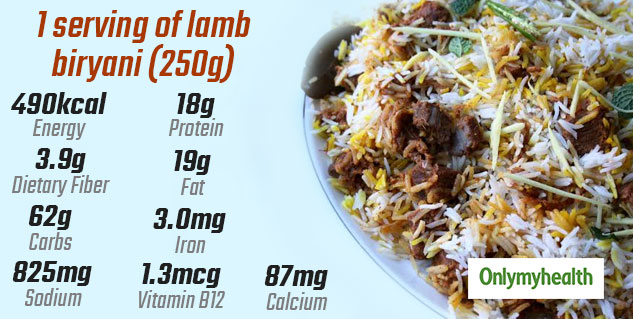 Healthy makeover to Biryani treat
Be a smart shopper for your plate, so do not give up the recipe rather tweak it to further benefit your health.
If you are eating biryani outside limit your serving of rice and replace most of it with vegetables and protein source.
When you want to prepare biryani for your family then try adding paneer, peas, mushroom, sprouts, dals, nuts, fish, prawns, egg, chicken breast, vegetables/greens and limit or replace rice with brown rice/millets/quinoa/broken wheat to reap health benefits.
(Inputs by Edwina Raj, Senior Dietitian, Aster CMI Hospital)
Read more such articles on Healthy Diet