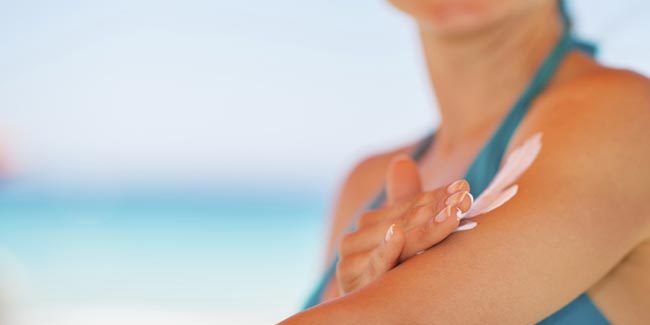 Sunscreen lotions seem to be the best bet when the Sun is at an all time high, are they even effective, or are they very dangerous?
While the burning sun is creating havoc you deter to step outdoors, you do not really want to get skin burns, or even experience a horrible tan. So now that modern cosmetics have done much improvement you are greatly relying on sunscreen lotions. But how safe are they, or are they dangerous for your skin? Can they even protect you from the sun or save you from getting skin cancer? Or worse, are they even working a bit and keeping you tan free? These questions are not generally raised by you who have accepted his or her role as a consumer, but before you spend big bucks, here is quick look at the sunscreen lotion.

[Read: Home Remedies for Sunburn]

The Good News

Sunscreen lotions have come under a lot of criticisms and amidst this growing debate there seems to be good news. According to the American Academy of Dermatology there are beneficial effects of the sunscreen and that is an important tool to fight off skin cancer.
It has been found that those products found in the market that say, 'broad spectrum', 'wide spectrum' or UVA/UVB protection' are indeed good for blocking the UVB rays. The UVB rays are the ones that are responsible for sunburns and skin cancer, and also protect the skin from tanning and wrinkling. Also those products that contain titanium dioxide, escamsule (Mexoryl SX), avobenzone, or zinc oxide are considered to be more effective in providing a broader protection.
[Read: Does Sunblock Prevent Skin Tanning?]

As far as the chemical worries go, it has been said that the experiments were conducted on mice and the results were a change in the blood hormone levels, and mice are more susceptible to skin cancer than the human skin.

The Bad News

As a consumer it is your duty to learn as much as you can about the products that you are using, and therefore understanding your sunscreen lotion is a must. It has been found that 84 per cent of all the 831 sunscreens that were tested did not pass health and environment muster, and many contained some potentially harmful chemicals such as Benzophenone, homosalate and octyl methoxycinnamate (also called octinoxate). These chemicals are known to known to mimic naturally occurring hormones and can throw the body's systems out of whack. Some of these also do contain Padimate-0 and parsol 1789 (also known as avobenzone), which are suspected of causing DNA damage when exposed to sunlight. Furthermore, it was found that more than half the sunscreens on the market make questionable product claims about longevity, water resistance and UV protection.

In case you are gravely worried about the right sunscreen lotion then here is a guide to safety:

• Avoid nanoparticles and chemicals for safety.
• For effectiveness, choose a broad spectrum and photostable product. Zinc oxide is best.
• For lasting protection, follow the two hour reapplication rule. This is particularly important if you choose to use chemical sunscreens, as some start to degrade within an hour after application.
• Wear a hat, clothing and seek shade when you can.

Above all you should take care to cover your body parts with hat and sunglasses.