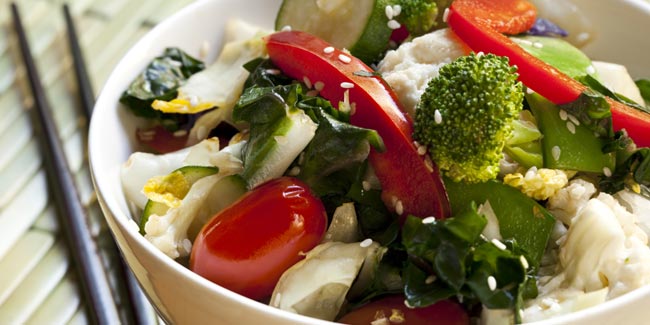 Are you desperately looking for a way to get your required iron intake without having to take supplements? We have the perfect, easy-to-make recipe that will load your body with iron.
Iron is one of the essential nutrients that a woman needs to have a lot of as her pregnancy progresses. This is because of the need for increased blood supply in the body. As iron produces haemoglobin, which in turn supplies oxygen laden blood to various parts of the body, the increased need for iron is clear enough. By learning to make iron enriched recipes during pregnancy, you can easily incorporate lot of iron in your food and enjoy your meal at the same time. Below is the recipe of a sumptuous, iron-filled food that will make your taste buds tickle.

Bhaji made from cauliflower and Spinach
Ingredients
225 grams of fresh or even frozen spinach leaves.
225 grams of frozen or fresh cauliflower florets.
225 grams of sliced courgettes (zucchini) florets.
Peeled and sliced medium-sized onion.
Two cloves of garlic, crushed.
One or two tablespoons of olive oil or sunflower oil.
One tablespoon of mustard seeds.
One tablespoon of garam masala.
One to two tablespoons of thick natural yoghurt.
Method of preparation
Put the spinach in a bowl. Fill it with boiling water and allow it to thaw (if frozen) for two to three minutes.
Squeeze the thawed or fresh cauliflower through a sieve to dry it. You can use a large spoon for the purpose. Now, keep it aside.
Put the courgettes and cauliflower in a big saucepan, cover it up with boiling water and cook on low flame for 6 minutes. Now, strain the mixture.
Over low heat, fry onion, mustard seeds and garam masala in your chosen oil for three to four minutes.
Mix cauliflower, spinach, courgettes in the oil and make sure that they are tossed evenly.
Cover the ingredients cooking in the pan and allow them to cook for 15 minutes more.
Add yoghurt after the mixture is cooked and stir.
Your iron-rich veggie delight is ready to be served hot and fresh.
You can prepare plenty of iron-rich recipes during pregnancy. Apart from a main course dish such as the one mentioned above and dishes such as Rajma Tikki made from kidney beans (rajma), potato, coriander and peanuts, you can also have beverages such as pomegranate cooler made from orange and pomegranate for a cool snack in summer. Some other recipes rich in iron are raw banana foogath, Khajur Badam Firni, apple pie and many others. Pick out your favourite foods which are cereals, fruits, vegetables and others, and look up which of them are rich in iron.
Read more articles on Pregnancy Diet.