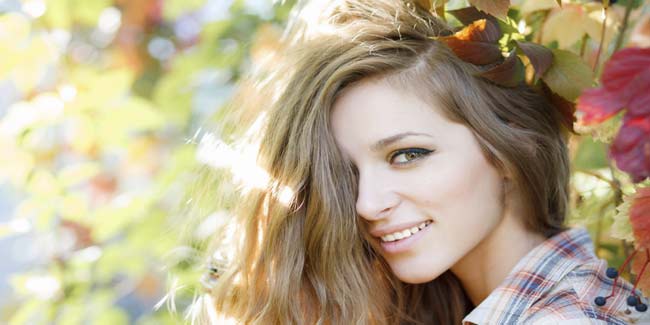 Styling, cutting your hair short, and letting your hair open in the wind does make your hair look good; but probably only for a week. After that, you realise all this has made your hair to fall and the volume has decreased substantially. You suddenly want your thicker, longer hair back.


Ageing or hereditary factors, hormonal imbalances, malnutrition, certain allergies, pollution, and physical or emotional stress can cause hair loss resulting into thin hair. Expensive shampoos and repairing serums help less, causing all the more damage. Which is why, you need natural ways to grow your hair thicker.

Natural remedies to grow hair thicker won't pose any side-effects and are convenient to apply at home. More so, they are cheap. Here are the top 6 natural ways to get thicker hair naturally.
Egg
The true protein- eggs provide the essential treatment to enjoy stronger and thicker hair. Take one or two eggs according to the length of your hair and beat it properly. Now apply this egg on to your wet hair and allow it for sit for five to ten minutes. Finally wash your hair with lukewarm water and your favourite shampoo. Use can use this therapy three to four times a week.

You can also mix together the yolk of one egg with one tablespoon of any kind of hair oil and two tablespoon of water properly. Use this mixture to massage your scalp thoroughly. Follow this remedy once a week to enjoy thicker hair.
Fenugreek Seeds
An over-the-kitchen-shelf product, fenugreek seeds have been used since ages to prevent hair fall and hence enjoy thicker hair. Take two to three tablspoon of fenugreek seeds and soak them in water for eight to ten hours. After that make a fine paste out of the soaked fenugreek seeds and apply it onto your hair and scalp and allow it to sit for about half an hour before washing your hair properly with lukewarm water.

You can also add some fenugreek seeds to your hair oil bottle and use that oil regularly. This remedy will also prevent dry scalp. Can't get enough of the wonderful seeds? Another option is to rinse your hair with the water in which fenugreek seeds are soaked overnight. This will encourage hair growth and help you to get rid of dandruff.
Aloe Vera
Another conveniently available option with innumerable benefits, aloe vera isn't happy just making your skin problem-free. It can bestow Rapunzel-like hair on you. Extract the gel from one or two aloe vera leaves and rub the gel onto the scalp and allow it to sit for half an hour before rinsing your hair with lukewarm water.

You can collaborate aloe vera's properties with other amazing products too. mix the aloe vera gel with one egg and some brandy. Apply this mixture to your scalp and after ten to fifteen minutes shampoo your hair. Follow this remedy once a week to enjoy thicker and healthy hair.
You can also consume one tablespoon of aloe vera juice daily on an empty stomach to enjoy better hair growth.
Indian Gooseberry
Indian gooseberries tout of several anti-inflammatory, antioxidant, anti-bacterial, and exfoliating properties. All these attributes can help a lot in maintaining a healthy scalp and better your hair growth rate.

Take one tablespoon of dried gooseberry and boil them in two tablespoon of coconut oil, strain the oil and use it to massage your scalp before going to bed. Next morning shampoo your hair as usual.

Another option is to boil dried Indian gooseberry or powdered Indian gooseberry in water and leave the water overnight. You can use this water to rinse your hair. You can also take the Indian gooseberry fruit and its extract as a dietary supplement for healthy hair.
Avocado
Widely used in the West, and underrated in India, avocado can be used to get thicker hair. Make a mixture of mashed avocado and banana and use it to massage your scalp. Leave the mixture on your hair for about half an hour so that the nutrients present in the mixture get absorbed by the scalp.

Another way to use avocado is to make a hydrating hair mask from it. Add two tablespoons of olive oil to half a ripe mashed avocado. Apply this hair mask on freshly shampooed hair and allow it to sit for about twenty minutes. Finally rinse your hair thoroughly and apply some conditioner.
Orange Juice
Orange is helpful in fighting dandruff and oily scalp. Getting rid of these factors can ensure thicker hair. Take orange peel and mash it to make a pulp. Use this pulp as a hair pack once in a week to promote hair growth.

You can also mix equal amounts of orange juice and apple puree together and then apply this mixture on your hair. After half an hour wash your hair with plain water.

The key to keeping your hair thick and lush is to avoid anything that might thin it. If your hair is already thinning, you can employ our tricks to make it look fuller.
Read more articles on Hair Care.