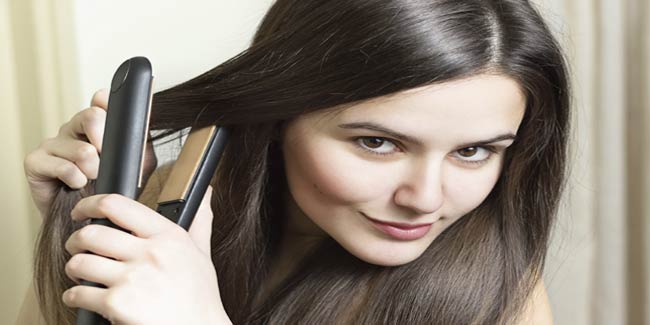 Hair straightening is nice, but it definitely causes problems, so one should come to terms with the side effects of permanent hair straightening before opting for this procedure.
People are very concerned about their hair; most women want to get their hair straightened. But you should know that straightening the hair permanently can also have its side effects.
We all look forward to straight and sleek strands of hair that can be easily managed and styled as desired. Not all of us, regrettably, are blessed with naturally straight hair. Although, curly and wavy locks have a charm of their own, some prefer straightening them out. For them, permanent hair straightening will seem a feasible solution. Straightening hair permanently with the help of chemical based straightening compounds or blow drying techniques may not be the best suited options for the health of your hair. It is therefore, advised that people come to terms with the side effects of permanent hair straightening before opting for this procedure.
The Side Effects
Chemicals and dryers that are commonly used for executing the straightening process do not restrict themselves to drying out the strands alone. They dry up the roots as well. This will eventually cause the hair strands to become brittle and break off. Therefore, you may end up losing hair permanently.
Excessive usage of straightening chemicals and blow dryers may even cause the delicate strands to burn out completely.
The success of permanent hair straightening exercises depends on how well the process is being executed and also on the usage of protective compounds. For example, if proper heat protectors are not applied before the straightening process and the job is being done by a novice, chances of permanent cuticle damage are high. Cuticle damage will not only cause permanent loss of strands but also a lack of re-growth.
Permanent hair straightening can lead to split ends. This happens due to the harsh chemicals that are used in the process of straightening hair.
Chemical based straightening agents may also result is alteration of the hair's texture permanently. Therefore, you may not be able to regain naturally healthy hair strands.
Allergies associated with permanent straightening techniques are also very common.
Hair fall is also one of the most common side effects of hair straightening, and it could severe. People experiencing hair falls use poor quality chemicals and improper hair straightening techniques, and this leads to the breaking of the hair from the roots. The hair follicles grow weaker and hair begins to fall.

The side effects of permanent hair straightening truly cause serious problems. In fact, styling endeavours such as the ones mentioned above can leave you with no hair at all, especially, if you overdo it! Therefore, it is important that you stick to natural remedies for a safer and better experience.

Natural ways of straightening hair will not only help in smoothening your curls and keeping them sleek for as long as you please but also in ensuring that your hair strands are healthy. Make sure that you consult a certified hair expert before using any new product on your hair.
Read more articles on Hair Care