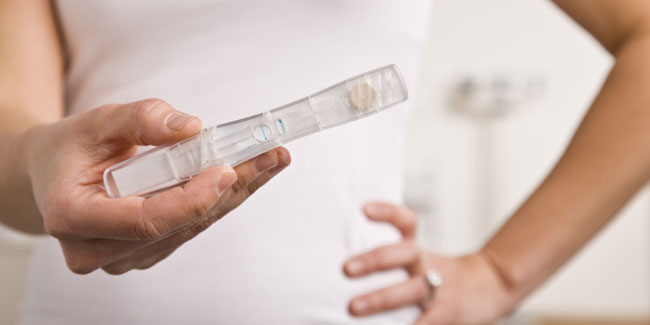 Taking a pregnancy test at home is a quick and comfortable way of knowing that you are pregnant or not. A home pregnancy test is one of the most convenient ways to detect pregnancy on the first day of your missed period.


If you have missed your period and are willing to have immediate results then home pregnancy tests are best for you. It is most suitable for women who are trying to get pregnant as they need not rush to the doctor every time they have the inkling of being pregnant.
Method of Performing Pregnancy Test at Home
Kits of pregnancy test are stored in the refrigerator. So it is important to ensure that they are brought to room temperature before conducting the test.
Collect a sample of your urine in a dry container. It can be either of glass or plastic. Ensure that the container is free from any contamination such as the residue of detergent.
Put the pregcolour card on the flat surface of the kit. Now pour two drops of urine in the circular test well (usually marked 'S'). This can be done with the dropper provided in the pregnancy test kit.
Now wait for a few minutes (as per the instructions of the manufacturer) before interpreting the result.
Interpreting Result of Home Pregnancy Test
You will find two regions on the pregnancy kit – they are marked 'C' and 'T'. 'T' indicates test sample and 'C' denotes a control. So 'C' is always visible on the comparison band of the kit.
The test is negative if a pink or purple band appears in the region marked 'C'. If one band appear in the 'C' region and the other appears in the region marked 'T' then the test is positive. If you have low level of human chorionic gonadotropin (hCG) hormones then no band will appear and even if it does it will be very faint. In both the cases it is recommended to conduct the test again after 72 hours.

Remember that the procedure of conducting the test may differ from one brand of pregnancy kit to another. So it is important to read the instructions written on the pregnancy test kit. For instance some tests give you an option of using the sample in either way. Others recommend the use of the 'midstream sample' i.e. let out a little bit of urine before collecting the test sample.

Even though home pregnancy tests are considered reliable, it is always wise to consult your doctor before taking any further steps.
Read more articles on Pregnancy.