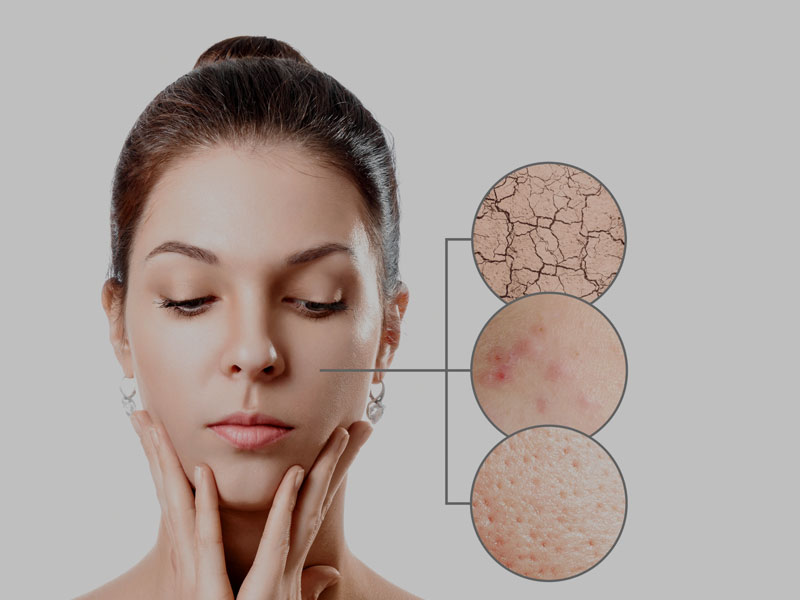 Our skin's needs changes over the time, and by taking steps to best identify its needs is essential for it to function and in turn makes you look your best. Keeping the health of your skin in mind and checking in regularly to determine if any alterations to your current ritual are needed will most definitely keep it balanced and beautiful.
Skin type can generally be determined by a few simple observations. These are easy to perform at home, and OnlyMyHealth can help you understand what is your skin type. There are 5 basic skin types, viv-a-viz:
Oily
Dry
Normal
Combination
Sensitive
Characteristic Of Skin Type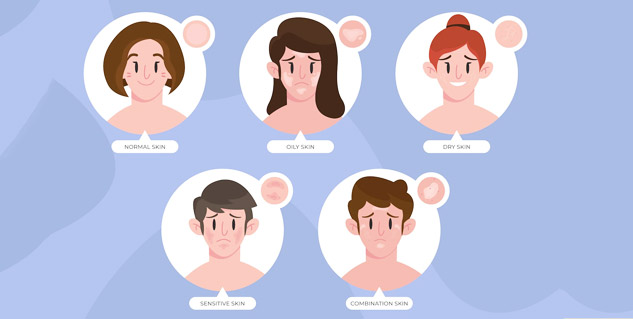 1. Oily skin
Oily skin type produces an excess amount of sebum that makes the skin to appear shiny and greasy, especially through and around the T-Zone which is the forehead, nose and chin. If you have oily skin, you are more likely to have enlarged pores, develop acne blemishes and be more prone to acne and pimple breakouts.
Also Read: Use These Natural Moisturizers For Oily Skin During Summers
2. Dry skin
This is typically dull, rough, flaky or even scaly. Dry Skin often feels tight or less elastic and may be prone to showing more visible lines. Additionally, it may become itchy or irritated. If you feel dryness all over your face and body right after you wash your face or take a bath, probability is that you have a dry skin type.
3. Normal skin
This is the most balanced skin type as there is neither dryness nor oiliness. Normal skin type is not prone to breakouts, flakiness, feeling slick or tight. People who have this type f skin have pores that are generally small. The skin's texture is smooth, and it is less likely to sensitive.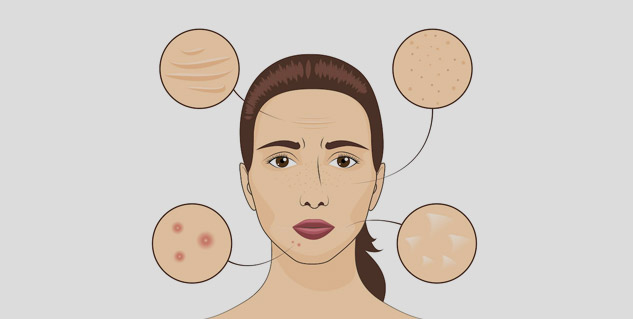 4. Combination skin
Combination skin includes some areas that are dry as well as other which are oily. Commonly, the T-Zone being oily, and the cheeks being either dry or normal.
5. Sensitive skin
This skin is often referred to as a skin where it can be both oily and sensitive skin, dry and sensitive skin or normal and sensitive skin.
Also Read: Do You Have Sensitive Skin? You Must Follow These 11 Rules for Sensitive Skin
How To Determine Your Skin Type?
The Bare Face Method
Cleanse your face properly with a mild cleanser or face wash and gently pat dry. Leave skin bare. Do not apply any moisturizers, face serums or treatment ointments. After 30 minutes, examine your cheeks, chin, nose and forehead for any shine or dryness. After another 30 minutes, evaluate whether your skin feels parched. Try to smile or make any other facial expressions for a better judgement. If the skin feels tight, it is likely to be the dry type. However, if there is noticeable shine on your nose and forehead, the skin is mostly likely a combination of the above mentioned. If there is shine on your cheeks in addition to your forehead, nose and anywhere else, it is the oily skin type.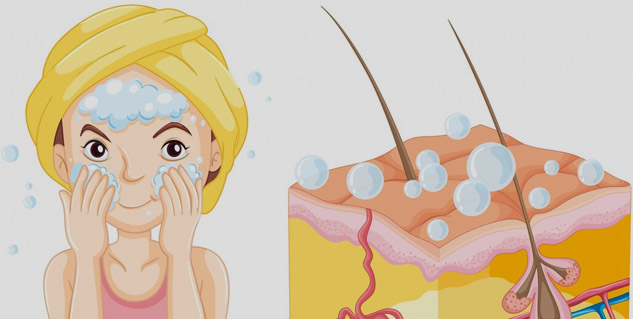 The Sheet Method
The blotting sheet method is relatively a much faster option. It is also believed to be an excellent differentiator between oily and dry skin types. Gently pat a blotting paper on the different areas of your face one a at a time. Hold the sheet up against some light to determine how much oil is visible on the surface of the sheet. If the sheet picked up little to no oil at all, you most likely have dry skin. If the blotting sheet reveals oil from the forehead and nose areas, your skin is combination. A the end, if the blotting paper is saturated with oil, it is extremely likely that you have oily skin.
Image credits- freepik