Dehydration during pregnancy could be a problem for a few expecting mothers. The dehydration typically happens when water is eliminated from the body at a rate that is more than you can replace. So in simple terms it means you are not drinking enough water. It may sound like a pretty normal thing to happen, but dehydration while pregnant is a serious condition.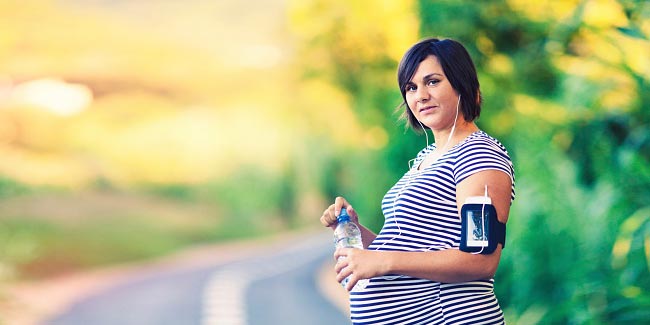 What you do not understand is that your baby gets all of its nutrition through you, so when you are experiencing dehydration in pregnancy, you are also subjecting your unborn baby to it. The truth is that as a pregnant woman, you need more water than the average person, since water plays an important role in the healthy development of your baby. Here are some ways in which you could deal with dehydration during pregnancy.
Drink plenty of water
One of the most important reasons for fatigue in a pregnant woman is due to dehydration, and this is why you should be drinking plenty of water. But this definitely does not mean that you must drink lots of water at one go. Upon seeing any signs of dehydration in pregnancy, you should start to drink water evenly throughout the day. If you drink too much of water at the same time, you risk putting pressure on your kidneys, therefore you should be careful.
Opt for liquid foods
In order to increase the water intake in your body, you should opt for foods that are liquid in nature. Dehydration during pregnancy could be fought with liquids like soup, juices and smoothies, as they become part of the daily water requirement for the body. So, if drinking plain water is too tedious a task, then you can always opt for other healthy liquid sources. Additionally, you could also include fruits such as, lemon, cranberry, watermelon or orange in your everyday diet.
Avoid caffeine
Of course there would be days when you would want to drink some coffee, but there is a good reason for us to make you stop. Dehydration while pregnant can be a lot more complicated than you imagine, and drinking caffeine related products tend to increase the urine output, thereby making you more susceptible to dehydration. This is also true for processed fruit juices and sodas, so avoid them all.
Avoid perspiring
This means that you should avoid going out in the sun or doing any type of strenuous exercise that would make you perspire. Dehydration in pregnancy can also be caused by a lot of perspiring or sweating, and due to this reason you should stay away from getting sweaty and messy. If you do happen to go out, or do some strenuous activity then remember to carry a bottle of water with you, so that you can sip on it from time to time.


Above all, one must remember that pregnancy is a very delicate time for any woman, and the only best way to go about it to consult a doctor and take expert advice. Always consult a doctor and take his or advice for your betterment. Moreover, remember to drink a glass of water at regular intervals.
Image Source: Getty

Read more articles on During Pregnancy