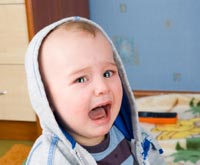 How to Deal with Crying Babies in Public? : Is your baby crying his or her eyes out in public every now and then? Dont be stressed, it is their job to do so and it is your to control them. Read how!
So you have to attend a social gathering and you love your baby too much to leave him behind? You take the adorable little 'devi'l and sure enough he sets in a tornado of cries disturbing everyone's peace, and above all yours? What do you do during such times? And, how can you avoid an episode such as this?
You may also read : Why do Babies Crawl and Walk
A baby due to his inability to communicate with verbally often tries to do so by crying. He is wailing due to a lot of reasons and it is your duty as a parent to identify them and work on them so that your baby finds comfort. Either you should nottake your baby along or if you are doing so then be ready to face such problems. Chances that he might cry are quite likely because there will be too many people wanting to kiss/hug and nudge your baby. Your baby might behave cranky because of all of this. This is what you can do.
Attend to the baby's needs – This is the most simple of things that you can do in such a situation. Do not be shocked or embarrassed! It's your kid crying so go and help the little one. Babies usually have a lot of issues; they do not like a lot of things and most things irritate them. Identify the issue and address it as efficiently as you can.

Feed the baby – Babies are growing and get hungry really fast. Be sure to carry a bottle of milk if you are against breastfeeding in public. Most times babies cry out because they are hungry and you can see that because they keep shut as and when they are fed.
You may also read : Why do Babies Cry at Night?

Change of Diaper - At times your baby may need a change of diaper because they soiled it. The diaper in some cases might be too tight for them. Always carry extra diapers with you.. It is very important that you do so because a soiled and wet diaper would mean your baby will have to stay in an unhygienic state.

Hire a babysitter – It is of very good help to hire a help or a babysitter. Let her take care of your baby while you attend your important work. This way you will have someone who will completely devote her time to your little one. You can concentrate on what you are out to do. But even then you will have to attend to your baby some times.
You may also read : How to Involve Dad in Baby Care

Also do not forget to apologise the public if it is a serious public gathering. Even though most people do not mind, yet when someone's watching a film at a theatre they really do not want a baby wailing away to glory.