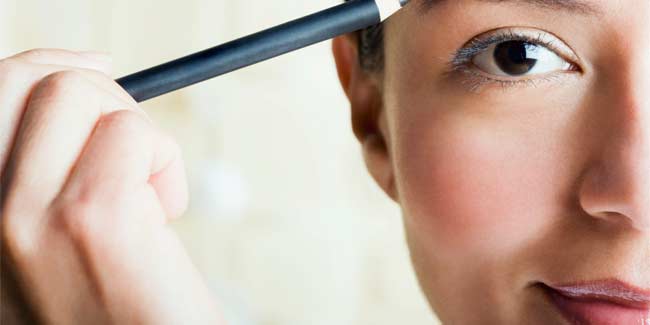 If you have really small eyes, applying eye make-up could be quite a baffling job. Although your aim might be to make them appear just a wee bit bigger than they actually are, the job may not be just as simple. Overdoing the make-up might actually make them look smaller, while applying too little of it could render them completely insignificant. Therefore, the trick lies in striking a medium balance which is just right for the desired impact. Similarly, the choice of colours is also extremely important while doing up smaller eyes. Whereas some colours can magnify them, some can make them appear further diminished. Therefore, in order to accomplish this task to perfection, you would surely require some expert help and guidance.
Eye Make-up for Small Eyes: Useful Tips
Some smart and effective tips do come in handy to make your eyes look highlighted and magnified.
Dark under eye circles can make your eyes look sunken and diminished. Therefore, it is a great idea to conceal them by applying an under eye concealing make-up base which is one shade lighter than that of your skin. This will conceal the circles and prove to be a suitable base for the application of eye make-up.
Now for the choice of colours for the eye shadow. This is extremely crucial, especially if you have smaller eyes. It is always important to use colours which are in contrast with the natural colour of your eye. For example, if you have brown eyes, the colour of the eye shadow should ideally be purple. If the colour of the eye shadow matches with those of the eyes, your eyes would tend to look even smaller. Similarly, if your make-up is too dark and loud, the eyes will appear extremely insignificant and sunken. Using contrasting shades in moderation, is therefore the best option. Also, it is important to use a light shaded base and then use darker colours for the upper coat. This combination will open up your eyes, making them look big.
In order to make your eyes look bigger, you need to use light shade eyeliner. Apply a thin line and draw it a little upwards from the outer corner of the eye, for that uplifted look. If the liners close in on the eyes, they might appear even smaller.
Curling your eyelashes is an easy and simple tip for making the eye look bigger and defined. Curled up lashes also help in opening up your eyes, making them bigger and brighter. Post curling; sprinkle some dry powder on them to prevent them from sticking. Once that has been done, apply mascara only to the upper eyelid for that magnified look. Skip mascara on the lower lashes, when you do up smaller eyes.
If you are game for an evening party, applying a light yet glittering shade of eye shadow on the inner corner of the eye can actually help in opening up the eyes even further.
Learning how to apply eye makeup for small eyes is a simple job. All you need is an expert who can guide you through your eye makeup options, for being able to create the desired impact.
Read more articles on Eye make-up