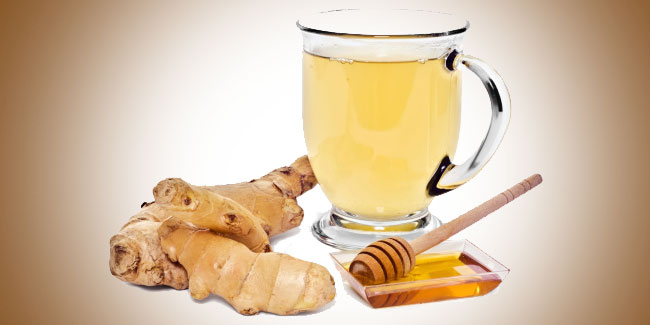 Exfoliation is a great way not just to get a smooth and glowing skin but to get baby soft lips as well. Try this homemade ginger and honey scrub soft lips.
Exfoliation is a great way to get smooth and radiant skin and for the same reason a good beauty routine always include exfoliation or scrubbing. Most of us only exfoliate the skin of the face and ignore the lips completely. However, exfoliating your lips is equally important because just like your skin, your lips need to breathe too.

Image source : Getty

There are plenty of lip scrubs readily available at beauty stores but you do not have to drill a hole in your pocket when you can easily prepare lip scrubs with natural ingredients at home. Go get the below given ingredients from your kitchen and get rid of those unflattering dead skin layers from your lips, and get baby like soft lips.
Things you will need
1 tablespoon of white or brown sugar
1 teaspoon organic honey ( You can use vanilla or chocolate essence if you don't want to use honey)
A small container
A small piece of fresh ginger.

Ginger acts as an amazing natural skin exfoliator. The tingling properties of ginger can irritate your skin mildly but it will boost the blood circulation to the lips, making them appear fuller and pouty. Honey not only reduces the zingy ginger fragrance but also moisturises your lips.

How to prepare the natural ginger lip scrub
Follow below given step-by-step instructions to prepare the natural ginger lip scrub at home
Take a tablespoon of white or brown sugar in a bowl.
Wash the ginger piece and peel off the outer layer.
Cut it into smaller pieces using a knife.
Now, add these pieces to the bowl containing sugar
Add 1 teaspoon of honey to the mixture.
Mix all the ingredients well.
Your scrub is ready to use.
How to use it
You can either apply it just with your finger or you can use an old toothbrush or mascara.
Now softly use small, circular motions to exfoliate your skin.
Make sure you do not apply much pressure it might hurt your lips.
Gently, scrub for 20-30 seconds to get rid of the chapped dead skin layers from your lips.
Then, wipe off the lip scrub from your lips using a damp warm towel or tissue paper.

This scrub is best suited for immediate use. However, if you want to make it in a larger quantity for future use, you should store it in a clean and well sanitized storage container.
Top image source : Getty
Read more articles on Skin Care
For more such stories, Download Onlymyhealth app