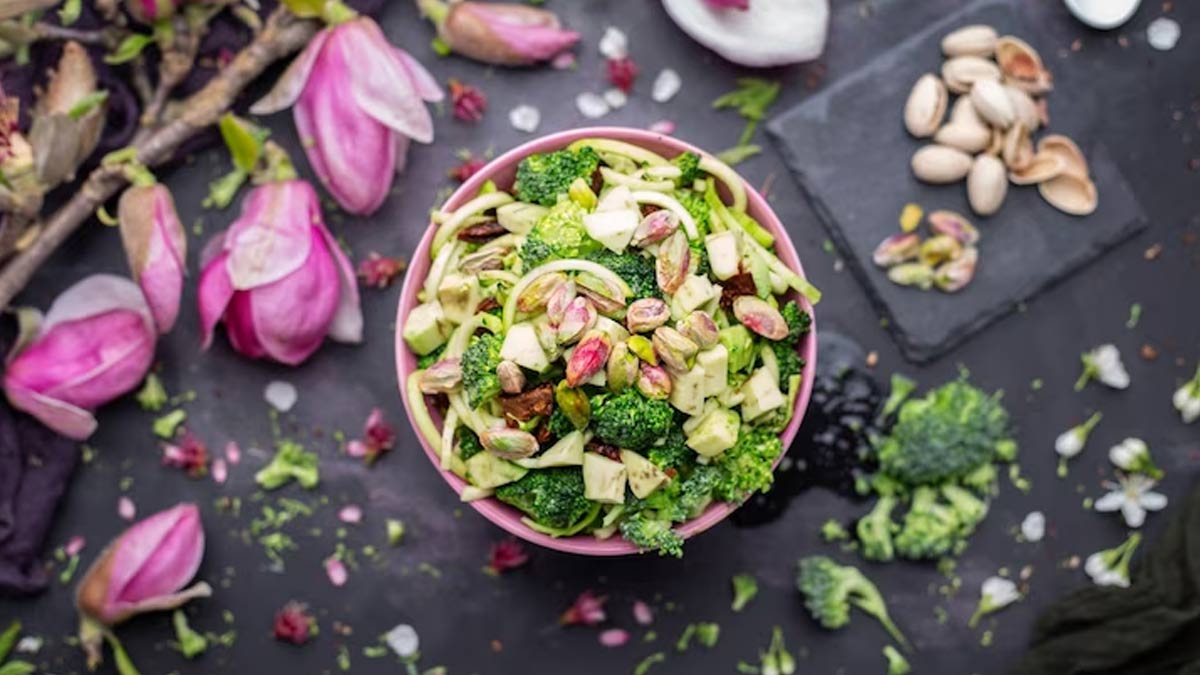 We all look for various ways to enhance our health, be it physical activities, mindfulness techniques, or good food. The constant and combined efforts pave the way to a better life in the long run. If you are looking for healthy and tasty recipes, you have come to the right place. One such vegetable that is nutritious and versatile with numerous benefits is broccoli. Adding it to your diet will help you improve your health in many ways, like promoting heart, eye, and brain health. Here are three recipes that you can try to make with broccoli.
Healthy Recipes With Broccoli To Try At Home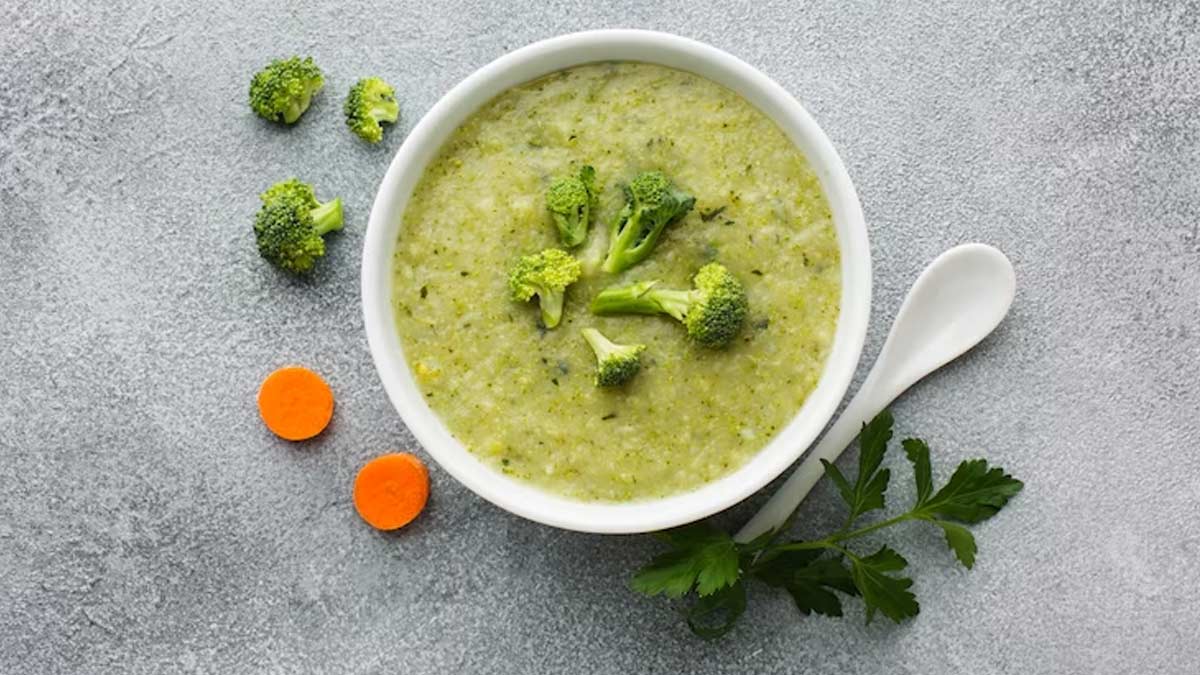 Broccoli Soup
Try making this comforting and nutritious dish with the help of Master Chef Sanjeev Kapoor's recipe.
Ingredients:
Broccoli
Butter
Oil
Onion finely chopped
2-3 cloves of garlic
Refined flour (maida)
Vegetable stock
Milk
Salt to
White pepper powder
Cream
Step 1: Boil four broccoli florets and set some aside for garnish.
Step 2: Take a deep nonstick pan and melt butter over medium heat. Add little oil to prevent the butter from burning.
Step 3: Add one chopped onion and two cloves of garlic to the pan and sauté until the onion becomes transparent.
Step 4: Next, add one tablespoon of refined flour and saute it for a minute. You can add broccoli florets now and cook them for two to three minutes.
Step 5: Add the broccoli stock and boil it for five minutes on high heat. Cook it without covering the pan.
Step 6: Strain the broccoli in a container and let it cool.
Step 7: Set the stock aside. Use a sieve to remove the particles or a mixer to combine them.
Step 8: Take a pan and combine it with milk and strained stock and boil it.
Step 9: Add salt and white pepper powder to it and boil it for some time. Your soup is ready to serve.
Also Read: 7 Health Benefits Of Drinking Broccoli Juice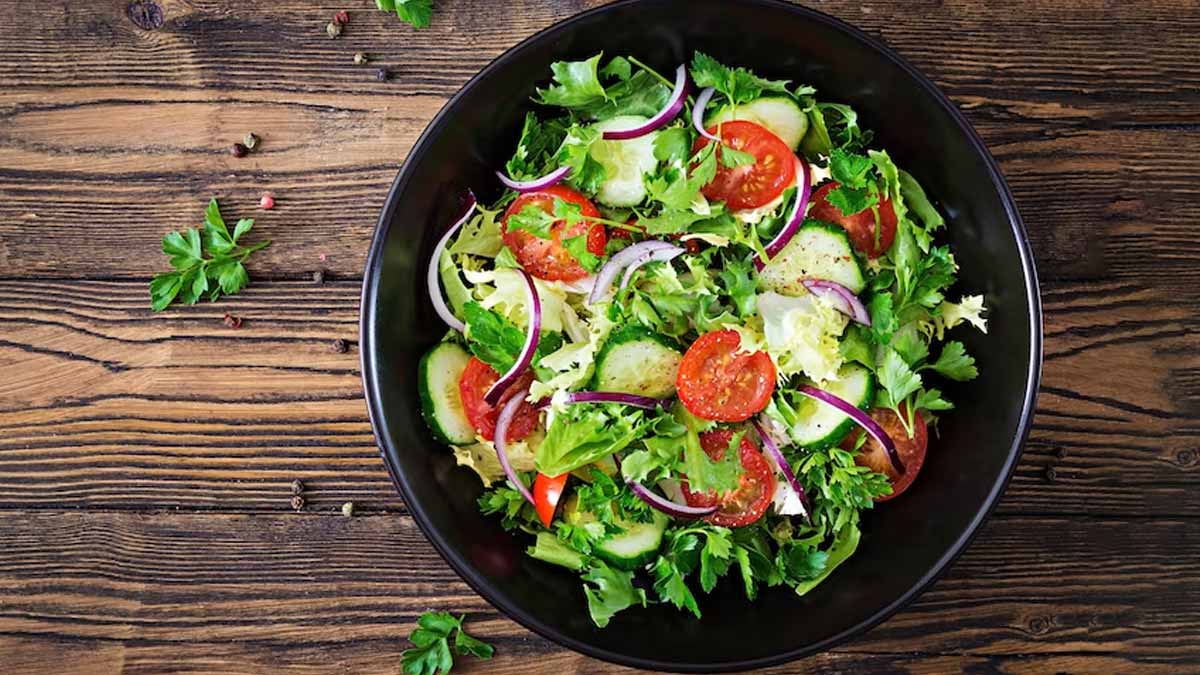 Broccoli and Quinoa Salad
This broccoli and quinoa salad is a delicious and filling dish that is perfect for lunch or dinner.
Ingredients:
Quinoa
Broccoli
Red bell pepper
Red Onion
Parsley
Almonds
Olive oil
Apple Cider Vinegar
Salt
Step 1: Combine cooked quinoa, chopped broccoli, red bell pepper, red onion, parsley, and almonds in a large bowl.
Step 2: In a small bowl, whisk together the olive oil, apple cider vinegar, salt, and pepper.
Step 3: After adding the dressing, mix the salad into it.
Step 4: Serve it cold or at room temperature.
Also Read: Healthy Diet: 6 Healthy Recipes You Can Make With Cucumber
Broccoli Bread
Ingredients:
Broccoli
Olive oil
Garlic
Red pepper
Tomatoes
Olives
Dough for bread
Parmesan cheese
Step 1: Cook broccoli in boiling water for three to five minutes in an oven at 350° F temperature.
Step 2: Strain the water and chop the broccoli.
Step 3: Start by heating olive oil in a large frypan. Add garlic to it and cook over medium heat for about 30 seconds. Cook for one minute after adding the tomatoes, olives, and red pepper.
Step 4: Season broccoli with salt and pepper and add it to the pan.
Step 5: Roll each piece of dough into a 12-by-9-inch rectangle on a surface that has been lightly dusted with flour. Add half of the feta and Parmesan to each.
Step 6: Around the filling, roll the dough up and fold the sides in.
Step 7: Bake it in the oven for about 40 minutes until it turns brown. Slice and serve it after letting it cool slightly.
Conclusion
There are various other recipes of broccoli as well, such as broccoli slaw, broccoli pasta, broccoli fried rice that you can try at home. However, if you are dealing with digestive issues or are on a diet, consult with your dietician or nutritionist before trying anything new.