If you think desserts can't fit on your diet, think again. We have lightened-up recipes for some of our favourite desserts.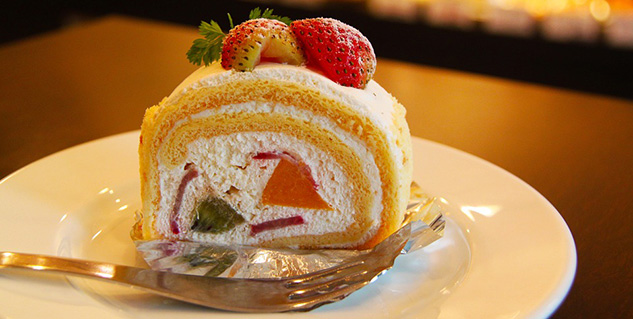 Mini strawberry-Rhubarb pie- 239 calories
This muffin-tin recipe for strawberry-rhubarb pies is cute as can be and delicious too! These mini strawberry-rhubarb pies have a special crust made from almonds and white whole-wheat flour. Make sure you let the baked pies cool in the pan for the full 30 minutes so the filling has time to set. Serve with fresh whipped cream or a dollop of Greek yogurt.

Ingredients

Crust and topping:
1 cup chopped almonds, divided
1 1/2 cups white whole-wheat flour
1/2 cup sugar
1/2 teaspoon salt
4 tablespoons cold unsalted butter, cut into small pieces
1 large egg
2 tablespoons canola oil
1 teaspoon vanilla extract
1/4 teaspoon almond extract
Filling:
2 tablespoons instant tapioca
2 cups chopped rhubarb, fresh or frozen (thawed)
1/3 cup sugar
1 teaspoon vanilla extract
Pinch of salt
2 cups chopped strawberries, fresh or frozen (thawed)
Preparation
To prepare crust & topping: Combine 3/4 cup almonds, flour, 1/2 cup sugar and 1/2 teaspoon salt in a food processor; pulse until the nuts are finely ground. Add butter; pulse until well incorporated.
Whisk egg, oil, vanilla and almond extract in a small bowl. With the motor running, add the mixture to the food processor. Process, then pulse, scraping down the sides if necessary, until the mixture begins to clump, 30 to 45 seconds (it will look crumbly). Measure out 1/4 cup of the mixture and combine in a bowl with the remaining 1/4 cup almonds; set aside for the topping.
Preheat oven to 400°F. Generously coat a 12-cup nonstick muffin tin with cooking spray.
Using clean hands, press about 1/4 cup of the crust mixture into the bottom and all the way up the sides of each muffin cup. Prick the bottoms with a fork.
Bake until the crusts are set and the edges are just beginning to brown, 6 to 8 minutes. Let cool on a wire rack.
Reduce oven temperature to 350°.
To prepare filling: Process tapioca in a spice grinder, mini food processor or blender until finely ground. Combine with rhubarb, sugar, vanilla and salt in a large saucepan. Cook over medium heat, stirring frequently, until bubbling, thickened and the rhubarb is starting to break down, 5 to 8 minutes. Remove from heat and stir in strawberries. Divide the filling among the crusts (a generous 2 tablespoons each). Sprinkle with the reserved topping.
Bake the mini pies until the topping is beginning to brown, 25 to 30 minutes. Let cool in the pan for at least 30 minutes. Loosen the edges with a paring knife, then gently pry the pies out of the tin with a butter knife. Serve warm or room temperature.
Mini rum-raisin bread puddings- 243 calories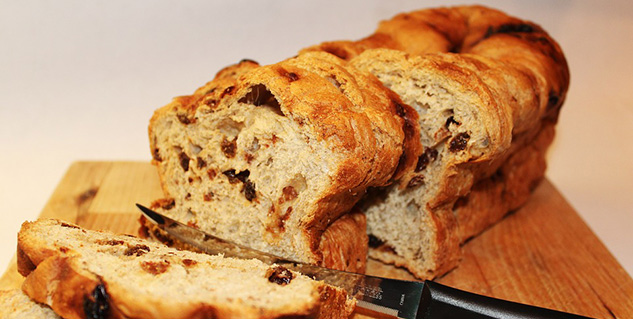 This raisin- and pecan-studded bread pudding recipe is made in a muffin tin. The cute little mini bread puddings will have all your friends and family swooning and asking for the recipe. Country bread with a solid crust gives the bread pudding a nice toothsome texture. If you don't care for rum, use apple cider in its place.

Ingredients
4 tablespoons unsalted butter, divided
2 large eggs, lightly beaten
2 cups low-fat milk
1 cup dark brown sugar, divided
4 tablespoons dark rum or apple cider, divided
1 teaspoon ground cinnamon
1 teaspoon vanilla extract
Pinch of ground nutmeg
1/2 cup raisins
5 cups cubed or torn whole-wheat country bread (1/2 inch)
1/4 cup chopped pecans
Pinch of salt
1/2 cup half-and-half
Preparation
Position oven rack in center of oven; preheat to 325°F. Coat a 12-cup nonstick muffin tin with cooking spray.
Melt 2 tablespoons butter in a small microwave-safe bowl. Whisk eggs, milk, 1/2 cup brown sugar, 2 tablespoons rum (or cider), cinnamon, vanilla and nutmeg in a large bowl. Whisk in the melted butter and raisins. Gently stir in bread. Let stand, stirring occasionally, to let the bread absorb the liquid, about 15 minutes.
Divide the mixture evenly among the muffin cups (about 1/3 cup each). Top each with about 1 teaspoon pecans.
Bake the puddings on the center rack until set and just beginning to brown on top, 20 to 25 minutes. Let cool in the pan for 10 minutes. Gently loosen and remove with a paring knife.
Meanwhile, combine the remaining 2 tablespoons butter, 1/2 cup brown sugar, 2 tablespoons rum (or cider) and pinch of salt in a small saucepan. Cook over medium-high heat, whisking, until bubbling and the sugar is mostly dissolved, about 2 minutes. Whisk in half-and-half and continue cooking, whisking vigorously and constantly, until bubbling and thickened slightly, about 1 minute more. Remove from heat and whisk slowly for 1 minute more. Let the sauce stand until ready to serve; it will thicken as it sits.
Serve the bread puddings with the sauce.
Instant mango frozen yogurt- 107 calories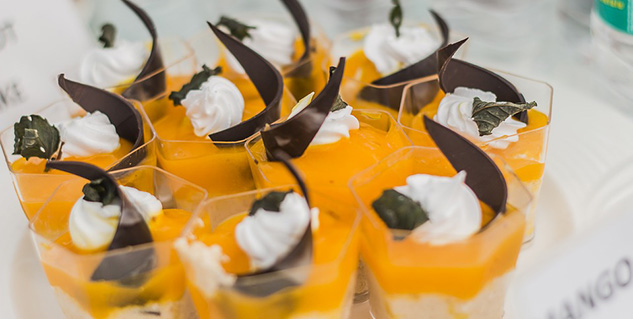 It couldn't be simpler to make frozen yogurt in a food processor. In this quick Greek frozen yogurt recipe, frozen mango and Greek yogurt are blended in a food processor to create a luscious, healthy dessert. If you want to make this starting with fresh mango, dice enough to get about 4 1/2 cups and freeze in a single layer until frozen solid.

Ingredients
4 1/2 cups diced frozen mango (16-ounce bag), not thawed
1 1/2 cups nonfat plain Greek yogurt
1/3 cup confectioners' sugar or brown sugar
Preparation
Combine mango, yogurt and sugar in a food processor. Process until smooth.

Image: Pixabay