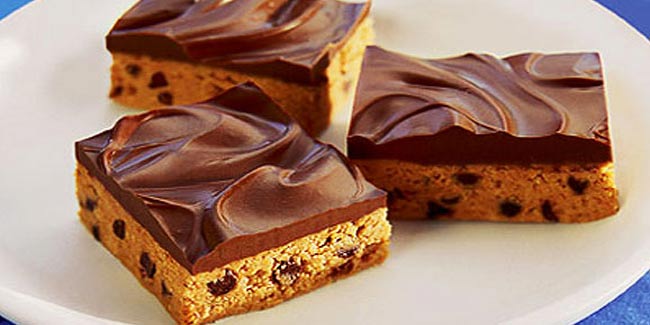 when it comes to satisfy your sweet tooth, the desserts beat all.
when it comes to satisfy your sweet tooth, the desserts beat all. Sit back and relax, we bring you some of the best desserts that you won't want to miss.
No bake peanut butter chocolate bars
A single bar of peanut butter chocolate is enough to satisfy your sweet tooth. These bars are not only yummy but healthy. They have less calories than other bars.
Ingredients for Crust: cooking spray, 24 chocolate wafer cookies, 3 table spoons unsalted butter, melted, 4 ounces semisweet chocolate morsels, melted.
Ingredients for filling :4 Ounces reduced-fat cream cheese, ½ cup creamy natural peanut butter, ½ cup 2 percent greek yoghurt , 2/3 confectioners' sugar.


Preparations:
Start with the crust part: Take an 8 inch square pan and cover its base with foil in a way that it overhangs from two sides. Put a light coat of cooking spray on it. Now take a food processer and process the cookies to grind them finely. Add the melted butter and process them again until the crumbs get coated with the butter. When this much is done, it's time to add the melted chocolate and process until the texture of the mixture becomes very wet sand. Press the mixture into the bottom with the help of a spatula, now refrigerate it while you prepare your filling.

For the filling: Process the cream cheese, peanut butter, yogurt and sugar in a food processor to prepare a smooth mixture. Now pour this mixture over the crust and smoothen it with a spatula. Put some peanuts over the crust and sprinkle ¼ teaspoon of salt. Cover and keep it in a refrigerator for about 4 hours up to overnight. Loose the mixture from the edges with the help of knife and use the foil handles to lift it out from the pan. You can cut it into bars and serve chilled.

Nutrition facts of No bake peanut butter chocolate bars per serving (25.1g) is as follows:
calories: 131, calories from fat is 73 percent.
Healthy lemony Yogurt Loaf Cake
Lemony yoghurt loaf cake is a healthy choice as it has hearty healthy olive oil, protein rich Greek yogurt. Lets see what ingredients you will need to prepare it.

Ingredients :
Nonstick baking spray, loaf pan, 1 and 1/ 2 cups white whole wheat flour, 2 teaspoons baking pwder, ¼ teaspoon salt, ¾ cup sugar, finely grated zest of 1 lemon, ½ cup plain Greek yogurt, ¼ cup milk, ¼ cup extra virgin olive oil, ½ teaspoon pure vanilla extract, 2 large egg whites and 1 large egg.
Preparations:
Preheat the oven to 350 degrees F and coat an 8 1/2- by 4 1/2-inch loaf pan with baking spray. Take flour, baking powder and salt in a medium bowl and whisk them together. Take some sugar and lemon zest in another bowl and rub the lemon zest into the sugar with your fingers. Add the yogurt, milk, olive oil, vanilla, egg whites and whole egg and vigorously whisk them until they are completely blended.

Add the flour mixture into the egg mixture and fold until just incorporated. Transfer to the prepared pan. Bake until a cake tester inserted in the center comes out clean, about 50 minutes. Cool in the pan on a wire rack for 5 minutes, and then unmold and cool to room temperature.

Nutrition Facts of Healthy lemony Yogurt Loaf Cake per serving (serving size 95.4 g ) is as follows: calories 173, calories from fat is 2 %.
Healthy marbled banana bread
Ingredients:
Nonstick cooking spray, ¾ cup all purpose flour, 2 ounces bittersweet chocolate, 2 medium ripe bananas, 2/3 cup sugar. ¼ cup canola oil, 2 eggs, 2/4 cup white whole wheat flour, 1 and ½ teaspoons baking powder, ½ teaspoon baking soda, ½ teaspoon kosher salt, ½ cup butter milk, 1 teaspoon vanilla extract.
Preparation:
Preheat the oven to 350 degrees F and lightly mist a 9-by-5-inch metal loaf pan with nonstick cooking spray and dust well with all-purpose flour to cover the pan completely, tapping out the excess. Now put the chocolate in a bowl and place it in a microwave on high in 30-second intervals, stirring, until melted and smooth, 1 minute to 1 minute 30 seconds. Keep it aside to cool slightly while you prepare the batter.

Mix bananas and sugar in a large bowl and mash with a potato masher or fork until mostly smooth with just a few small pieces of banana left. Add some oil and eggs and stir until combined. Mix in both flours, the baking powder, baking soda and salt with the help of spatula and stir in the buttermilk and vanilla.

Stir 1 cup batter into the melted chocolate. Fill the loaf pan with half the banana batter and then half the chocolate batter. Repeat the layers and gently swirl together using a spoon or knife. Bake until golden brown on top and a toothpick inserted in the center comes out clean, about 45 minutes. Cool in the pan 15 minutes, and then turn out onto a wire rack to cool completely. Serve warm or at room temperature. Cook's Note: To prepare your loaf pan for baking, you can also use a nonstick spray with flour already in it. Flouring the pan helps the bread rise well and prevents any collapse after it comes out of the oven.

The calorie count for per serving (52.0g) is 156, calories from fat 39.
Image Courtesy: getty
Read more articles on Healthy Recipes