Countries from all over the world are fighting the war against coronavirus and at the same time looking for a cure. A ray of hope for those infected has come in the way of plasma therapy. The trials for this method of treatment started in April in Sardar Patel Hospital, Ahmedabad, after getting the green signal from the Indian Councils of Medical research (ICMR). Smriti Thakkar from Ahmedabad became the first plasma donor in the country. She had recovered just a few days prior to the plasma donation, from coronavirus.
Smriti Thakkar: Getting Infected and Beating Covid19
Twenty four year old Smriti Thakkar from Ahmedabad, Gujarat returned from Paris, France on 19th March. She was studying for her Masters course in Paris. Only a day after her return, she showed symptoms of COVID-19. Her tests came out positive and she was admitted to the hospital. "My symptoms were sore throat and pain, but the positive results shocked me, it was a nightmare," Smriti tells OnlyMyHealth.com. But her hospital stay filled her with inspiration. "There were doctors and psychologists who kept us motivated, we were even given small radios that played old film songs to keep us entertained," remembers Smriti. Smriti remained in the hospital for 17 days and was discharged from the hospital on 6th April. It was a 14 day institutional quarantine for Smriti's parents as well.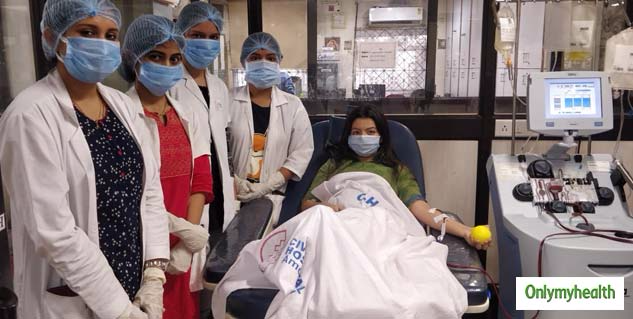 Also Read: HealthCare Heroes Awards 2020: Busting Fake News And Myths, ISRC Demystifying COVID-19
Decision to Donate Plasma
Smriti spoke Onlymyhealth.com from Paris, where she is back to complete her masters. "14 days after I completely recovered, the doctors told me that they wanted me to donate plasma. They explained to me about the procedure and how they will take plasma from my blood. They assured me that the process would not involve any risks or pain. But most importantly, when they told me that my plasma could save critically ill patients, I knew this is what I had to do. I have suffered for 17 days and survived, I knew how bad it could get. If there was a way to help others, I would do it. It was my social responsibility," Smriti tells OnlyMyHealth.
The doctors told Smriti that she could be a good candidate to donate plasma since her recovery had been good and she was a healthy survivor. "When I spoke to my parents about it and they were of the opinion that I should help the doctors who treated me," Smriti recounts.
Fear & Apprehensions for A 'First Time' Procedure
Smriti was assured that there would be no blood loss or risk of reinfection. "There was nothing to fear. The doctors explained everything thoroughly to me and my family. I also did some research about it and prepared myself for the plasma donation. I might be the first to donate plasma in India for COVID-19 related treatment, but people have been donating plasma for other diseases as well." says Smriti. Smriti had to undergo a full body check up, a blood test swab test and only then the procedure of 'plasma therapy' started. The whole procedure took 99 minutes.
What is the use of Plasma?
"The doctors explained that my plasma will be used to do Plasma therapy on other coronavirus patients. They told me that the plasma donation could help four patients with COVID-19 infection recover. I spoke to my family after this and explained it to my parents. And decided to donate plasma after that." tell Smriti to Onlymyhealth.com.
Also Read: HealthCare Heroes Awards 2020: Swasthgram Taking Up The Fight Against COVID-19 For Public Welfare
Jagran Group honors Smriti Thakkar
During the early stages of the pandemic the fear people had about COVID-19 was unimaginable. The fear of coronavirus infection and the worst case scenario was causing terrible mental stress to the people. Though the fear is still there, it is assuaged due to the rising recovery rate. The time Smriti decided to donate plasma was fear and anxiety of the COVID-19 infection was at its peak. She bravely decided to go through plasma extraction at the hospital. The Jagran Group honors Smriti Thakkar for her courage and nominated her for the Editor's Choice Award category in OMH Healthcare Heroes Award.
Read more articles on Miscellaneous
FOR MORE UPDATES ON HEALTHCARE HEROES AWARDS, VISIT HERE