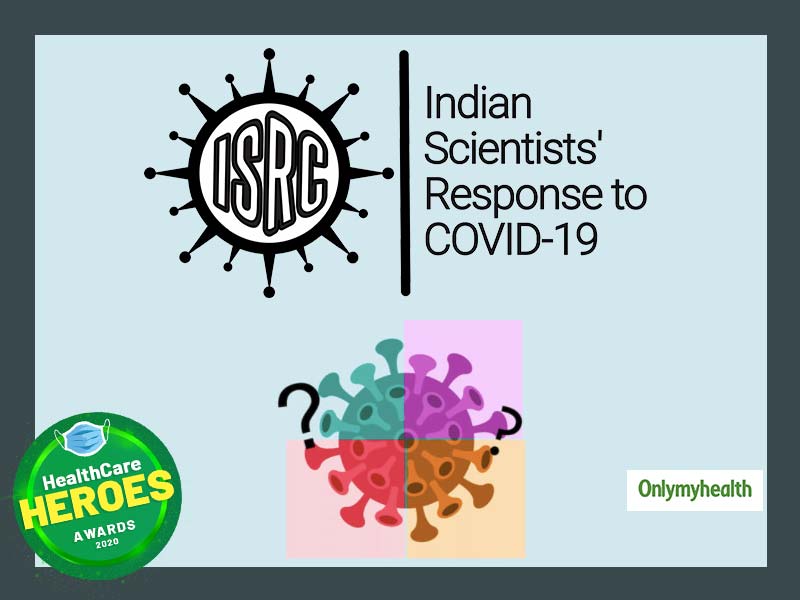 Category : Awareness Warriors

Vote Now
Who : ISRC
What : Bust fake news around COVID-19 Infection
Why : Putting out facts aganist all the fake news
The coronavirus spread at a never before seen pace, and in a matter of months the novel coronavirus had the world in its grips. Travelers who migrated out of China, carried the virus with them to the rest of the world. W.H.O. declared it a 'pandemic' and with no cure at hand, lack of information about this new virus, led to speculations, panic, fear and fake news. A group of Indian scientists decided they had to step in and stop this barrage of myths around Covid 19. That is how ISRC was formed. What started as a group of 10 scientists and one mission, ISRC - Indian Scientists' Response to COVID-19, is now a movement with over 500 scientists, post-docs and graduate students.
ISRC has been nominated in the category of Awareness Warriors- Hoax Busters for OnlyMyHealth's Healthcare Heroes Awards for their relentless fight against misinformation around Covid 19.
Why was ISRC formed?
If there was anything spreading faster than the Covid19 infection, it was the fake news around it. Social media was abuzz with all kinds of information. Every new post, every other update was about a new 'miracle cure' for the virus. "As the lockdown was declared, we knew that the health professionals were going to get busy but what about the huge number of scientists who were not in the health sector?" says Professor R Ramanujam, theoretical computer scientist at the Institute of Mathematical Sciences, Chennai, and founding member of the ISRC. The idea was to look at effective and credible scientific communication about the virus and also to bust the hoaxes around the infection.
OnlyMyHealth connected with other founding members of the group, to understand the idea and processes of hoax busting.
Dr. Reeteka Sud, Research Coordinator at NIMHANS Bangalore says she joined ISRC because she feels that scientists have a responsibility to society, "especially in the wake of fake Covid cures flying all over the place." Sud says that the professional training of scientists empowers them with the tools that they have put to use for a larger good.
Dr. Subhojit Sen, Ramalingaswami Fellow,School of Biological Sciences, also spoke to team OnlyMyHealth. "With a new disease that mankind had never encountered before and with a huge tsunami of new scientific literature that was being churned out, we felt the need for a multi-disciplinary team that discusses the data from multiple angles and talks with Social Scientists in coming up with effective methods in translating that information to the common man. The idea was to be able to provide a platform for updated and accurate scientific information, on an emerging scenario of a new disease," says Dr Sen.
WATCH: ISRC In Conversation With Onlymyhealth:
Why Should Scientists Bust Fake News?
Prof Ramanujam puts things in perspective, "People say Virus is 'attacking' us, a virus doesn't do that. It doesn't strategize, doesn't wage wars, it doesn't even have a brain. A virus can't even live outside a host! So explaining the science to people is very important."
Dr. Sen believes that scientists are infact the best people to separate fact from fiction. They are trained to look at information in detail, analyse them objectively and arrive at the correct answer even if it requires time and research. "Good scientists do not exaggerate their findings by extreme metaphors or superlative language. This I feel is important in messaging, as it keeps the reader focussed on the actual message and prevents them from over-reacting," Prof Sen tells OnlyMyHealth.
Also Read: Healthcare Heroes Awards 2020: Sanitation Worker Bontha Sai Kumar's Unsung Admirable Story
How was Hoax Busting Done?
"The altruistic strength of ISRC," according to Dr. Subhojit Sen, "was the heterogeneity of its experts." The group comprises of biologists, doctors, chemists, physicists, mathematicians, sociologists, and even digital artists and science journalists. In depth discussions and critiques of each other's viewpoints led to a cascade of verification. A group of scientists hunted for new information, read the papers and presented summaries of findings. Another group classified as Hoax busters stitched these pieces together to build a scientific basis for an answer. And then there were reviewers and Science communicators who went through the overall presentation and language and made it more user friendly. Digital artists used this finalised information to translate each into a digitally palatable format that was both attractive as well as informative.
The challenge was also to get this credible information spread more than the misinformation. In other words, making verified information on virus go 'viral'. "We created short "WhatsApp-able" content. Our collaboration with digital artists and translators from 17 different languages helped. In the first three weeks, we were able to release 18 hoax-buster messages across social media. Our attempt was to fill the void of accurate information in regional languages," Dr. Sen tells us.
Dr. Reeteka Sud says the process was intentionally kept transparent to command trust, "Our goal was to convey the information in a jargon-free language."
Also Read: Healthcare Heroes Awards 2020: Sister Nayana Is A Frontline COVID-19 Warrior
Who Will Fall Prey to A Hoax?
According to Dr. Reeteka Sud, "Everyone is gullible. And awareness is the only defense." Dr. Sen though has found that younger minds are more impressionable. "I did expect to see a difference in hoax perception in educated and non-educated people. However I was surprised to see, that albeit lower in my frequency of encounters, even students from elite institutes like the IITs peddled misinformation, because they blindly trusted the sources that the information came from."
Between the 'Pet-Hoax' and Khaada cures, the team has encountered many a bizarre claim in the garb of 'news'. Talking about the most bizarre piece of misinformation ISRC bust, Prof Ramanan remembers the talk of "clapping hands" claiming some energy release which would cure the illness.
Dr. Subhojit Sen remembers a different one, "The most bizarre and probably still the most widely believed hoax, is that this is a "Chinese Virus". Even today, many people believe that this was a virus that originated in a lab from Wuhan China. As far as the evidence goes, we were quite confident that this was a natural variant of a coronavirus, which happened to mutate and jump to humans, an event that happened to occur in China."
If you are one of those who easily believes whatsapp forwards, we encourage you to check out ISRC's website and social media posts. The group also does webinars, call in programmes, engaging illustrative 'Daily Life' series. The scientists also crunch numbers and provide data on the spread of the infection. Continuous updation of scientific material basis new research and findings is also being done.
Give a thumbs up to the dedicated work of these scientists by casting your vote for them. Help ISRC win the HealthCare Heroes Award in the Awareness Warriors category. Vote now!
Read more articles on Miscellaneous