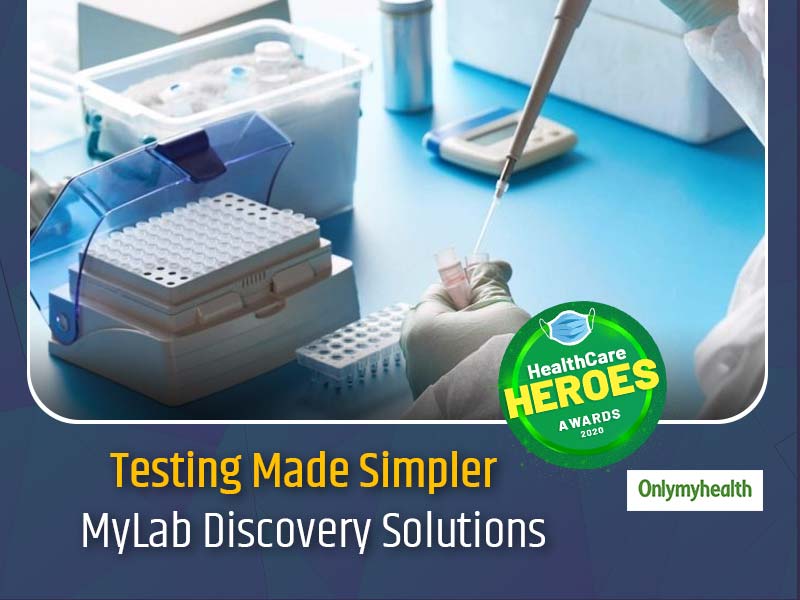 Category : Breakthrough Innovations

Vote Now
Who : MyLab
What : First Indian company getting commercial COVID-19 PCR kit approved
Why : Making testing possible at nominal prices
Coronavirus, the global pandemic has hit the world but a major impact of this epidemic can be seen in India. Around 4 million positive cases have been found so far and the number is on the rise. It is difficult to control this virus without vaccines but unfortunately, we may have to wait longer for those. Until then, testing is the only way to combat transmission. India, initially was dependent on other countries for the COVID-19 test kit until MyLab Discovery Solutions developed the first-ever made-in-India coronavirus test kit. This breakthrough innovation in testing completely changed the game for India's fight against Covid19.
Onlymyhealth's Healthcare Heroes Awards, aims to acknowledge the people and organizations that brought a positive change in the healthcare industry and felicitate them for their contribution. MyLab Discovery Solutions has been nominated in Breakthrough Innovations in Testing. Let us tell you why it is made to our nominations list.
India's First Ever COVID-19 Testing Kit In 6 Weeks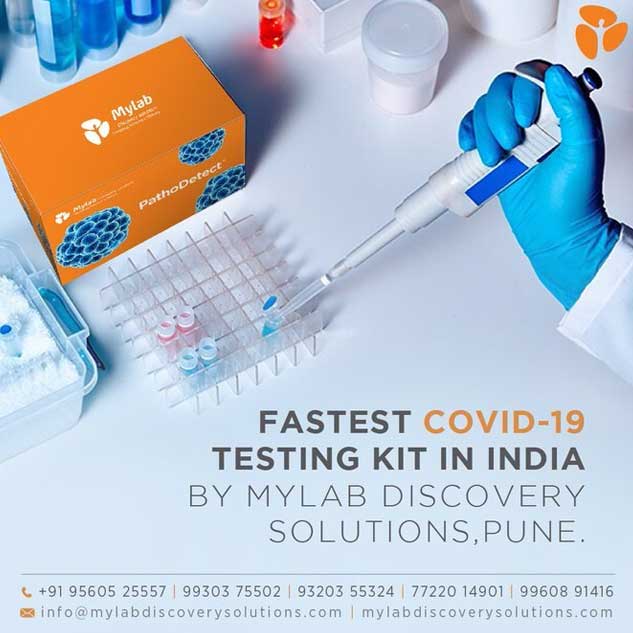 Early in January when the Coronavirus started to spread out to China, Pune based molecular diagnostics company MyLabs geared up for the eventuality that the infection would reach India. However, no one back then could have imagined how massive the scale of the spread would be. By late January Covid-19 had reached India and a team of 10 scientists at MyLabs concentrated all their energies to develop a test kit. Importing test kits was slow and expensive. As the numbers rapidly rose the pressure to come out with a test kit mounted on the team.
MyLabs had experience and expertise to back on. Involved in diagnostic research, MyLabs develops molecular diagnostic detection kits for parasitic, viral, and bacterial infections. It is the only Indian company with ID-NAT test approval in India. The team of scientists had prior experience in developing RT-PCR based tests for more than 100 conditions. That said, a test kit for the novel coronavirus was a new challenge.
The team had to work very hard to ensure that the test was accurate since the life of patient and spread of infection depended on it. It took this team a record six weeks to develop the PathoDetect Covid 19 test Kit and submit for approval. MyLabs says that it was the 3Ps- processes, people and perseverance that made this possible.
National Pride & National Necessity
It took 8 days for the National Institute of Virology to approve MyLabsPathodetect Covid19 Test Kits. While testing the NIV found that this home grown kit could give positive or negative results in 2.5 hours which was less than half the time the imported kits took. The Indian Council of Medical research found the results to be 100 percent accurate.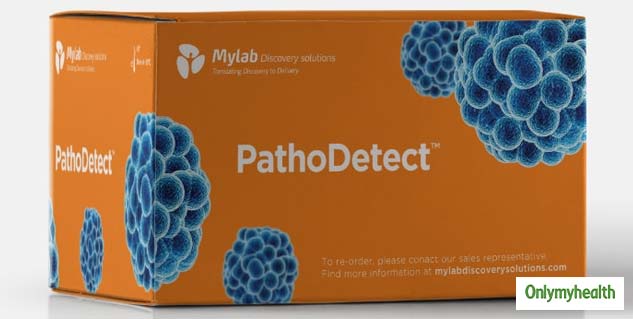 Speaking to OnlyMyHealth, Hasmukh Rawal, MD of MyLab said "At the time of approval of the test, we had capacity to make around 15,000 tests per day. By early June 2020, we reached production capacity of more than 2 lakh test per day. As of today, we can increase our production capacity to 100% of the Indian demand per day. The production plan was scaled up to ensure India can become atmnirbhar in testing."
Till date more than 5 Million tests have been done using MyLab test kits since March 2020. Kits have been developed and supplied to almost every state and Union territory of the country. Neighbouring ally countries such as Bhutan have been provided a certain amount of tests to enable them to support global health safety.
Cost-Effective Test Kits
MyLab is a reputed firm that manufactures RTPCR kits and medical devices. The COVID-19 testing kit by MyLab was evaluated and approved by the Indian Council of Medical Research (ICMR). It is because of this kit that people are getting tests done at an affordable cost with optimal accuracy. Since sourcing kits from foreign countries is time-taking and costly, MyLab is helping in containing the number of coronavirus cases in the country. They launched their kits at less than 30 per cent of the cost of the imported kits. Since then, they kept the prices in line with the market, and offered tests at very competitive prices. Other than price, MyLab's kit had the advantage of fast output, high accuracy.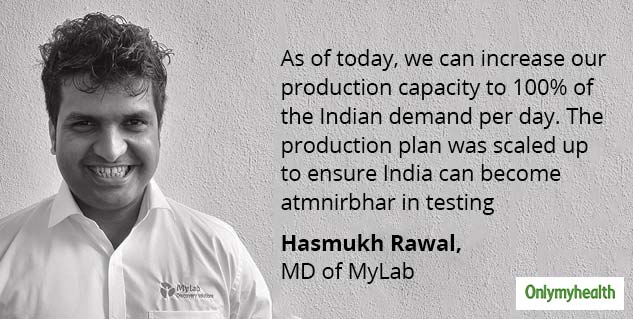 The Team
Out of the ten scientists on the team working on PathoDetect Test kits, 9 were women. Minal Dhakave Bhonsle, Head of R&D at MyLabs was heading the PathoDetect team and was pregnant during the development of the kit. The team submitted the kit for evaluation on the 18th of March and one day later Minal delivered a baby.
Also Read: Healthcare Heroes Awards 2020: Pavithra Venkatagopalan Is A Fake News Ninja & Busts COVID-19 Hoaxes
Impact of PathoDetect Test Kit
Hasmukh Rawal, Managing Director of MyLabs spoke to OnlyMyHealth on the impact of a Made In India test kit, "The confidence of having an accurate test kit made in the country is empowering. We now do not have to be dependent on any other country in this hour of crises. India has made huge progress. Testing per million has increased from 3 tests per million to more than more than 37,000 tests per million and our country is currently doing the highest number of tests per day globally. We are proud that we are able to contribute to this feat."
If you appreciate the efforts of MyLab in making a cost effective & accurate Indian testing kit, cast your vote for them. Here is how you can vote for Jagran New Media and Onlymyhealth's Healthcare Heroes Awards.
Read more articles on Miscellaneous