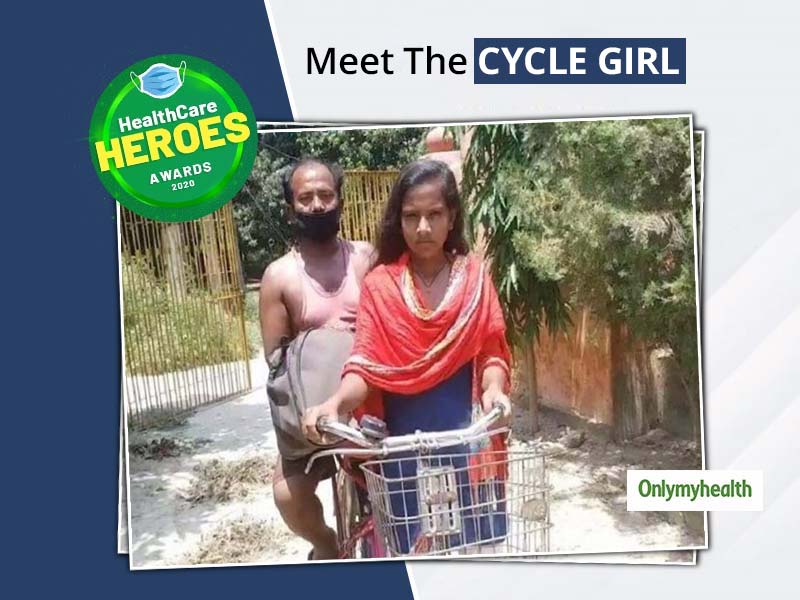 Jyoti Paswan of Darbhanga Bihar has become famous as the 'cycle girl'. She got this title after she cycled 1200 Kms from Gurugram to Darbhanga during the lockdown, deciding to take her injured father riding pillion, back home. Newspapers, TV channels and social media dubbed her the 'cycle girl' after her special feat. Story of her courage spread not only in India, but America as well. US President's daughter and advisor, Ivanka Trump applauded Jyoti's courage and determination in a tweet. Government and many organisations have honoured and come in support of the thirteen year old, also supporting her studies. The Jagran Group has decided to honour Jyoti for her courage and willpower. Jyoti has been nominated for the Editor's Choice Awards under the OMH Healthcare Heroes Awards.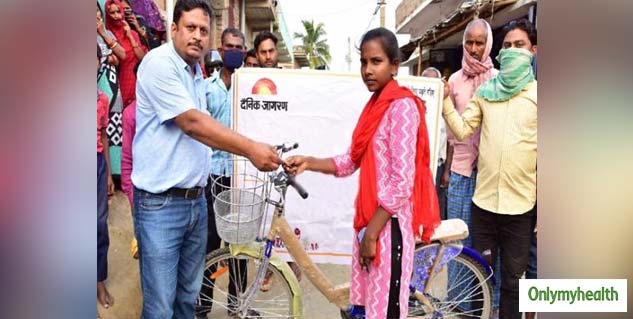 Also Read: HealthCare Heroes Awards 2020: She Defeated COVID-19 & Decided To Help By Donating Plasma
Jyoti's feat should be looked at from the perspective of tenaciousness rather than helplessness. She might have undertaken the journey from Delhi to Darbhanga due to desperation, but it shows her iron will power. It is no easy feat to cycle 1200 Kms for over seven days with a ailing father for anyone, leave alone a thirteen year old girl. It required perseverance and devotion. Jyoti shared her story with OnlyMyHealth.com and gave an account of her journey.
A Journey full of challenges
There was a nationwide lockdown due to the Coronavirus infection. Due to the lockdown the migrant workers were stuck in the metropolitan cities where they had come to work. When money ran out and they struggled for two square meals, they set off for their homes in the villages leaving the metros by whatever means of transport they could get. Some made the journey on cycle and some even on foot. During this time, the willpower of Jyoti Paswan, a thirteen year old girl from Darbhanga came into limelight. She cycled for over seven days covering 1200 kms from Gurugram to Darbhanga, with her father riding pillion. Mohan Paswan, her father, a rickshaw puller had injured his leg and so Jyoti decided that she will need to do the heavy lifting for the both of them.
The journey was not going to be easy. She covered most of the journey on an empty stomach. Fortunately, some good samaritans helped migrants like Jyoti and her father with food and water.
No help from anywhere!
Jyoti told Onlymyhealth.com that "there were many truckers from whom we asked for help, but they all demanded Rs. 6000 and we didn't have money. That's why I decided to go home on a cycle." Jyoti left home on the 10th May and reached home on 16th May.
Father an e-rickshaw driver in Gurugram
"My father drove an e-rickshaw in Gurugram, which was not his, but he used to rent it," Jyoti told Onlymyhealth.com. A few months back Mohan, her father met with an accident due to which he didn't keep good health. During that time there was a lockdown due to Coronavirus due to which he lost his livelihood.
Also Read: HealthCare Heroes Awards 2020: MyLab's PathoDetect is India's First Govt Approved COVID19 Test Kit
"Today everyone knows me because of my daughter. We were living in extreme poverty but people came forward to help us due to what my daughter did. I want to educate her. It is not only the sons who support the parents but daughters as well, something which my daughter has proved." Mohan Paswan, Jyoti's proud father, told Onlymyhealth.com.
Jyoti is a true Hero and OnlyMyHealth's initiative salutes her will and courage - she is our HealthCare Superhero. Log on to OnlyMyhealth.com to watch the awards ceremony on the 8th October, 6:00 pm onwards.
Read more articles on Miscellaneous