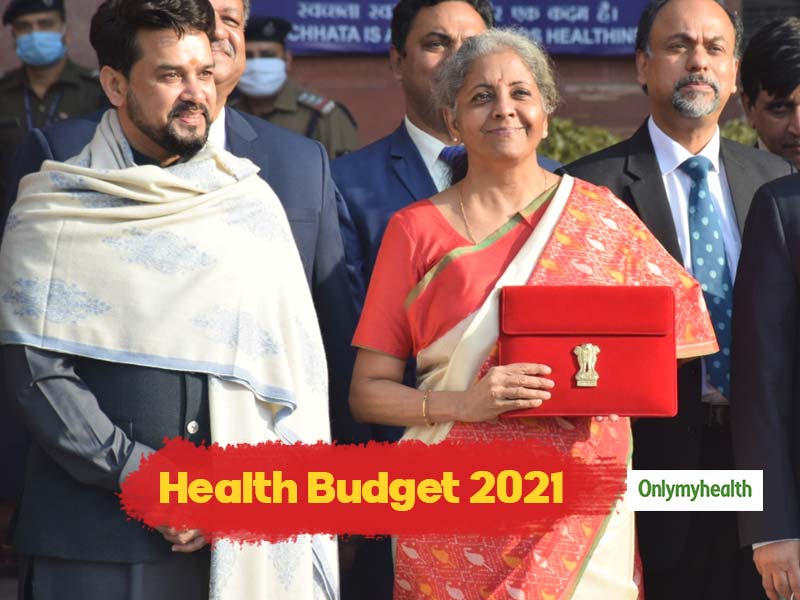 Considering the global coronavirus pandemic hit, India was expecting the Union budget to be focused on the health sector. The honourable finance minister Nirmala Sitaraman started off with coronavirus vaccine update as she mentioned that India has one of the lowest COVID-19 death rates and lowest active cases. This brings a ray of hope towards the revival of the economy. The first pillar of the six pillars of this year's budget was Health and Well-being. Let us get into the details of budgetary allocations for 2021 to the health sector.
Huge Increase in Health Budget
The pandemic has hit us badly and increased the need for a strong budget this year. Keeping that in mind, the Finance Minister has allocated a sum of 2,23,846 crores which marks a remarkable 137% of the increase in the health budget as compared to the previous year. The three areas namely curative health, preventive health and well-being are to be strengthened.
PM Atmanirbhar Swastha Bharat Yojana
#Budget2021

New Centrally Sponsored Scheme #PMAatmanirbharSwasthBharatYojana to be launched, outlay of ₹ 64,180 crore over 6 years

To develop capacities of health care systems, develop institutions for detection & cure of new and emerging diseases#AatmanirbharBharatKaBudget

— PIB India (@PIB_India) February 1, 2021
This is a new centrally sponsored health scheme under which 64,180 crores are allotted for the next six years. This scheme focuses on strengthening the healthcare infrastructure by developing institutions for the detection and treatment of new and emerging diseases. New health care systems will also be developed. Here are major interventions under this scheme:
Setting up 15 health emergency centers
Setting up integrated public health labs in all districts
Support for health and wellness centers
Strengthening the National Centre for Disease Control(NCDC)
Mission Poshan 2.0
#Budget2021

Supplementary Nutrition Programme & POSHAN Abhiyaan to be merged, Mission POSHAN 2.0 to be launched

To strengthen nutritional content, delivery & outcome

Intensified strategy for improving nutritional outcomes in aspirational districts#AatmanirbharBharatKaBudget

— PIB India (@PIB_India) February 1, 2021
Focusing on the nutrition aspect, the government has decided to merge two major programmes- Poshan Abhiyan and Supplementary Nutrition Programme. This marks the launch of Mission POSHAN 2.0. This would focus on improving the nutritional aspects in the nutritionally-weaker districts.
Jal Jeevan Mission
Not just for rural but this budget also focused on urban areas. Jal Jeevan Mission Urban is to be launched for a span of 5 years with a budget of 2.87 lakh crore. Around 4,378 urban local bodies with be covered for universal water supply. In addition to this, over 2.86 crore tap connections are also aimed under this scheme.
#Budget2021 #JalJeevanMission Urban to be launched, outlay ₹ 2.87 lakh crore over 5 years

Aimed at universal water supply in all 4,378 urban local bodies, with 2.86 crore household tap connections and liquid waste management in 500 AMRUT cities #AatmanirbharBharatKaBudget

— PIB India (@PIB_India) February 1, 2021
Under the budget, the Urban Swachh Bharat Mission with an allocation of 1,41,678 crore is also mentioned. This would cover waste water treatment, waste management from urban construction, complete fecal sludge management, source segregation and bioremediation of legacy dump sites.
COVID- Vaccine Update
As we all know that currently two vaccines namely Covishield and Covaxin are being used to immunize against coronavirus. The finance minister has hinted at the arrival of two new vaccines shortly. This is surely going to help in eradicating COVID-19 from the country. Also, apart from running vaccination drive all over the country, the government is also keen to help other countries by providing them the vaccine. The government has an outlay of 35,000 crores for vaccines and they would increase this budget if required.
Apart from all these, the health budget also mentions rolling out pneumococcal vaccine drive across the country that would prevent 50,000 child deaths.
Read More Articles in Health News