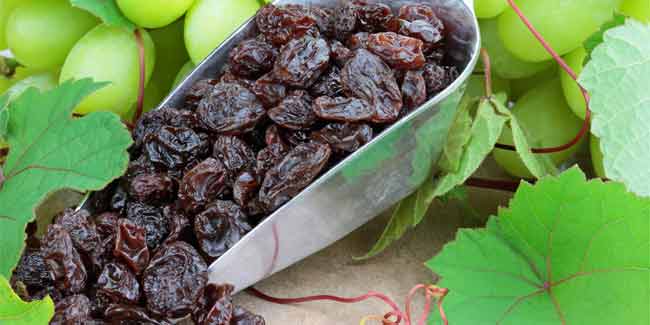 New findings have evidence that raisins are helpful in preventing cavities. Traditionally, it has been considered that raisins can be responsible for causing cavities because of their gumminess and sugar content. Whereas, the new research suggests that raisins may offer some protective benefits against dental cavities.

The researchers have showed that the stickiness of raisins do not adhere to the teeth long enough to promote dental cavity formation. In fact it may help in clearing other types of food particles trapped on the teeth. This is not all; raisins also have the potential to reduce risk of diabetes and heart disease.

According to the reviews of almost 80 studies, scientists found that raisin consumption may even decrease the risk of developing chronic diseases, such as diabetes and heart failures. Raisins help in improving blood glucose control for diabetic individuals. It is also useful for weight loss and weight management.

Eating grape products is also associated with better eating habits. It has been proved by analyzing the data of the National Health Examination Survey (NHANES) that was conducted between the years 2003 to 2008 to compare grape consumers with non-grape consumers. As per this survey, it has been observed that both children and adults that consumed grape products (fresh grapes, raisins, or grape juice), had higher total intake of other fruits, dark green/orange vegetables, and key nutrients like fiber, vitamin A, vitamin C, calcium, magnesium and potassium than those who did not consume grape products. The findings are published in the Journal of Food Science.


Read more Health News.