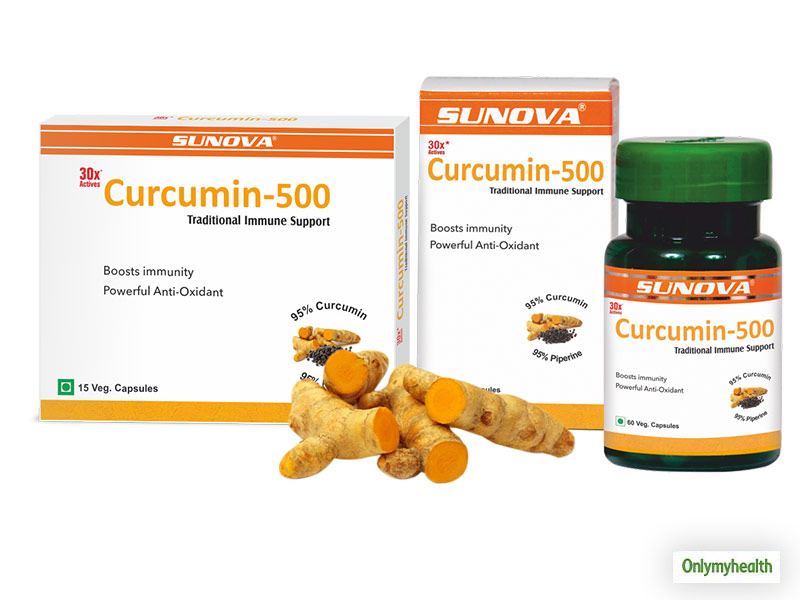 Read how curcumin can help benefit your health in this pandemic, and how Sunova Curcumin 500 is the right choice
What is the most important thing in the current times?
Immunity. We are all running after immunity to keep ourselves safe during a pandemic situation. The first line of defense of the human body is the immune system that fights off foreign elements to secure health. Poor immunity is responsible for seasonal infections, cold, flus and lethal viruses like coronavirus. Sunova Curcumin 500 can help in enhancing and strengthening immunity. Researches claims that curcumin is a one of the most powerful antioxidants, anti-inflammatory & immunomodulatory agent. Most importantly, it also takes care of your skin by keeping it youthful, clear and glowing.
The Importance of Immunity
Not only eating clean and being physically active would keep you healthy and fit but a resilient immune system is equally important. Immunity is not only for protection against bacteria and viruses but also important for holistic health. Allergies, infections etc… are caused due to poor immunity, to keep yourself safe, strong immune system is required.
Usually children, senior citizens struggle with low immunity. Consumption of immunity – boosting food along with a balanced diet and daily exercise helps to strengthen the immune system. Talking about immunity-booster foods, turmeric and black pepper top the list. While turmeric has an active phytochemical called curcumin and black pepper has piperine ,both of these are highly beneficial for health. Sunova Curcumin 500 capsules contain both curcumin and piperine to provide immunity-boosting benefits along with other health advantages.
Turmeric, the root of the curcuma longa plant, has remained Ayurvedic favourite since times unknown. They aptly call it the golden spice or 'the king of all spices', especially in India. Turmeric or Haldi is one of the most therapeutic herbs found in nature. It is also loaded with a variety of polyphenols and phyto derivatives. Of all of them, Curcumin remains one of the most active and potent compounds. It is primarily Curcumin which offers the herb most powerful biological properties. That is perhaps why we often use curcumin alternatively, when talking about the herb.
Curcumin loads turmeric up with some incredible immunomodulatory, anti-inflammatory, anti-arthritic, antioxidant, analgesic, antiseptic, anti-bacterial and anti-viral properties.
Benefits of Curcumin and Piperine
From boosting immunity to reversing pollution-initiated damage, managing general health, controlling health conditions like asthma, arthritis, bronchitis and cancer, there is so much that these ingredients can do for health.
Find below some noted health advantages of curcumin that you can reap upon consuming Sunova Curcumin 500
1# Boost Immunity
Curcumin is a potent immunity booster. It increases the antibody response by modulating the activation of B-cells and T-cells.
2# Inhibit Viral Replication
Curcumin reduces viral load as it fights infection by interfering with virus-cell binding and preventing replication of cells.3
3# Reduce Inflammation
Curcumin possesses anti-inflammatory properties to fight inflammation by suppressing molecules like interleukins and cytokines. Thus, it battles chronic and acute inflammation.
4# Potent Antioxidant
By neutralizing free radicals and triggering the body's antioxidant defences, curcumin inhibits the oxidative damage. This makes us stronger, healthier and adds to our youthful quotient by delaying the signs of ageing. Curcumin's Oxygen Radical absorbance Capacity (ORAC) is approx. 1500000/100g.
5# Skincare benefits
Consumption of curcumin can prevent and cure skin conditions like severe acne, psoriasis, eczema. It keeps your skin clear, youthful with natural glow
6# Heart disease prevention
Consuming curcumin can also keep you safe from heart ailments as it regulates blood pressure, reduces blood clotting and improves the lining of blood vessels.
7# Prebiotic
By acting as a prebiotic, it promotes the presence of healthy bacteria in our gut, thus preventing the damage caused by the unhealthy ones.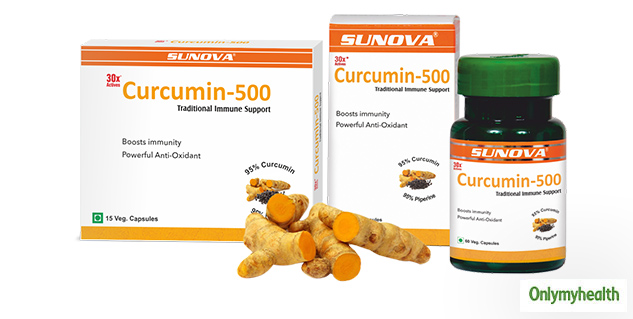 There is no wonder why Curcumin remains one of the most popular herbal remedies. This powerful immunity booster is being acknowledged globally, and is making appearance in a host of immunity and health promoting supplements. It remains one of the most promising alternative and herbal remedies that nature has blessed mankind with
Sunova Curcumin-500 is a combination of 95 % standardized Curcumin and Piperine extract 95%. Thus, consumption of Sunova Curcumin 500, helps to strengthen your immunity along with a youthful skin and ageless glow.
In a nutshell, this product is what you need right now to bolster your health in multiple ways. Curcumin and piperine are two ingredients that you must include in your diet.
Read more articles on Healthy Diet