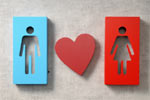 Married people have lower risk of heart diseases find out s study in Washington, US. People of are married have less chances of suffering from abdominal aortic aneurysm, cerebrovascular disease and peripheral arterial diseases.
Did you ever think that marriage can be good for your heart? Yes, it's true, people who are married have lower risk of suffering from several cardiovascular diseases as compared with the ones who are single, divorced or widowed, explained a research paper to be presented at the American College of Cardiology's 63rd Annual Scientific Session in Washington.


As people now-a-days prefer not to get married because of their reluctance to commitment, this study should definitely make them change their point of view towards marriage and pursue them to get married.

Peripheral artery disease, cerebrovascular disease, abdominal aortic aneurysm and coronary artery disease are the four vascular diseases that were considered in the study. Among 3.5 million people across the United States, overall, 69.1 % (2.4 million) were married, 13 % (477,577) were widowed, 8.3 % (292,670) were single; 9 % (319,321) were divorced.

The research found that singles are at 5% more risk of suffering from these diseases as compared to the married people.

So, if you have found someone who you wish to spend rest of your life with, you should now start considering getting married soon and reducing the risk of heart diseases.
Image Source: Getty Images
Article source: TOI
Read more Health News.