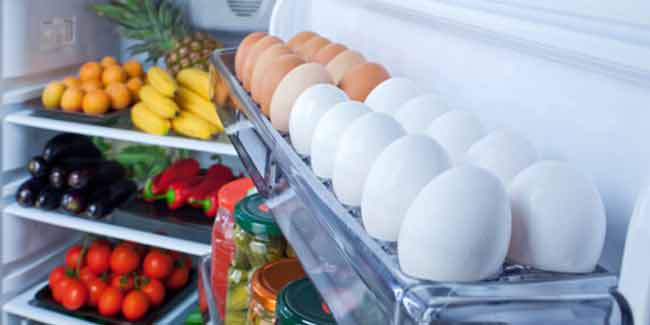 You can reduce the chances of giving in to less-nutritious choices by storing healthful go-to foods in your refrigerator. Low-fat dairy, fruits, vegetables, lean protein sources, and whole grains are convenient, nutritious, and fresh. With the right foods in your fridge, you can fastly put together a more nutritious, lower in calories, and less expensive than a take-out pizza meal.


In-season fruits
In-season fruits are naturally sweet, easy to eat, and good sources of fiber and antioxidants. If you're diabetic, choose whole fruits smaller than your closed fist or eat half of a large piece. Bananas are sweet and satiating and are a nutrient powerhouse abundant in potassium and fiber. In fact, all fruits contain nutrients in abundance making a healthful treat for you and your family. Keep at least one kind of fruit washed, cut, and stored in a clear plastic container where your kids can see and grab it.
Fat-free yogurt
Be it Greek plain yogurt, all fat-free varieties are high in protein, rich-tasting, and creamy. Stir fresh or frozen fruit or a drizzle of honey into plain yogurt for a satisfying dessert. Mix fresh fruit into vanilla or plain yogurt for an instant mood-boosting appetizer.
Whole wheat tortillas
Most of the carbs in whole-wheat tortillas are complex carbs, which fortunately don't cause your blood sugar levels to spike. If you're in a savoury mood, sprinkle low-fat shredded cheese over a tortilla and toast for a deliciously melty snack. For a sweet craving, indulge in a toasted tortilla drizzled with agave syrup and a sprinkle of cinnamon.
Eggs
Ask us about Mother Nature's most versatile low-cal foods and we shall name eggs. Packed with protein, one large egg costs you approximately 75 calories, through various ways of cooking it will change the total. Keep a dozen in your fridge and use these when you're stumped at supper or snack time.
Almonds
Ditch your greasy, crunchy snacks like potato chips and buttery crackers for a wholesome alternative- raw almonds. These sweet nuts also make a great addition to smoothies, cereals, and non-fat yogurt. Chuck your almonds into the fridge to prevent its natural oils from oxidation, as oxidized oils have harmful free radicals.
Peanut butter
Velvety smooth peanut butter often gets a bad rap as a fatty food but eaten in moderation, it's much more nourishing than plain butter. Packed with healthy monounsaturated fats and folate (a B vitamin), peanut butter helps produce new cells. Spread some on whole-grain pita or brown bread and you won't feel hungry for long. Other nut butter, like almond, cashew, or walnut, serve as delicious options, too.
Fresh veggies
Buy your own to wash and chop. Or pick up pre-washed, pre-cut veggies like broccoli, carrots, cauliflower, snow peas, and celery to serve as a snack, toss into salads, or steam.

Load your shelves with these delicious, nutritious foods, and we promise that your kids will stop begging you for junk food.

Image Source: Getty