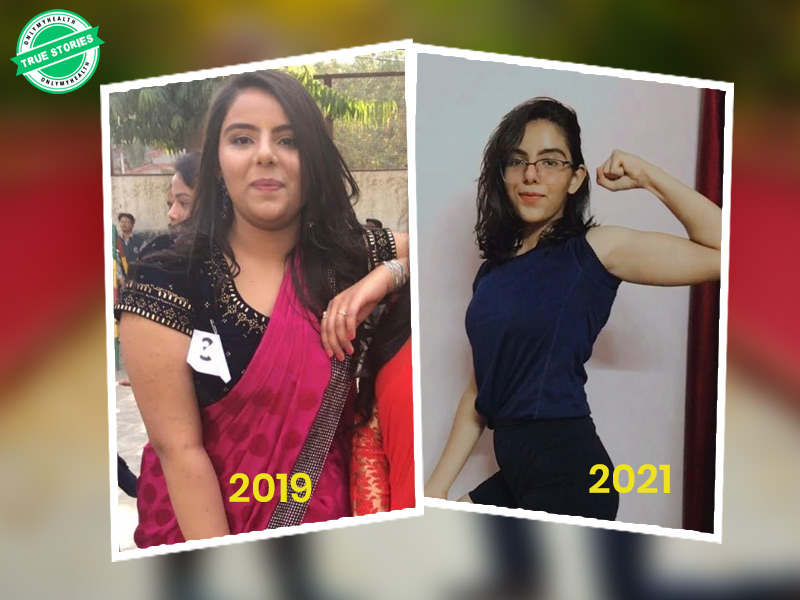 Obesity is a complex disorder that leads to many health problems and targets maximum population around the world. Losing weight can be a challenging task for many people. Along with maintaining an optimum weight as per your BMI, it is also important to lose both weight and inches in a healthy manner. Fasting and starving yourself might provide temporary achievements but it does not result in a long term positive result.
A healthy weight loss journey requires a combination of various factors including good sleep, balanced diet, regular physical activity, etc. There are so many weight loss/gain inspiring stories that motivate us daily. The struggle behind such journeys is commendable. There is not just one but many ways to lose weight naturally without using any supplements or artificial therapy. Onlymyhealth editorial team spoke to Vandana Chander, who is an Instagram influencer and fitness coach, ACE CPT under training, about her weight loss journey.
Vandana's inspirational weight loss journey from 82 to 56 kgs
When I started, I had just turned 19 and passed from school. I was very inactive earlier and weight 82 kgs. Like every kid, in school I was just told to study and focus on my career. In India, there is not much awareness and focus on women's health. I was young and had such an unhealthy measure, which was a shock for me. Even my batchmates had a low activity level. Initially, I started out by going for a run. I didn't know much about how to lose weight but thought that's how people begin.
View this post on Instagram
However, on the first day itself I realised that I cannot even jog for more than one or two minutes continuously. I had to take a break after every couple of minutes. It was an awakening alarm as my legs were very weak and I had no strength in my body. High time that I start losing weight now! Thats when I joined the gym and started working out. I did not have a personal trainer back then and then I started studying about nutrition and coaching in depth. After some time, I got my personal trainer certificate from ACE. It took me about a year to go from 82 kilos to 56 kgs. Currently, I weight 60 kgs and I am trying to gain a little but in a healthy manner surely.
Also read: Fat Loss Vs Weight Loss: What Helps More In The Longer Run?
Physical activity schedule
For a long time, I did just cardio and the basic workout of body weight training everyday. However, it was not helping me build strength in the body. So, after some time, I started focusing on my strength and health along with losing weight. Initially, I wasn't much aware about the importance of body weight training but I started focusing on it when I realised it is the right option to go for healthy and natural weight loss. According to fitness coach Vandana, yoga is always great to do on rest days or days you don't feel up for an intense workout.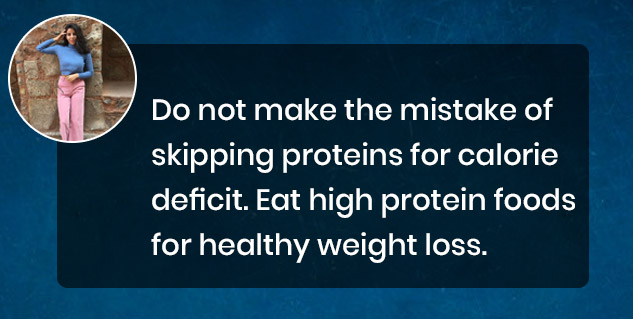 Vandana's weight loss diet
The only thing that works best in a weight loss diet is the calorie deficit. A mistake I made in the past was that I did not consume a good amount of proteins while eliminating calories from my meals. Therefore, I want everyone to focus on proteins to lose weight naturally and in a healthy way. When you follow calorie deficit, you need to take protein rich foods, especially if you are working out alongside. You can reduce your calorie intake but take enough proteins throughout the day.
Also read: Adopt These 5 Strategies To Lose Weight Quickly
View this post on Instagram
You can include foods such as paneer, chicken and eggs in your daily diet. Do not start cutting important breakfast and dinner meals. These unhealthy ways will drop your weight and inches but can lead to hormonal imbalance, hair fall and many other health problems in the long run. If you are a beginner, you can start with body weight training like basic squats, planks, lunges and many other variations. After improving your posture and strength, it is important to continue with running and jogging as daily physical activities. According to fitness coach Vandana, here are some tips to lose weight naturally:
Eat seeds, such as flax seeds, chia seeds and pumpkin seeds
Take enough protein rich foods
Avoid sugary drinks
Keep the portion size in mind