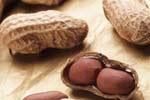 A team of multinational crop geneticists, has successfully sequenced the genome of the humble peanut, an advance that will aid breeding of more productive varieties.
The International Peanut Genome Initiative (IPGI), a multi-national group of crop geneticists working in cooperation for several years, has successfully sequenced the genome of the peanut.


The new peanut genome sequence will be available to researchers and plant breeders across the globe to aid in the breeding of more productive, more resilient peanut varieties, according to the Hyderabad-headquartered International Crops Research Institute for Semi-Arid Tropics (Icrisat).

Peanut (Arachis hypogaea), also called groundnut, is an important crop both commercially and nutritionally. Globally, farmers tend about 24 million hectares of peanut each year, producing about 40 million metric tons. While the oil and protein rich legume is seen as a cash crop in the developed world, it remains an important sustenance crop in developing nations, says a statement from ICRISAT here.

Dr Scott Jackson, director of the University of Georgia (UGA) Institute of Plant Breeding, Genetics and Genomics at the College of Agricultural and Environmental Sciences, serves as chair of the International Peanut Genome Initiative.

"The peanut crop is important in the United States, but it's very important for developing nations as well," Dr Jackson said. "In many areas, it is a primary calorie source for families and a cash crop for farmers."

"Rich in protein and edible oil, peanut is central to the financial and nutritional well-being of hundreds of millions of farmers and consumers across the semi-arid tropics of Asia and sub-Saharan Africa," said Dr William Dar, Director General of the International Crops Research Institute for the Semi-Arid Tropics (ICRISAT) with its global headquarters based in Hyderabad, India.

"Improving peanut varieties to be more drought, insect and disease resistant, using the genome sequence, can help farmers in developed nations produce more peanuts with fewer pesticides and other chemicals and help farmers in developing nations feed their families and build more-secure livelihoods," said Dr Rajeev Varshney, Research Program Director - Grain Legumes and Director, Center of Excellence in Genomics, ICRISAT.

Source: Zee News
Image Source: Getty Images

Read more Health News.