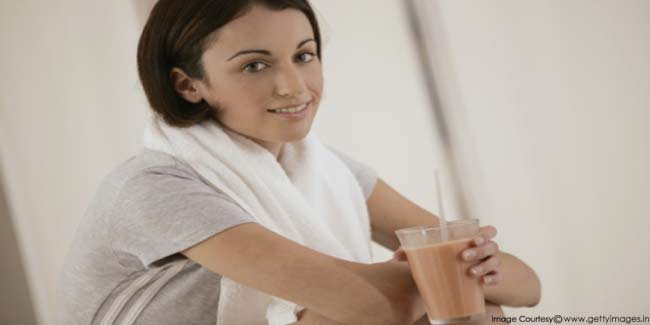 Whey powder is a formulated nutritional supplement that is classified as a food additive and prepared primarily with milk. A by-product of cheese or casein, whey protein supplements are high in protein and lactose.
The creamy-white, bland flavour powder is used in baked goods, sauces, dressings, prepared meat products, beverages, processed cheese products and confections. Weight gain with whey protein shakes serve a specific nutritional requirement, especially that of protein. The supplements are available in a wide variety, such as in powdered, drink mixes and beverage forms. Whey protein shakes should be consumed after close consideration of their merits and demerits.
Pros of Whey Protein Shakes



Even the most unadulterated whey protein supplements contain up to 90 per cent of whey protein by weight, which provides a major boost to weight-gain efforts.
Whey protein for weight gain (especially isolates) are fat-free and contain no carbohydrates, thus, prevents further accumulation of fat.
Whey protein shakes contain essential and non-essential amino acids, which provide strength to the body and help muscles grow. Moreover, amino acids help in muscle recovery and tissue repair after strenuous workout.
Most of the whey protein shakes are easy to digest and assimilate and therefore, are ideal for muscle building and managing weight. These also help the body get back to a muscle-building state after working out.
Whey protein shakes also contain anti-cancer and immune-supporting components.
Cons of Whey Protein Shakes



Whey protein supplement doesn't fit in everyone's budget, especially whey protein concentrates and rich blends.
If you are going for an unlabeled whey protein supplement, you may miss out on some nutrients. The formulation of whey protein supplements may denature proteins, making them less effective for weight gain.
Whey protein shakes may be devoid of various nutritional components.
What to Look for in a Whey Protein Supplement



When buying a whey protein supplement, you need to make sure what you buy is of quality standard. Try to grab products in their natural state to ensure bioactivity. These must be better processed, under low heat and low acid conditions to preserve the natural state, bio-active components and other nutrients. Those formulated in a cold-process method have the highest bioavailability.

The effects of whey protein shakes on health are still being studied by researchers, especially on medical conditions and supplementary treatment. Whey protein supplements may have negative effects; consult a doctor to find if you need it.
Read more articles on Weight Gain.