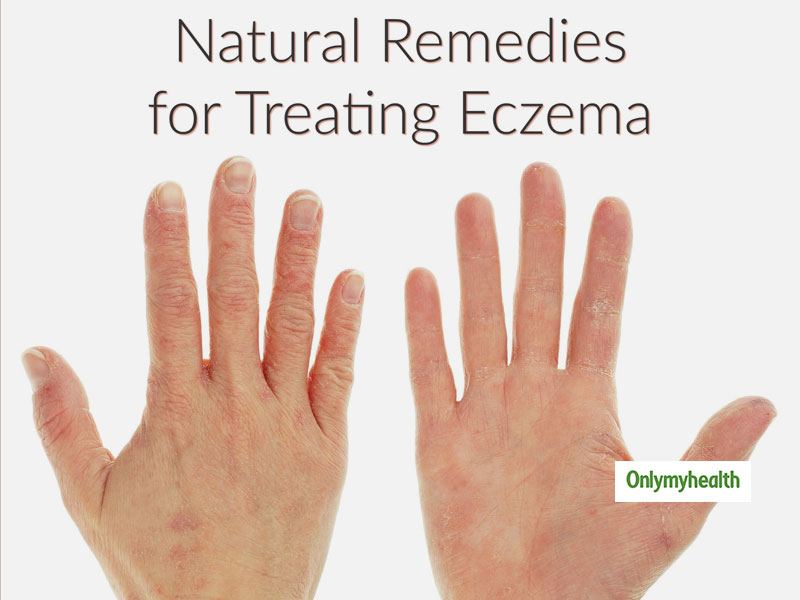 You may have come across several red patches on your skin, and constant scratching would have led to it spreading all over your body. These are signs that your skin needs some care. Commonly known as eczema, this skin problem causes several problems. Not just symptomatic, eczema is also a reason for mental discomfort and lowered self-esteem in severe cases. Often found on the elbow, knees and the back of your ears, eczema can be very well controlled in its initial phase with the help of Ayurveda herbs. This skin problem can happen to anyone of any age.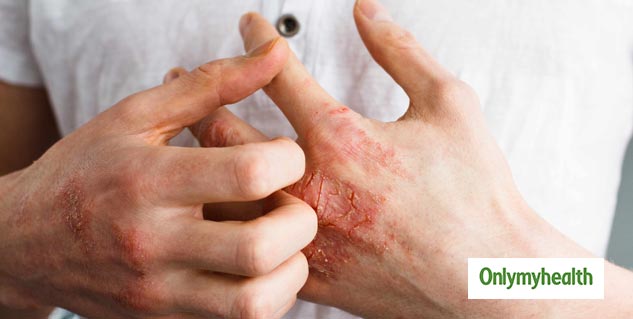 To start with, here are a few symptoms of eczema that one should know about to take necessary steps for treatment:
Itching on different parts of the skin
Redness in the skin on elbow, knee and inner thigh
Dry skin patch throughout the body
Inflamed skin due to consistent itching
Dark spots on the skin
Crusting of the skin due to dry scale patches
Scaling of skin
Swelling on skin
Also Read: Natural Remedies for Dengue Prevention and Treatment At Home
The following can be the causes of this skin problem:
Irritants like detergents, soaps, shampoos can be a reason for skin irritation and eczema
Juices of fruits, vegetables and meats touching the skin may cause skin inflammation
Allergens like pollens, dust mites, pet hair
Viruses like fungi, bacteria
Dairy products, soy products, nuts, eggs and meats
Change in the hormonal pattern in women
Stress can add to the condition of eczema
Going the Natural Way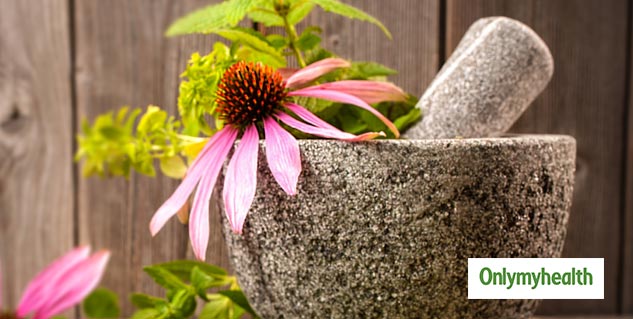 This problem can give you sleepless nights and add to the woes could be the effect of medications. However, anything related to the skin can very well be complemented with natural herbs for treatment. One such useful herb to treat eczema is Echinacea. High on anti-microbial power, which works wonders against bacteria, virus and fungi, its application or even consumption can help eradicate this skin problem for good. Highly effective for glowing skin, this herb is used for its medicinal properties all across the globe. As we all know, almost every medical problem arises out of weak immunity, and this herb helps in stimulating the body's immune system for a healthy body. This help increases the liver's ability to reduce the effects of almost all the environmental toxins.
Also Read: Home Remedy for Fibroids: Shrink Fibroids With Apple Cider Vinegar
Following are some of the benefits of Echinacea:
This herb helps in controlling cold and flu-like symptoms
It keeps the skin soft, healthy and supple
It enhances the immune system by protecting and preventing autoimmune diseases and disorders
It reduces inflammation on the skin in a significant way. It has a cooling effect on the body, reducing the inflammation symptoms in the body.
Dosage
This herb can be taken in the form of a tea or a tincture. Either half a spoon of tincture or three times a day in the way of tea; this herb keeps the skin glowing and safe from such skin problems. We all vouch for the fact that natural treatments are the most effective of all and for skin, such treatments work wonders.
Read more articles on Home Remedies