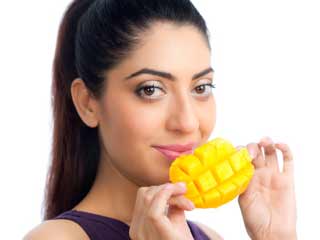 In a recent study it was showed that eating mango on a daily basis could significantly lower down the blood sugar levels, especially in obese people.
Findings of a latest study gave mango lovers yet another reason to smile. The recent study suggested that by consuming just 10 grams of mangoes everyday can put a control over high blood sugar level especially, in obese people.

The researchers found that consuming mango on a daily basis could lower the blood sugar levels in obese people without having any ill-effects on the body weight.

The lead author of this study and associate professor of nutritional sciences at Oklahoma State University, Edralin Lucas said "we are excited about these promising findings for mangoes, which contain many bioactive compounds, including mangiferin, an antioxidant that may contribute to the beneficial effects of mango on blood glucose. In addition, mangoes contain fibre, which can help lower glucose absorption into the blood stream".

He added "our results indicate that daily consumption of 10 grams of freeze-dried mango, which is equivalent to about one-half of a fresh mango (about 100 grams), may help lower blood sugar in obese individuals".

The study included 20 adults out of which 11 were males and 9 were females aged between 20 and 50 years.

A 12-week study was conducted after which the participants were found to have a reduced blood glucose levels and this lowered glucose level was seen in both the genders.

The researchers told that there were no changes seen in the overall body weight, hip or waist circumference, waist to hip ratio, percent fat mass and lean mass.

However, there was significant change seen the hip circumference of males but, not in females. The researchers told that the BMI of females was higher but, not in males after mango supplementation.

These results did not have a significant statistics to prove though.

Lucas said "we believe this research suggests that mangoes may give obese individuals a dietary option in helping them maintain or lower their blood sugar".

The research has been published in the journal Nutrition and Metabolic Insights.
Image courtesy: Getty Images
News source: indiatoday.intoday.in
Read more on Health News.