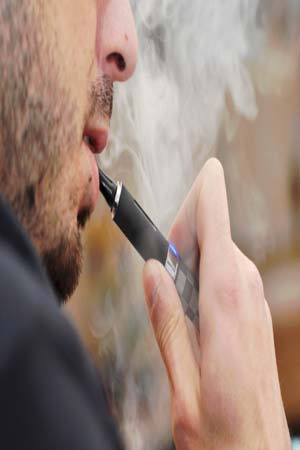 E-cigarettes that were introduced in the market to help prevent tobacco addiction are just as harmful as regular cigarettes.
Electronic cigarettes were introduced in the market as an attempt to help people quit smoking. Their easy availability further stresses on this theory. Unfortunately, several studies claim, electronic cigarettes have not served the purpose. In fact, they say e-cigarettes are just as harmful as regular cigarettes.
A recent study has revealed how e-cigarettes can lead to nicotine addiction and pose risk to developing brains and organ , ggs of young children.

Dean E. Schraufnagel, MD at the University of Illinois at Chicago, provides a comprehensive look at the composition as well as varieties of electronic cigarettes as a potential "gateway to addiction" and something that makes young people find regular cigarettes appealing. He said that e-cigarettes are often the first tobacco products that youngsters try and with nicotine-addiction, they are lead-in to the abuse of other addictive substances.
Mary Cataletto, MD, Professor of Clinical Pediatrics, State University of New York at Stony Brook said that paediatrics have a significant role to play in educating children as well as families and are also therefore, an important and reliable source of information for healthcare. The study review provides practitioners with information on the many dangers of electronic cigarettes. It also highlights vulnerability of children to both intense marketing that surrounds e-cigarettes and the pharmacologic effects that they cause.
Another recent study had suggested that electronic cigarettes may not really be safe and may in fact, cause damage to the lung cells.

According to a study that was published in the journal PlOS ONE, e-cigarettes tend to create free radicals that lead to inflammation in the lungs and are just as toxic as tobacco. The radicals get created when the heating element in the cigarette gets activated, turning e-liquid into aerosol particles or vapors that act like cigarette smoke. The smoke also has various carcinogens as well as heavy metals that are so tiny that they get easily lodged away into the lung's tissues and cells and may also enter the blood stream.

The review article has been published in the a per-reviewed journal called Pediatric Allergy, Immunology, and Pulmonology.

Read more Health News.

Image source: Getty

Source: thehealthsite