Papaya is one of the most favourite fruits in the modern world. Sweet and delicious papaya, is as beneficial for your stomach as it is for your skin. You must be hardly aware that papaya contains a lot of antioxidants and minerals, which work to keep your body in good shape and also to remove problems related to your skin. The antioxidants found in papaya can help reduce inflammation, fight diseases, and make you look younger. Vitamin C found in papaya also helps to heal wounds and protect against cancer. Papaya also serves to groom your beauty. If you have wrinkles on your face (with ageing), do not worry, regular papaya consumption can also relieve you. With this article, we are going to tell you 5 shocking skincare benefits about papaya.
Papaya is a good moisturizer
If you are troubled by the problem of dryness of the skin, then this papaya home remedy can help you. Enzymes found in papaya can relieve your complaints by hydrating dry, scaly skin. You can get a well-moisturized skin within a month by regular use of papaya-honey face pack.
Recipe
To make this face-pack, squash the pieces of papaya, add some honey to it and apply it on your face (leaving your eyes). Keep it for half an hour and then wash it with warm water. By doing this your skin will remain moisturized.
Papaya is endowed with anti-ageing properties
Papaya peel is known to remove wrinkles from human skin. The skin repairing, exfoliating, and hydrating properties found in papaya peels significantly reverse the ageing activities in the skin. Papaya rind also serves to remove dead cells from the surface of the skin.
Also Read: Home Remedies For Cold Feet and Hands in Winter
Method
To do this, you take a peel of fresh papaya and rub it all over your face and neck. Take out the juice from the peel in your skin and leave it for about 20 to 30 minutes and then wash it with cold water.
Papaya whitens skin
Papaya is an active ingredient in popular skin-whitening products. The papain found in papaya works to improve the complexion of your face.
Also Read: Anti-Aging Tips For Mothers
Papaya provides a new skin
Exfoliation of the skin means removing dead cells and allowing new skin to emerge. Do you know that the enzymes present in papaya peels also play an important role in toning the skin?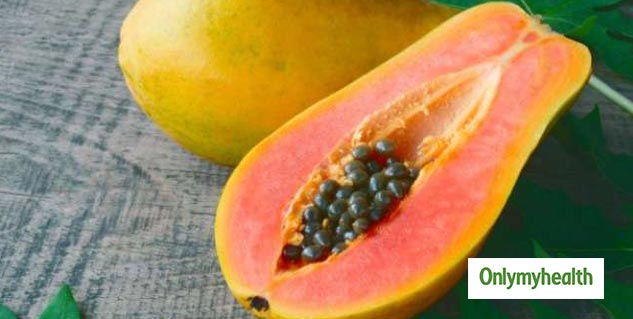 Helps in the treatment of acne
The papain present in papaya helps to cure pimples. Papaya leaves, seeds and peels have the ability and properties to prevent acne. Apply papaya pulp on the affected parts and leave it for 20 minutes. Regular usage of this paste will soon give you results (worth seeing).
Read more articles in Skin Care