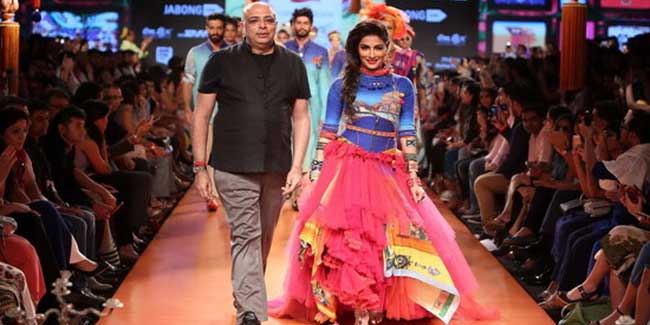 There's a vogue of Indo-Western dresses this year. The heavy inspiration into Indo-Pak fashion treads is because of the exposure to the West and Sub-continent. An ideal fusion wedding outfit may comprise a suit style shirt (short or extremely long) paired with parallels, trousers or cigarette pants with slits; ghaghra style skirt with quarter sleeve blouse, a halter neck may be or a tank top; pants with choli tops; Indo-Western gowns; dhoti-style-salwaar and kurta; shirt length kurta with only one shoulder sleeve.

You can always invent your own style and customize it as per your needs. Shop online or have it tailor-made, or for a bit of an embellishment for the seamless party look, add sparkles, sequence and antique work on bright colours or bold patterns to geometrical designs; there is so much to choose from.

Here is a compilation of some hot fusion-styled wedding outfits for people who like a touch of modern with the traditional.
Gown-styled Sari: Sari in a gown format or you can say that it's a gown with a pallu. It looks super stylish as an evening wear.



Slit Silhouette: It's basically a gown with a high slit teamed up with a dhoti or a churidar. Make it more interesting by draping a stole.




Corset-skirt cum Lehenga: Now, this one is a very light version of a lehenga. Pair a corset top/blouse with a smart-casual skirt and there you go! All set for a glam evening.




Sari with Pants: Sonam Kapoor has made it her style statement and so can you! This one is for those who love to experiment. Very edgy and Bohemian: A perfect outfit for a wedding reception.




Lehenga with a Crop Top: This one outfit is all about new-wave. It is so elegant and suave. Go for printed top and plain skirt of the same colour family.




Rock the floor with your western-cum-contemporary looks that are bound to get a lot of attention! Make sure to accessorize, add some sparkles and wear your favourite pumps.

Image Source:
Thumb: http://lastinch.in/wp-content/uploads/2015/04/Tarun-Tahiliani-LFW-2015.jpg?1a4c2e
1.http://www.utsavpedia.com/wp-content/uploads/2014/06/Saree-Gowns-sported-by-Celebs.jpg/
2. https://planetzuri.files.wordpress.com/2014/12/indo-western-fusion-dresses-01.jpg
3. http://www.metromela.com/wp-content/uploads/2013/12/Aamby-Valley-India-Bridal-Week-2013.jpg
4. http://shaadietyadi.com/blog/shaadi-content/uploads/2014/09/sonam-kapoor-1024x576.jpg
5. http://2.bp.blogspot.com/-qLkul1joy4c/UypZorAp9kI/AAAAAAAAEYE/deq2Mth296Q/s1600/Shilpa_Shetty_Neeta_Lulla_Lehenga+at+LIFW.jpg

Read more articles on Fashion and Style.