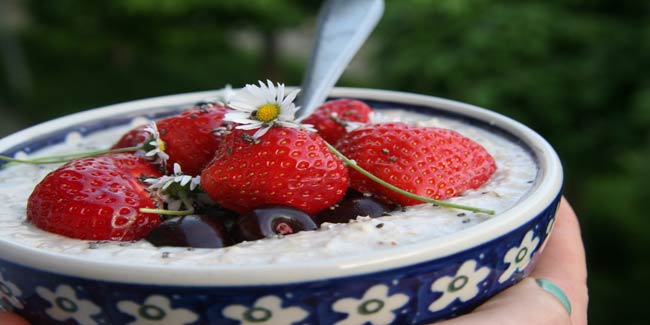 It's been a big question whether a diet can help fight arthritis. The answer is Yes. Following a diet which is low in processed foods and saturated fat, rich in fruits and vegetables one can easily fight against arthritis.


Day one :
Breakfast : You should eat cherry oatmeal porridge which includes dries or fresh tart cherries. The tart cherries contain anthocyanin, a powerful antioxidant that helps in reducing the inflammation.
Lunch : In lunch you can try pumpkin soup which can be made very easily. The pumpkin is known to have rich source of beta- cryptoxanthin which is a powerful anti-inflammatory. Add ginger to it to make it potent recipe for arthritis relief.
Dinner : Eggs aren't only for breakfast! You can eat eggs with fresh garden salad and slice of whole wheat bread for a nutritious dinner.


Day two :

Breakfast: Are you looking for a quick and easy breakfast then smoothies are thing you should go for.Prepare a raspberry green tea smoothie ahead of time and keep it in the fridge for a quick breakfast before you head out the door.
Lunch:Kipper salad is rich in Omega-3 fatty acid and makes a great alternative to tuna. You can either serve it on top of mixed greens or spread onto whole grain bread.
Dinner:During winter it is best to go for big bowl of turkey chili in the evening. You can add a little reduced-fat sour cream on this delicious turkey chili.


Day Three :

Breakfast: Omega-3 fatty acid is very effective in reducing the inflammation of arthritis and other joint problems. How to include enough of it in the diet could be challenging thing. You can prepare a gingerbread oatmeal which has a great taste and gets you half your daily requirements of Omega-3s without even adding the salmon to it.
Lunch:Roasted chicken can be great time saver meal. Its perfect tasty toss for the lunch.
Dinner:Brazil nuts and tilapia are good sources of selenium. It's a mineral which is known to help ward off arthritis symptoms. You can prepare Brazil nut crusted tilapia with sautéed kale, a quick and easy meal for a weeknight dinner with the family.


Day Four :
Breakfast:The dried and crystallized ginger is great in taste and can be made used in apple muffins. Ginger is an excellent anti-inflammatory which helps in easing the arthritis pain.
Lunch: Persimmon and pear salad is excellent in reducing the pain in arthritis.
Dinner: Red pepper and turkey pasta uses red peppers, which are full of vitamin C and beta-carotene.

Day Five :
Breakfast: Buckwheat and Quinoa granola topped along with milk or soy yogurt is another energizing breakfast option which can help fight the arthritis.
Lunch:You can have Roasted sweet potato soup which freezes beautifully in lunch.
Dinner: Steaming fish and poultry is a great way to lock in flavor, moisture, vitamins, and minerals. Be sure to serve the fish with some of the steaming liquid, as the liquid will soak up the flavor from the salmon and vegetables.


Day Six:
BreakFast:Spinach and Mushroom frittatas provide a backdrop for an endless combination of ingredients. The nutrient-rich mushrooms and spinach add enormous flavour to the frittatas.
Lunch:Smoked trout tartine is another dish which turns out to be good for people who have arthritis. Simply serve meal with a green salad or a cup of soup for a filling lunch or dinner. Dinner: Sweet Potato and Black Bean Burgers with Lime Mayonnaise are high in Vitamin C and beta carotene from the sweet potatoes and line.


Day Seven:
Breakfast:Gluten free strawberry crepes are easy to prepare and a great way to make any meal special.
Lunch:Lentil and garbanzo soup is a tasty and healthy lunch option.
Dinner:you can have quinoa and turkey stuffed peppers in the dinner.

Follow the above diet plan which is low in processed foods and saturated fat and rich in fruits, vegetables and is helpful in reducing the symptoms of arthritis.
Image Courtesy: pleunskitchen.files.wordpress/losethosepoundz.com
Read more articles on Understand Rheumatoid Arthritis