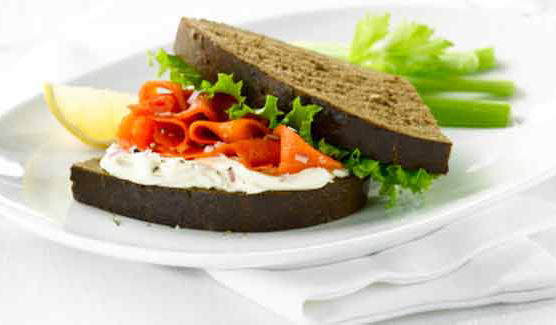 Sandwiches can be healthy too. Give a healthy start to your day by turning your favourite sandwiches into a low calorie diet.
Sandwich Crunch Relish a precious bite of this tasty and crunchy sandwich, the next time you feel like snacking. And enjoy a fitter you!
Peanut butter Sandwich
Key Ingredients: Peanut butter, 2 slices of fresh brown bread, dried fruits, 1 freshly cut apricot, 1 chopped strawberry, mayonnaise
Grill the bread slices and spread a layer of mayonnaise on it. Then, add another layer of peanut butter on it. Sprinkle the dried fruits, strawberries and apricots on it and place the other bread slice on top of it. Serve! Brown bread is rich in protein and dietary fibre. Strawberries are extremely rich in Vitamin C and anti-oxidants.
Chicken Bank Mi Sandwich
This is a traditional Vietnamese sandwich recipe which cuts the fat. Marinate one skinless, boneless chicken breast lime juice, mustard and siracha and grill it until it is nicely cooked. Put the grilled chicken inside a baguette with cilantro stems and carrots. Put some extra lime juice over the top to add more flavour. The sandwich contains 275 calories.
Spinach Quesadilla
Take a large handful of spinach with a teaspoon of olive oil and then add 3 egg whites and a tablespoon of feta cheese. Fold the mixture and put it in a whole wheat tortilla. Fold the quesadilla in half and toast both the side on a skillet. The sandwich contains 289 calories.
Grilled Mushroom Melt Sandwich
Although having grilled cheese may not sound be a healthy option but when you add sautéed mushrooms and two slices of low fat cheddar cheese, you can have your this delicious sandwich guilt-free. Use whole wheat bread and cook the sandwich on an indoor grill pan instead of a buttery skillet. All you are going to consume is 271 calories.
Caprese Salad Roll Up
To turn this high on fat salad to low calorie meal, use part-skim mozzarella, juicy diced tomatoes, basil leaves, mixed greens and drizzle of balsamic. Roll the mixture in whole wheat tortilla and here you have your dose of health. This contains 245 calories.
Image source: Getty