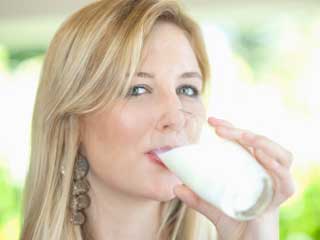 A recent study has shown that drinking three or more glasses of milk in a day can be harmful for women by posing a threat to their lives and increasing the risk of bone fractures.
Findings of a new study have suggested that drinking three or more glasses of milk in a day can harm a woman's health.

The Swedish researchers found that women in this study who drank at least three glasses of milk in a day were twice likely to die over a period of next 20 years compared to those who drank less than a glass daily.

The study, which was published in the British Medical Journal, showed that the risk of women suffering from bone fracture also increased as their milk consumption increases.

According to Karl Michaelsson, a professor at Uppsala University in Sweden and one of the authors of the study, the reason behind this could be galactose, which is a simple sugar found in milk.

Michaelsson said "that compound might induce oxidative stress and low-grade inflammation, and that type of inflammation can affect mortality and fractures".

Although there are many health bodies which recommend that equivalent of three cups of milk must be consumed by adults as it is beneficial for the bones and can reduce the risk of diseases but, there is very little scientific evidence to back this recommendations, said the authors of the study.

In this study, 61,433 women aged 39 to 74 years and 45,339 men aged 45 to 79 years were included.

During the course of 20 years, in which the women were studied, 15,541 died and 17,252 suffered fractures, including 4,259 hip fractures. However, when men were followed for an average of 11 years, no association was found between their mortality rate or fractures and milk consumption.

The researchers found that fermented milk products like cheese and yogurt, which contain very less or no galactose, had opposite effects. Women who consumed fermented dairy products were at a very lower risk of dying or suffering from fractures during the study.
Image courtesy: Getty Images
News source: irishexaminer.com
Read more Health News.