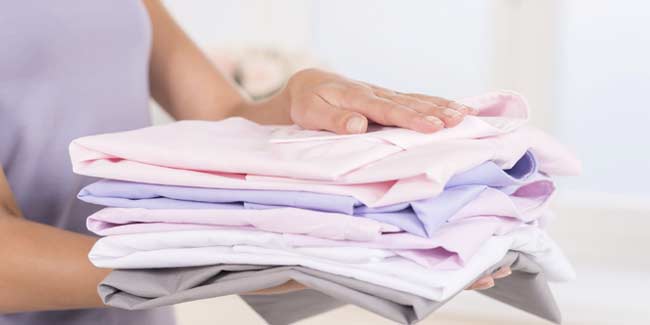 Pick up all the clothes in your room and begin folding thm! Now you can fold clothes all you want, as they say that doing so will help you to lose weight, find out how much of it is true!
Who would have thought that folding clothes can be such a blessing for man? Conquer your laziness and rise to fold clothes as you could lose weight.
Folding clothes is no more a mundane activity because believe it or not if you want to lose weight you would want to fold clothes. But this will be possible only if you are prepared to burn more calories that you take in. However, if you fold clothes for a living, and do it eight hours a day, you would not lose the amount of weight which you usually will when doing rigorous exercises.
How much of Calorie to Burn
Experts say that you need to burn 3,500 calories than you consume in order to lose 0.4536 kilos of fat, and it is further said that an individual should not be losing more than 0.9072 kiols in a week. In order to start losing weight it is important that you drop 250 to 500 calories a day from your diet. If you are losing as many calories as you are consuming on a daily basis, then you are creating a calorie deficit of 1,750 to 3,500 a week. Therefore, in this way you will lose 0.2268 kilos to 0.4536 kilos a week, even before exercising, and to lose any more weight, you should do some form of exercise.
The Diet
You also need to be careful about your diet; you cannot expect to lose much weight when your diet comprises of only junk foods. Eating junk food will give you calories without any nutritional value. You must go for a diet that includes lean meats, fresh fruits and vegetables, whole grains and low-fat dairy products. When on a journey to weight loss, you must avoid foods that are high in trans-fats and cholesterol, as well as added sugar and salt. Also, try to eat six small meals in a day instead of eating three large meals, this will keep you full at all times, and will also set you free from junk food cravings.

How Effective is Folding Clothes
You must remember that even if folding clothes burns your calories, it does not really allow you to perspire or get your heart beating fast. It is only through some physical exercise like running or cycling that you will perspire and the metabolism of your body will kick up. The good part about the more intense exercises is that it not only burns calories, it boosts your metabolism, reduces stress, helps you sleep and helps the body to fight diseases.

Hence, you must consider adding some form of more vigorous exercise to your routine, in order to lose more weight.
Read more article on Weight Loss Exercises