Yoga poses are also used as a mean to build muscles. Learn in this article what is the correct and safe method to perform yoga asans for muscle building.
The best way to beat the cellulite and unwanted fat stored in the body – whilst staying indoors - is yoga. Yogic postures have been proven to not only reduce weight, but also restore facial glow and stamina.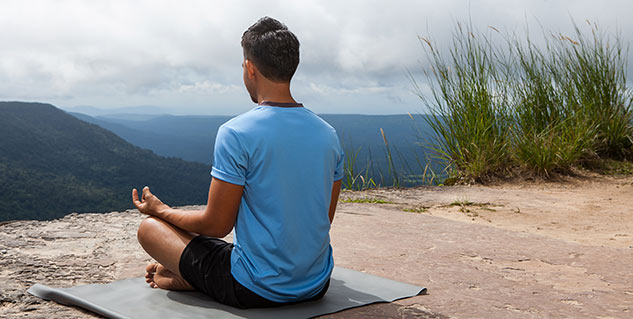 Let us understand the basic rules of following a proper yoga pose that is essential for avoiding muscle-pulls and ligament ruptures:
Avoid yoga poses that seem too difficult at the beginning. Start slow and progress your way through the postures at your own pace.
Warm-up with basic yogic poses prescribed by certified yoga practitioners.
Always try new poses under the guidance of an expert.
Consult as to which pose is beneficial to your body-type. If you are aiming at building muscles then focus more on poses that help build your lean muscles.
Ensure you have an empty stomach when practicing yoga.
Most muscle-building yoga poses are done with the back on the floor.
Wear lose-fitted clothing.
Use a yoga mat for better grip and balance.
Safe yoga poses
Now that you are acquainted with the basic rules, let us follow a few simple yoga poses that can be tried and perfected indoors. All you need is determination and regularity.
Under the guidance of an expert, try the downward dog, upward dog and plank poses to build your muscles on the upper part of the body. Yoga poses should never be tried at home as the techniques - along with the correct breathing patterns - are essential to the rhythmic movement of the exercise.
Exercises such as Warrior I and Warrior II help strengthen and build calf muscles and quadriceps.
Basic steps such as side-splits and front-splits tone your thigh muscles. These come with a lot of practice and flexibility.
The aim should be to hold your pose for the longest possible time without wavering or swaying.
There are separate yoga poses for spinal injuries and for people with heart problems. Do not try random postures at home. Behind every yogic therapy there is a scientific reason. A good health care practitioner can always explain you the reasons for doing a particular pose.
The bhujangasana or the cobra pose is very powerful for increasing your stamina and muscle building. You should lie flat on your stomach with your chin on the floor. Position your palms downwards on the ground - on either side of the chest - and firmly and bring your feet close together. Breathe deeply and elevate your body off the floor, supporting your body on your palms and toes. Repeat the exercise with each breath you take.
This exercise is the best way to tone your calf muscles. Lie flat on your back. Mount your legs and place the right foot on the left knee and point your feet. Hold the shin in with your arms around the left leg and pull it in towards your chest. Remember to keep your tail bone on the floor. Repeat the exercise with the other leg.
Image: Shutterstock