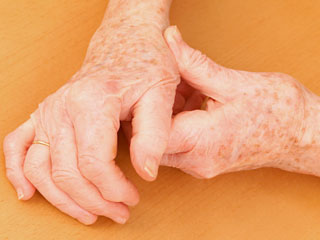 A blood test that helps in predicting osteoarthritis several years before its actual onset may soon be available.
Researchers from the University of Warwick have said that a simple blood test for arthritis that can help the doctors to detect it several years before the actual onset of the disease may soon be available. While several tests for rheumatoid arthritis already exist in the market, the newly identified biomarker may help in the diagnosis of both osteoarthritis as well as rheumatoid arthritis.

The focus of the research was citrullinated proteins, biomarker that is suspected to be present in the blood of those people who have early stage rheumatoid arthritis. In the previous studies, it had been established that patients suffering from rheumatoid arthritis have antibodies to CPs, though this was the same for those with OA.

The Warwick researchers, however, found that it increased their CPs levels in both early stage RA and OA. The researchers then produced an algorithm of CPS, biomarkers, anti-CP antibodies along with the bone-derived substance, hydroxyproline.

With the help of the algorithm, the researchers have found that a single test can help detect and discriminate between major types of arthritis at their early stages before the joint actually gets damaged.

Lead researcher, Dr Naila Rabbani, said "This is a remarkable and unexpected finding. It could help bring early-stage and appropriate treatment for arthritis which gives the best chance of effective treatment". She added that it has already been long established that the autoimmunity of early stage-RA leads to antibodies to CPs, but the autoimmunity and therefore, the antibodies are not present in early-stage OA.

Rabbani said, "Using this knowledge and applying the algorithm of biomarkers we developed provides the basis to discriminate between these two major types of arthritis at an early stage".

The ability to distinguish between an RA and an OA can provide several benefits to the patients, including an early diagnosis.

The research has been published in the journal Natural Scientific Reports.

Read more Health News.
Article courtesy: Business standard
Image courtesy: Getty