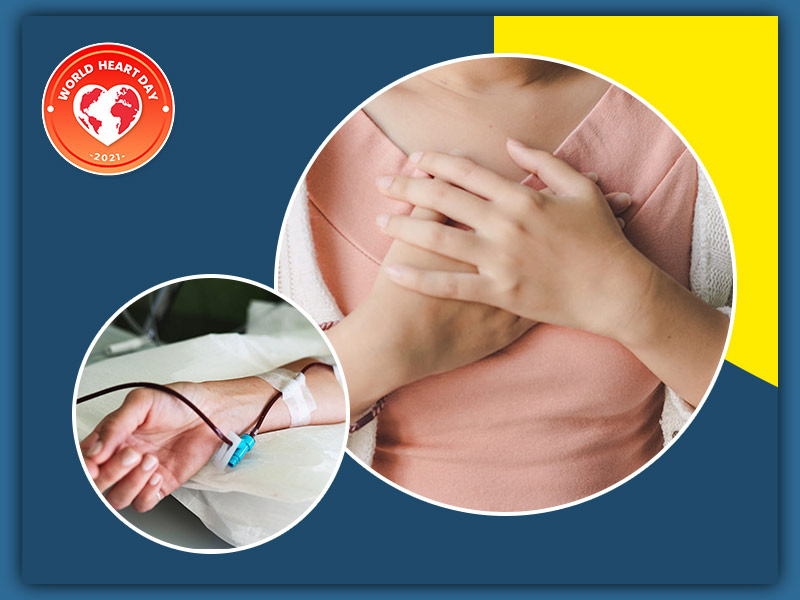 Cardiovascular disease (CVD) remains the world's number one killer, resulting in 18.6 million deaths a year. It has a number of causes, right from lifestyle choices like smoking, hyper-tension, stress, unhealthy diet, physical inactivity to genetic continuance like high blood pressure, obesity, diabetes, etc. A recent study by Lancet and Indian Council of Medical Research (ICMR) says that over 30% Indians have hypertension by living in stressful environment. As the world struggles to fight COVID-19, we've never been more aware of the importance of our and our loved one's health. This world heart day, we would like to shed light on ozone therapy which is an alternative therapy for heart conditions. Scroll down to read what Dr. Mili Shah, President, Ozone Forum of India, Bisleri Charitable Trust has to say on this topic.
What Is Ozone Therapy?
Along with regular exercising and a healthy diet, there are other complementary therapies to aid the treatment of numerous heart conditions. One of them being Ozone therapy. This is an alternative treatment that involves administering a mixture of Ozone and Oxygen into the body. Ozone (O3) is an energetic molecule in its natural form; however, when it breaks down into an Oxygen molecule (O2) and a single Oxygen atom, it releases a lot of energy. This oxygen molecule purifies the blood, lymph, and other body tissues by quickly combining with them. It is an adjuvant therapy which helps in improving immunity and enhancing disease fighting capacity of the body. It acts as an incredible rejuvenator, normalizer, detoxifier, regenerator, immune enhancer and physical and mental energizer.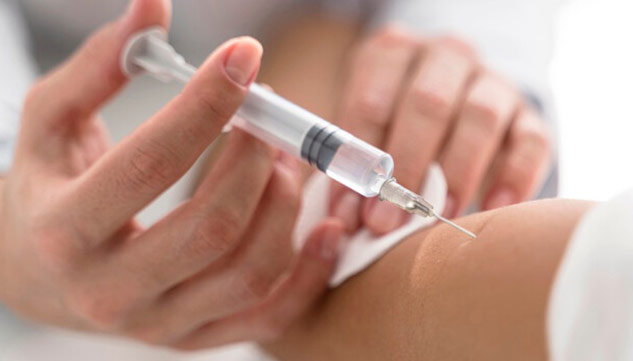 How does ozone therapy help heart patients?
Patients with heart condition experience tightness in the chest, angina, breathing difficulty because of reduced oxygen supply to the heart.
Ozone Therapy, by increasing the concentration of antioxidant enzymes in red blood cells, results in more oxygen being delivered to the heart and other tissues.
In blood circulatory diseases, clumping of red blood cells makes it difficult for the blood to flow through the small capillaries and decreases blood flow to vital organs which causes heart attacks.
With Ozone Therapy, the RBCs become more flexible (improved rheological properties) and can squeeze through even the tiniest of blood vessels and also, clumping of red blood cells is prevented.
Medical Ozone can also reduce the clumping of palates thus works as supportive therapy for damaged heart.
Research shows that when a patient undergoes Ozone therapy, congestive cardiac diseases can be improved by reducing lipid peroxidase.
It also improves cellular oxygenation.
It is a well-known fact that most chronic diseases originate with inflammation and oxidative stress.
Ozone therapy aids in promoting a preconditioning effect or adaptability to oxidative stress as it stimulates the antioxidant enzymes.
Since lower life forms like parasites, viruses, fungi, and bacteria lack antioxidant enzymes, they fail to survive in the presence of Ozone, and this makes Ozone treatment effective on multiple other diseases as well.
Also Read: How effective is ozone therapy in COVID-19 treatment? Doctor explains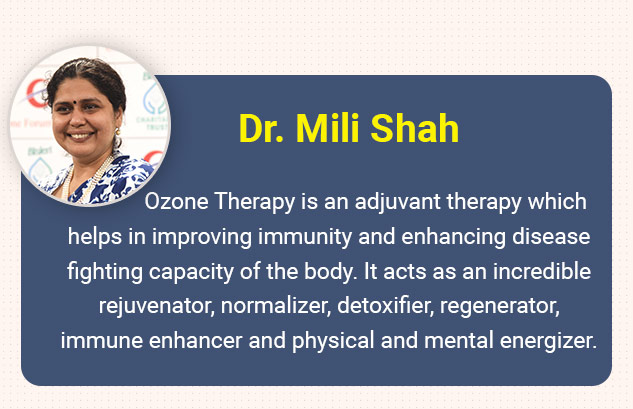 Other Benefits of Ozone Therapy
The combined effects of improved oxygen release to tissues, improved flexibility and movement of RBCs and dilatation of blood vessels provides increased benefit to patients suffering from circulatory disorders like coronary artery disease, heart failure, peripheral vascular disease, diabetic neuropathy, etc.
Ozone Therapy stimulates adaptive mechanisms that induce modulations in the patients by affecting the immune system, blood flow and oxygenation, and oxidative stress.
Ozone helps in congestive heart diseases, atherosclerosis, intermittent claudication and it also relives nonspecific chest pain.
Ozone therapy is widely recognised as a potential therapy in prevention and prophylaxis of an array of diseases ranging from communicable, non-communicable to auto-immune disorders/diseases. This is due to its multifaceted properties such as antiviral, anti-inflammatory and antioxidant and capacity to improve oxygenation.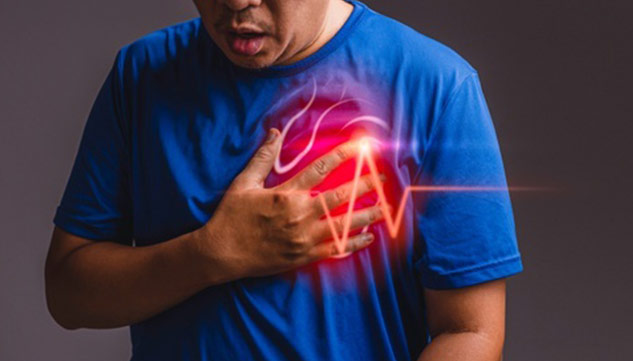 Conclusion
In addition to being safe, effective, Ozone therapy is also an economical treatment and can be used as a complementary medicine or a therapeutic method. It is used to treat various diseases that include infected wounds, circulatory disorders, geriatric conditions, macular degeneration, viral infections, and intestinal conditions. Ozone treatment can also be given to patients with rheumatism and cancer which can result in permanent restoration and immune activation, respectively. Ozone is a complementary supportive therapy which improves your heart function, reduces the risk of ischemic heart attack. You can use ozone therapy not only as a supportive treatment for heart condition but also for prevention in the long run.
Images Credits- freepik