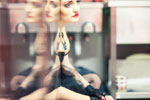 Researchers have found a new compound that may help in the treatment of depression.
A certain compound called hydroxynorketamine has been found by researchers to come to the rescue for those people who are suffering from depression. According to the study, the compound helps in the treatment of symptoms of depression just as effectively as well as rapidly as ketamine and without the usually suspected side-effects that are linked with psychoactive drug.
Irving Wainer, Ph.D., senior investigator with the Intramural Research Program at the National Institute on Aging, Baltimore, said that the clinical use of ketamine therapy for depressions is not as much as there should be because the drug is administered intravenously; it may also produce adverse effects in the form of hallucinations as well as sedation to the point of anesthesia.

The researchers have found that HNK compound largely contributes to anti-depressive effects of Ketamine in the animals even without producing sedation or anesthesia and this makes it an attractive alternative as an antidepressant in the human beings.

In this study, the researchers used rat models that were given intravenous doses of ketamine, HNK as well as another compound that is produced by Ketamine metabolism, called norketamine. The effect that each has on stimulating particular cellular pathways of the rats' brains was analysed and examined for 20, 30 and 60 minutes. The brain tissue from drug-free rats was made use of as a control.

The findings showed that HNK, like ketamine, not only produced potent as well as rapid anti-depressant effects, but they also stimulated neuro-regenerative pathways as well as initiated the re-growth of neurons in the rats' brains. HNK also showed to have a lot of advantages over ketamine; it was seen to be 1, 000 times more potent can be taken by mouth and does not act like an anesthetic agent.

Moreover, the use of HNK also serves as a future therapeutic approach for treating neurodegenerative disorders like Alzheimer's and Parkinson's diseases.
The study was published in Anesthesiology, which is the official medical journal of the American Society of Anesthesiologists.
Article source: Zeenews
Image source: Getty
Read more Health News.