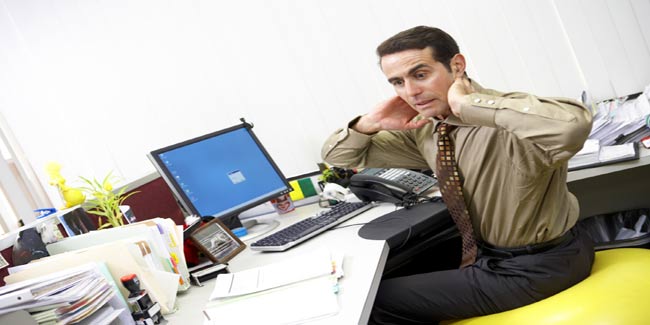 Whether you are at work or at home, looking after your health is most-important. If you're not seriously bothered about your health, you may at some point of time have a face-off with health concerns. Even if you love your job, you should not let your health take a back seat.
It is not easy to create healthy habits and it may take you some time to inculcate some of them in your routine. Here are 7 healthy habits that will keep you healthier at the workplace so that you can work to the best and of your abilities.
Restlessness is good for Desk Work

If your work requires you to sit at the computer for 7-9 hours a day, taking short breaks every hour is very important. Get restless; get up, stretch and move your eyes away from the computer screen for a couple of minutes. Get a glass of water and give your body some exercise, your body will thank you for it.
Get Fresh Air

Get out of the office premises at least twice during the day. A 5-minute break to get some fresh air will help you feel rejuvenated and take your mind away from work-related things.
Keep that Spine Straight

Don't get too engrossed in your work so much that you put your spine at the risk of problems. Watch out for the position of your back, neck and knees. Keep your back straight and knees/elbows at right angles. Just make sure that these body parts don't ache from your posture.
Stay Active

Make it a point that you don't sit behind your desk for the whole day, even when there is a work-crunch. Take some time out to move your body. Little stretches and moving around can make a big difference. It may be difficult to do many exercises in the office, but you will be able to do lighter ones.
Drink as much Water as you can

Drinking water renders a variety of health benefits. It is important to stay hydrated for streamlined body functions. Always keep a glass of water or water bottle on your desk to remind yourself to stay hydrated.
Eat Well

Don't look at what others are eating. Eating well is elementary to good health. Make a veggie sandwich or a light salad for lunch so that you know what you have to eat. Moreover, it is a good idea to carry healthy snacks to work. Bring some fruits or nuts that you can eat between meals.
Create a Good Work-life Balance

Work is an important part of your life, so is health. Be organized in a way that you don't get entangled between the two. If you don't plan or do things in an organised manner, the chances are that you'll be stressed and your physical and mental well-being will go off-balance.


When it comes to your health, you must invest in it so that it supports you later in life. Try to introduce healthy habits at work and get your motivation high up for healthier life and body.
Read more articles on Office Health.