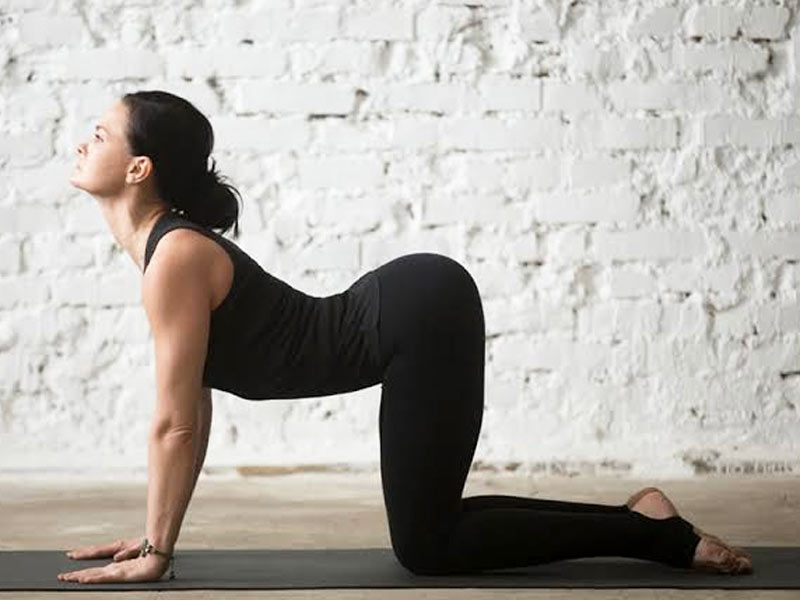 Yoga is one of the best forms of exercise offering a wide range of health benefits for both mind and body. One can achieve spiritual silence with this holistic approach. There are helping yoga poses for every medical condition including thyroid, PCOS, irregular periods, joint pain, weight loss and many other health issues. One can even adapt this daily healthy practice to prevent chronic conditions. The many benefits of yoga include stretchability, better sleep, less fatigue abd mood enhancement. You can start your day with a simple yoga routine for a few minutes. However, it is important to do this on a regular basis to reap the benefits. Read this article further to know about a 15 minute yoga routine for beginners.
15 minute yoga routine for beginners
The important elements of yoga include breathing techniques, poses, and beginner's meditation. From chair pose to side bends, there are many simple and easy asanas that will stretch your entire body. In addition, it is best to practice yoga early morning. So, here are some yoga poses for beginners to start with:
1. Cat cow pose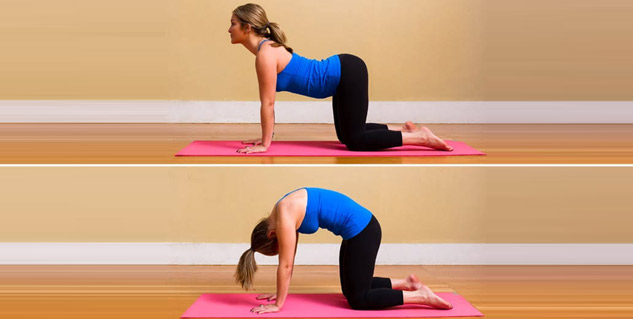 Cat cow pose is for your spine, neck and back. You can stretch almost your entire body while practicing this yogasana at home. Starting your day with cat cow pose or surya namaskar is one of the best ways to stay fit and healthy. Bend your body and put your hands and knees directly on the floor in proportion to your shoulders and buttocks. Now, inhale and go into cow pose, then try to lift your sit bones upward, push your chest forward and make your stomach sink. You can do this for 2-3 minutes in the beginning.
2. Upward facing dog
Upward facing dog stretches your chest and spine, wrists, arms, and shoulders. You have to lie down on the floor facing it with your legs stretched behind you, only a few inches away from each other. The tops of your feet should stay on the floor. Keep your hands on the floor parallel to your body, alongside the waist. Try to bring your elbows close to the ribcage. Inhale as you push using your hands firmly into the floor. Then, lift your torso placing your arms and your legs again a few inches away from the floor.
Also read: Check Out These 6 Common Yoga Mistakes That People Make
3. Reverse namaste
Reverse namaste or penguin pose is a variation of tadasana. It is to strengthen the upper body, mainly arms and abdomen. You have to put your arms behind the back and join both the palms. Make sure that your knees are a little bent in this position and the palms are pressed firmly against each other. You can stay in the same position for 4-5 minutes.
4. Low plank
Low planks also called Chaturanga Dandasana is a very common and easy pose for beginners. In low plank, you have to keep your body straight parallel to the ground, with full body weight on your palms and toes. In this yogasana, your elbows should be at a right angle along with the body. Do not make the mistake of going too low while doing planks, as it can disturb your alignment and flow.
5. Warrior II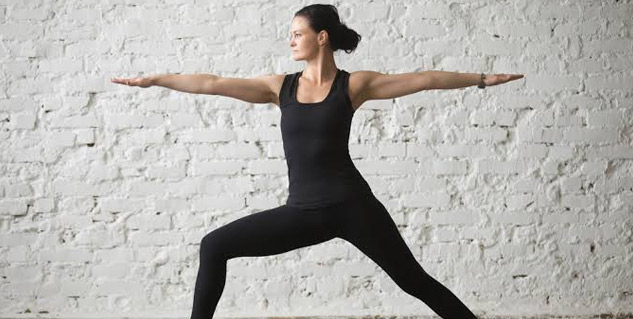 Warrior II is also one of the best yoga poses for beginners. You have to start by widening your legs on a mat and then put your right foot forward. Keep the left foot back and make your torso face the left side and arms at sides. Bend your right knee while keeping the left leg straight until your thigh is parallel to the mat, then make your arms reach to the sides atleast at your shoulder level. Hold this pose for minimum three to five breaths. This asana can be done for around 3 minutes.
Also read: International Yoga Day 2020: Get Your Body Summer Ready With These 5 Yoga Poses
These were some yogasanas that comprise to make a 15 minute yoga routine for beginners to start their morning with. Yoga is a powerful practice to manage health problems and to deal with anxiety and depression as well. You can take the help of a fitness or yoga expert to practice this mind body therapy. And, you can start with 15 minutes of yoga and then extend your routine to atleast 40 minutes everyday.
Read more articles on Yoga